Leah's wish...
"I wish to have a fun birthday at home"
5 years old, Windsor
Solid malignant tumours
Leah has been through a lot already in her short life, but she's not lost the wonder and joy of childhood and having a birthday in lockdown was not going change that. Her wish was the perfect celebration of all that it means to be a child, featuring the magic of unicorns, presents and of course, cake!
Leah, from Windsor, is a bubbly character who loves drawing, painting, and playing outdoors. But at just four years old, she developed a germ cell tumour that spread to her pelvis and lungs. She needed chemotherapy, which damaged her bladder and bowels and meant she needed a catheter to help her in everyday life.
But these challenges haven't affected Leah's spirit...
"Leah never stopped smiling – even when she was going through her chemotherapy. Losing her hair didn't faze her at all, she didn't even want to wear a bandana."
Leah's original wish was to go to Disneyland Paris, but like many wishes this year, it was interrupted by Covid-19 restrictions. So, after giving it some thought, her mum Kirstie contacted us to arrange an alternative wish and Leah's Wishgranter, Tequilla, was ready for the challenge!
Leah's wish
December 2020
A birthday surprise!
With Leah's fifth birthday coming up in December, Kirstie wanted to create a magical day centred around unicorns - one of her favourite things. To help Leah celebrate, Tequilla made it her mission to make this day extraordinary and ordered a host of presents, decorations, and treats that would last the whole day, to arrive by special delivery.
Kirstie recalled: "We were blown away when everything arrived. There was so much to unpack! We received four massive helium balloon displays, a huge, personalised birthday banner, plenty of unicorn decorations, a big unicorn cake, and extra cupcakes.
"There were a lot of gifts for Leah too: a dressing-up tutu, a unicorn headband, a princess dress, and some board games from Hamleys. And one of Leah's personal favourites: a huge piñata!"
How Leah's wish helped
February 2021
A day to remember
Leah is still in recovery, and will need surgery in the future, but her wish provided her and her family with joy and precious happy memories.

"The biggest highlight for me was seeing Leah's face once we had everything set up. She loved her dress and put it straight on, and she played with the balloons all day long – I haven't seen her laugh that much before"
"The wish has definitely made Leah happier. I can't thank Make-A-Wish enough for her birthday surprise", reflected Kirstie.

A very happy birthday to Leah from the whole Make-A-Wish family.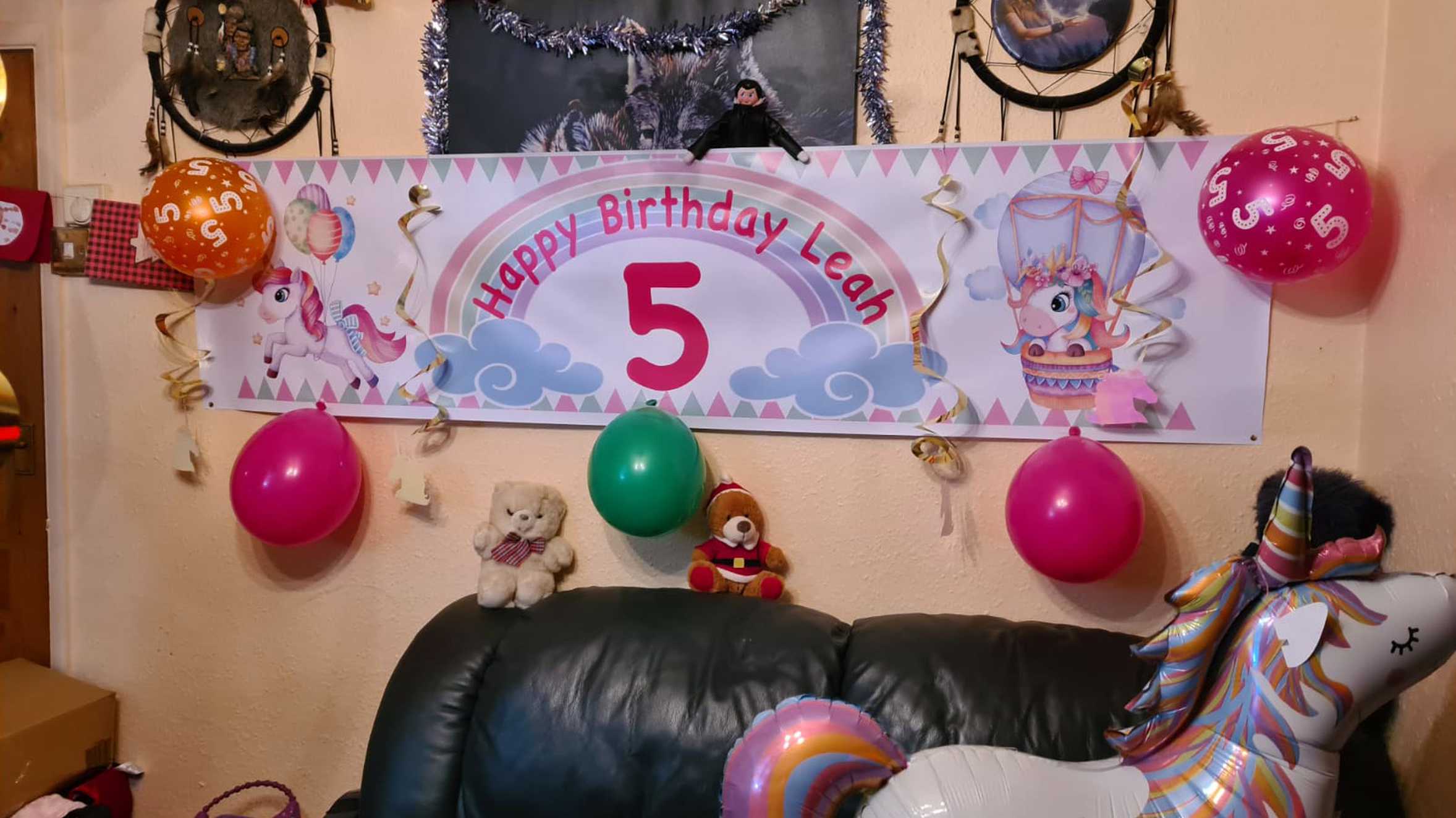 From pirates to proms, read about other amazing party wishes we've granted.
Party wishes
A 'To Have' wish can be anything from the latest electronic gadget to a unique experience.
I wish to have
If you're able to offer items that could help us grant more wishes like Leah's, we'd love to hear from you.
Get in touch
We rely on generous donations from people like you to grant wishes. Your donation will make wishes become a reality for critically ill children, supporting them where the need is greatest. Thank you.