Erik's wish...
"I wish to see where Henry vacuum cleaners are made"
5 years old, Illinois
Leukaemia
Five-year-old Erik from Illinois in the USA is obsessed with vacuum cleaners. His One True Wish was to travel to the UK, to see where Henry vacuum cleaners are made.
Five-year-old Erik lives in Illinois, USA, with his parents. He was diagnosed with leukaemia in September 2018, and has a three-year chemotherapy treatment plan ahead. Missing school and seeing his friends has taken its toll on Erik, so having his wish to look forward to has been powerful for him.
Erik has loved vacuum cleaners since he was just two years old. He has 10 at home, plus some toy versions, and loves whizzing around his home cleaning up the dog hair! His favourite is the Henry, manufactured in Chard, Somerset, UK, by Numatic International. The distinctive face on Numatic's machines is well-loved by children everywhere, and the factory now creates storybooks, plush toys and accessories themed around their most popular products – Henry and Hetty.
"When we were told that Erik could create a wish, he was so excited. The most fabulous thing we could think to do for him was to see where the Henry vacuum cleaners are made."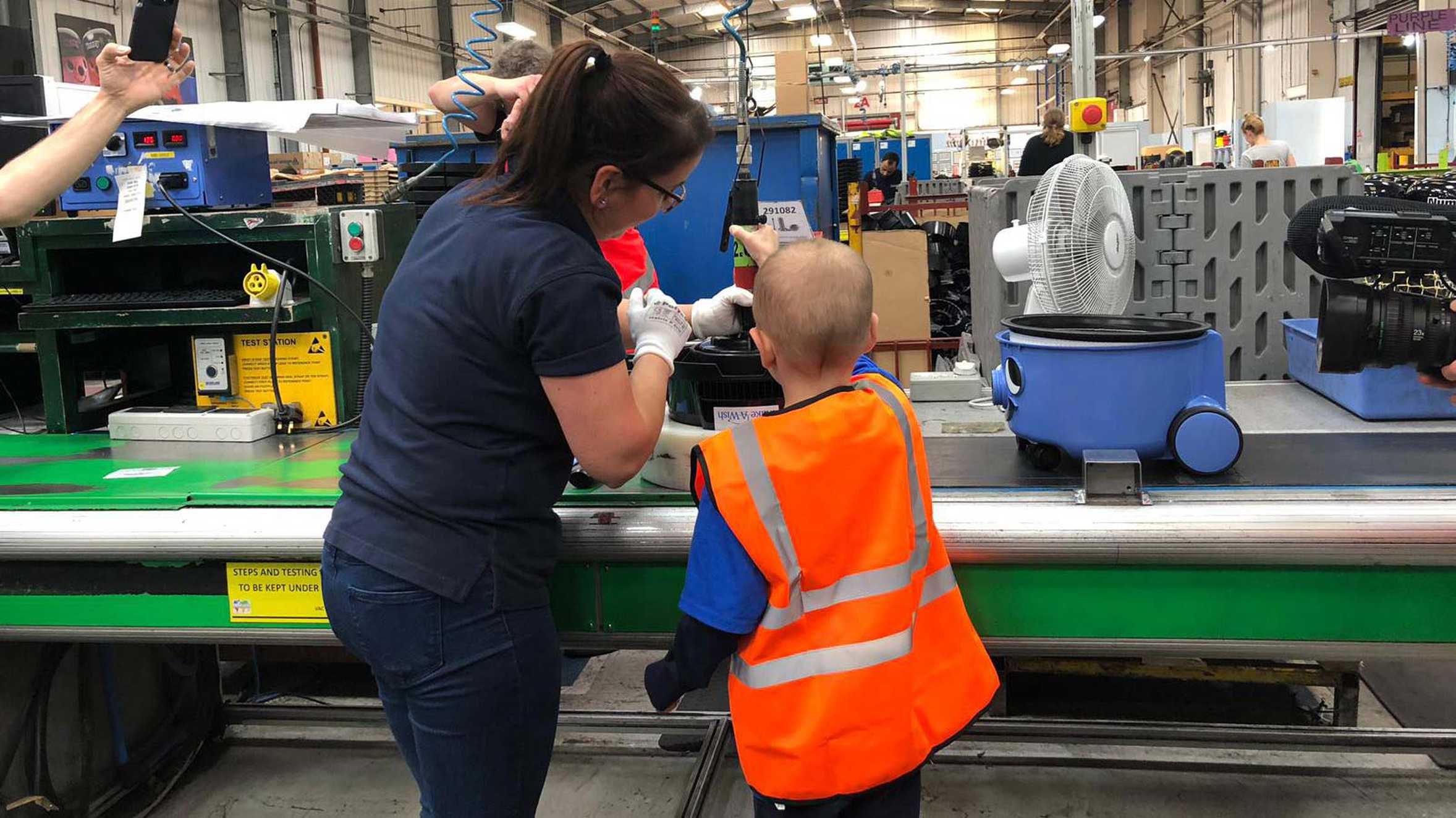 In May 2019, Make-A-Wish Illinois, Make-A-Wish UK and Numatic International joined up to make Erik's wish come true. His family flew to the UK and, between some sightseeing in London and Edinburgh, they were welcomed into the factory where Erik's favourite machines come to life. Lead by Paul from Numatic International, Erik played with the Henry vacuum cleaner in the showroom, explored the museum of historical machines, and was given a tour round the factory where 1,000 workers build more than 6,000 machines each day, 24 hours a day, to be distributed around the world.
Holding Paul's hand and wearing his bright orange high-visibility vest over his Make-A-Wish T-shirt, a surprise awaited Erik as production line workers helped him to assemble his own one-of-a-kind blue 'Erik' vacuum cleaner, complete with his name and a Make-A-Wish sticker on the back. Erik was over the moon to receive a powerful 'turbo brush', a giant personalised comic strip poster of his adventures, and a bag of goodies to remember his trip.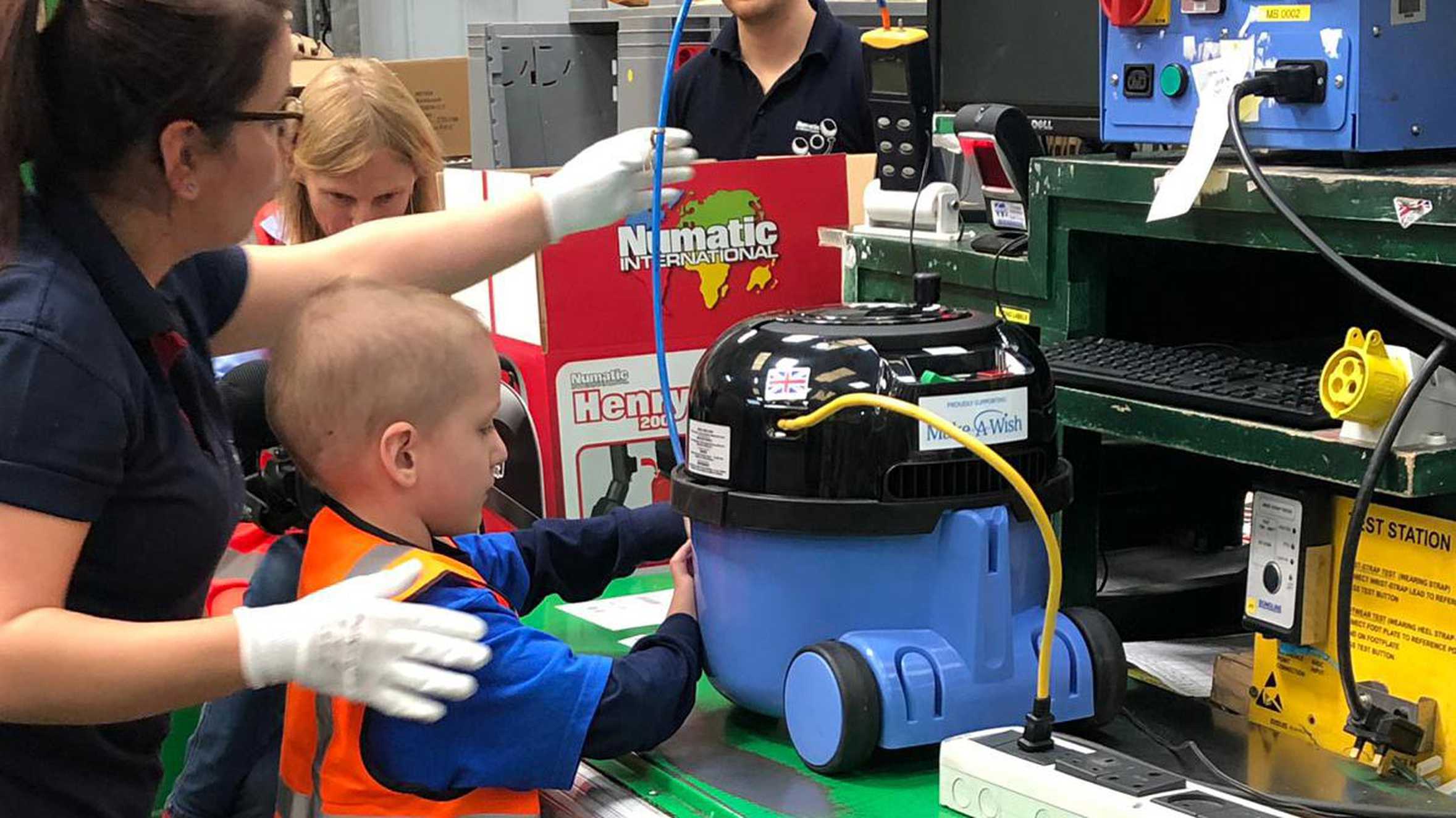 How Erik's wish helped
May 2019
Alysia, Erik's mum, said;
"Erik is such a bright, curious boy who loves asking questions and finding out how things work. Seeing all these vacuums and how all the components fit together has gotta be a dream come true for him. His excitement when we got to the production line and saw his very own vacuum in his favourite colour with his name on was really special."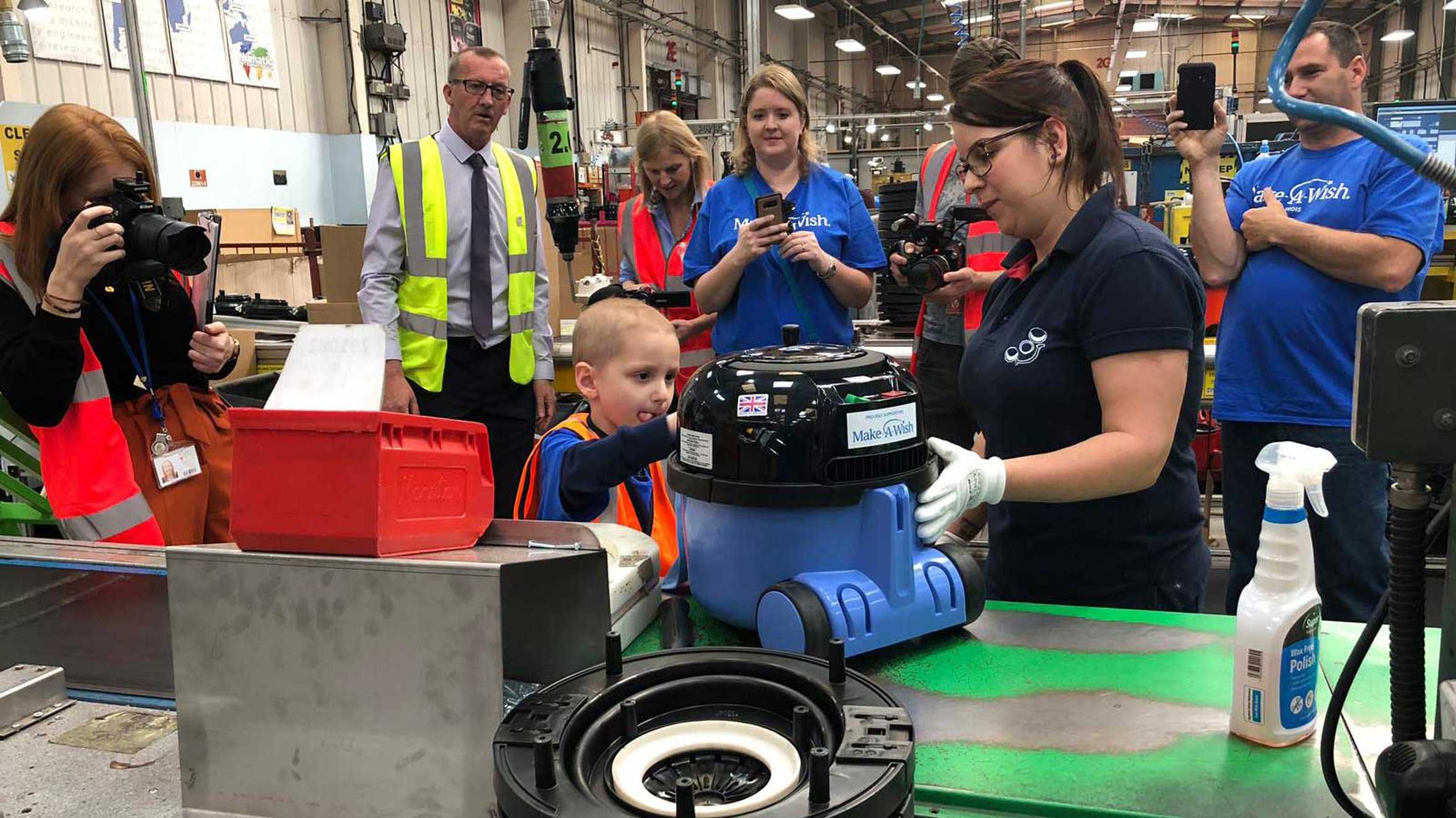 "This wish has felt like such a relief to see that Erik can still have so much joy in his life and still enjoy things that normal healthy children can experience. Just seeing the smile on his face has brought a sense of peace to my heart."
We rely on generous donations from people like you to grant wishes. Your donation will make wishes become a reality for critically ill children, supporting them where the need is greatest. Thank you.