YOU have the power to light up the darkness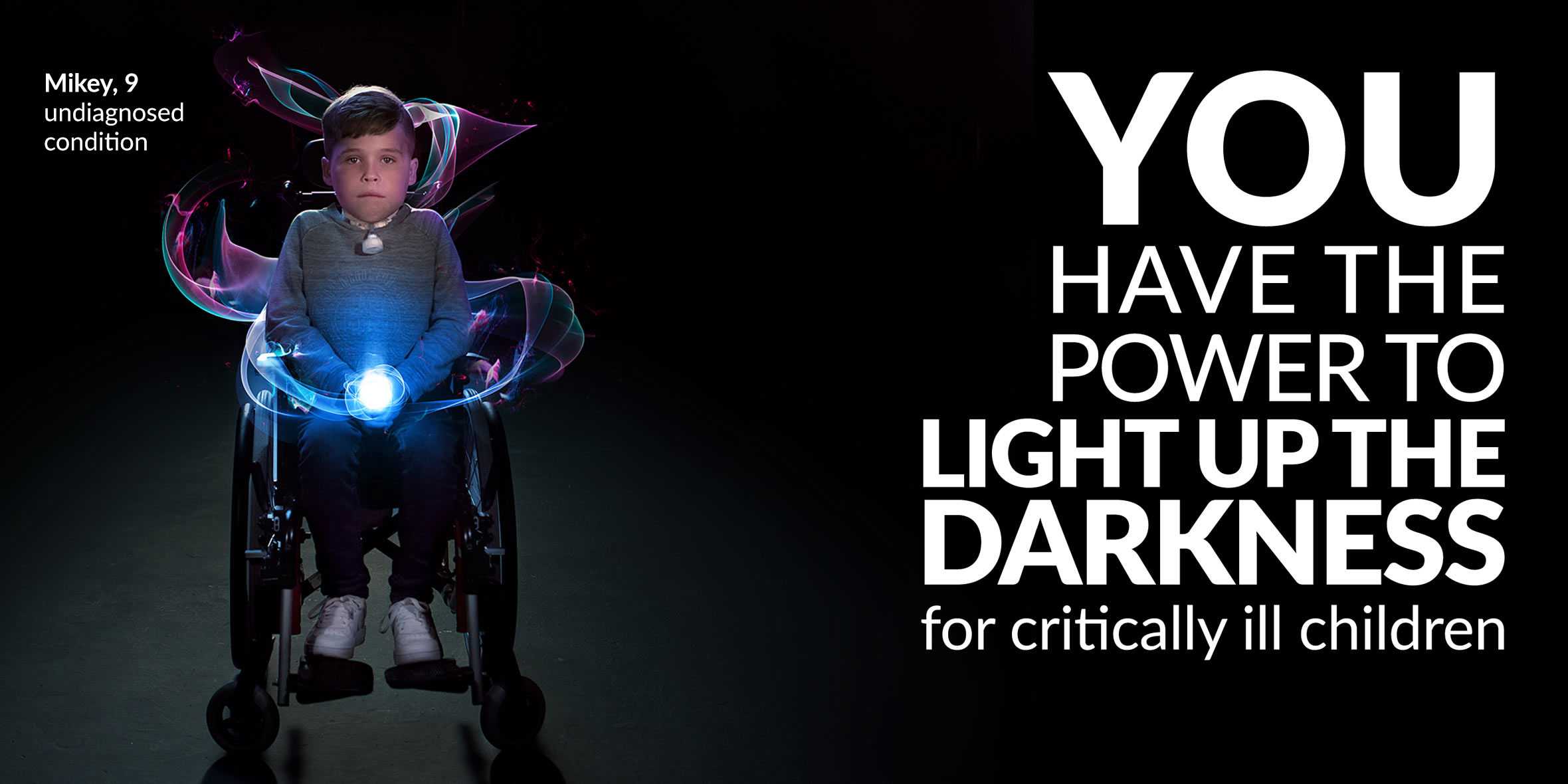 On 15th November, Make-A-Wish UK unveiled an ambitious new campaign, Light up the Darkness, to raise funds for thousands of wishes.
There are currently more than 60,000* children in the UK living with a critical illness - a diagnosis that changes lives and families forever. This figure is expected to double in the next ten years. The realities of medical treatment, hospital visits and sleepless nights bring an abrupt end to the joy of childhood for these children.
The film shines a light on the stark reality of what some families are facing this Christmas, in sharp contrast to many of the other adverts currently being released on our screens. Themes we're familiar with from traditional Christmas ads fall away into darkness, but lights in the darkness symbolise wishes granted to a sick child, and some of the young faces lit up by magic are of real children whom Make-A-Wish has helped.

Meet the stars of our campaign
The campaign features several amazing wish children - Mikey, whose wish to have a PS5 games console was granted in December 2020; Sophia who recently got to experience her wish to have lots of chocolate; and Emily who is currently waiting for her wish to be an actor and star in a film. You can meet these amazing children and find out all about their wishes below.
Wish Granted
Mikey
8 yrs
Undiagnosed breathing & digestive problem
"I wish to have a PS5 Games Console"
Wish Granted
Emily
"I wish to be an actor and star in a film"
Wish Granted
Sophia
"I wish to have lots of chocolate"
Behind the scenes
Directed by award-winning director John Turner and narrated by David Walliams OBE, the film marks a powerful new direction for us creatively. It shows the world through a child's eyes, subverting the usual happy children's party scene that would be familiar to so many of us as we think back to the freedom and possibilities our own childhoods offered us. Instead, it shows the darkness, isolation and uncertainty with which critical illness can surround a young person and their family. Wishes are sparks of light against the darkness, showing the power of bringing a little magic back into a child's life as they cope with illness and deal with realities no child should have to face.

The special effects, led by award-winning production facility Bubble TV, were added to the film to represent wishes and the light they bring. The team explored different colours to represent the multiple wishes that the charity brings to life and simulated a cluster of particles in a 3D space to create a wish that looks alive. Subtle cues exist throughout the film, to illustrate the power of a wish and how it can be so central to a young person's life.

The video has been produced in both English and then various other language formats to represent the wide range of communities who are touched by Make-A-Wish UK. The voiceovers in Polish, Welsh & Punjabi are kindly provided by a wish parent, a volunteer, and a corporate partner.
This film was only made possible by the kind donation of time and resource by many of those involved in its creation including creative agency Friendly Giants, Bubble TV, Money Tree Films, Dukes Island Studios, TenThree, Echoic Audio, Kennedy Casting, One Stop Films and PanaLux.
How you can #LightUpTheDarkness...
Find out how you can get involved by selling your stars this Christmas to light up the darkness for critically ill children.
Sell your stars
It takes a community of volunteers to bring the light to critically ill children. Join our World Wish Day take over to see how you can help.
Join our army
Share the video on your networks using #LightUpTheDarkness. The more more people that see it, the more children you can help.
Share now
*The report "Estimating Current and Future Prevalence of Children and Young People who would be eligible for the Make-A-Wish Foundation" was published in November 2020 with research by Deborah Gibson-Smith, Stuart Jarvis & Lorna Fraser from the Department of Health Sciences, University of York & by Paul Norman from the School of Geography, University of Leeds.