Sunil's wish...
"I wish to have a PS5 Games Console"
18 years old, West Midlands
Spinocerebellar ataxia type 2
As his condition gradually stole his independence and ultimately his life, Sunil had to get used to allowing others to help him. His wish for a new PlayStation 5 enabled Sunil and his brother, Rav, to play and bond together in the last months of Sunil's life. His family find comfort in keeping Sunil's story alive and hope to inspire more families to share their stories too.
Sunil's story
October 2019
Sunil was a witty young man, with a shining smile, who loved a joke and was known for his wisecracks. He was also a keen sportsman who enjoyed playing tennis and basketball. However, his condition made competing in those sports impossible, so he substituted them with watching films or TV shows, and playing board games.
Sunil inherited his father's glowing personality, but also inherited a progressive condition called spinocerebellar ataxia type 2 which affects co-ordination, balance and speech. He was diagnosed when he was 10 after he began to regularly trip over or fall. He also started falling behind academically - despite being exceptionally bright.
His symptoms worsened rapidly until his mum, Sindy, noticed that when she called Sunil's name, his eyes would lag behind the movement of his head.
Sindy recalled: "I brushed it under the carpet until on one day I picked him up from his tutor and they said Sunil was carrying a drink and was spilling it everywhere. Then, I had to admit that I had noticed things weren't right. For him, it's like trying to walk in a straight line on a moving ship."
Sindy and her family had to face a harsh reality after Sunil's diagnosis, and the hardest reality of all since his death.

"Last November he was coming out his lift and looked at me and said, 'I can't walk.' It broke my heart. It's like dealing with something where the light is slowly dimming. He once told me he already felt dead. It never leaves you hearing that."


Speaking just months before he passed away, Sindy told us: "There are always days when it's too much. The goalposts move regularly. Some knocks are harder to digest. Sunil is now nil by mouth so he can't eat with us and it's a double-edged sword. Do we let him see us eating or let him sit alone and feel left out?"

Despite Sunil's physical decline, he was still in full control of his mind - something his family did not take for granted. Sunil went to mainstream school, and before lockdown restrictions, was still attending college.
Before Sunil died, Sindy said: "He is surrounded by a lot of love. Day to day the love gets us through. We want to feel we did everything we could for his happiness."
Now, continuing to share Sunil's story is something his family is proud to do: "Sharing Sunil's story has helped raise awareness of the unique work Make-A-Wish carries out. For us as a family, the wish made a huge difference to our son's happiness. We hope to inspire other families to share their wish stories too. Even though our son is no longer with us, it still brings us comfort reading about him on the charity's website. It's keeping Sunil's memory alive."
Sunil's wish
December 2020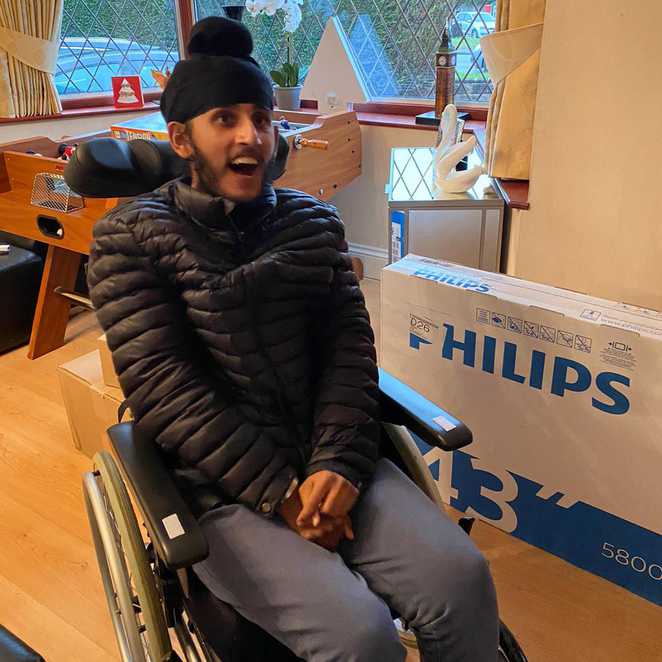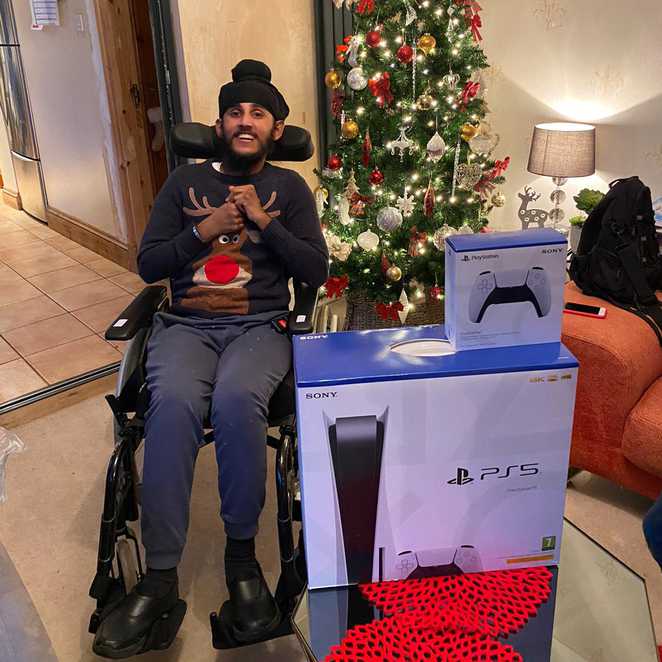 Covid-19 not only stopped Sunil from going to college, but restrictions meant that his wish had to change from meeting the cast of his favourite show, EastEnders. However, these circumstances presented an opportunity for Sunil - to immerse himself in his passion for gaming and wish to have the all-new PlayStation 5.
Sindy said: "When Make-A-Wish got in touch, they said the idea had to come from Sunil. Sunil has always liked gaming; we bought him a PS4 when it came out, but his disability made it hard to game. We saw online that a dad had adapted a controller for his disabled children, so we bought an adaptor for Sunil's console."
Sunil's Wishgranter, Erica, then worked with our brilliant supplier, Ebuyer, to get Sunil an upgrade of the elusive PS5 console and it didn't disappoint! Together, we were able to give Sunil a PS5 console, gaming headset, a new TV and vouchers to spend on accessories and the games of his choice.
How Sunil's wish helped
February 2021
Sindy happily reflected: "When the PS5 arrived, we didn't realise they were like gold dust. We took him into the family room and had an opening ceremony. It all just made sense to have a PS5. He was overjoyed. We cannot thank you enough. Sunil was made up!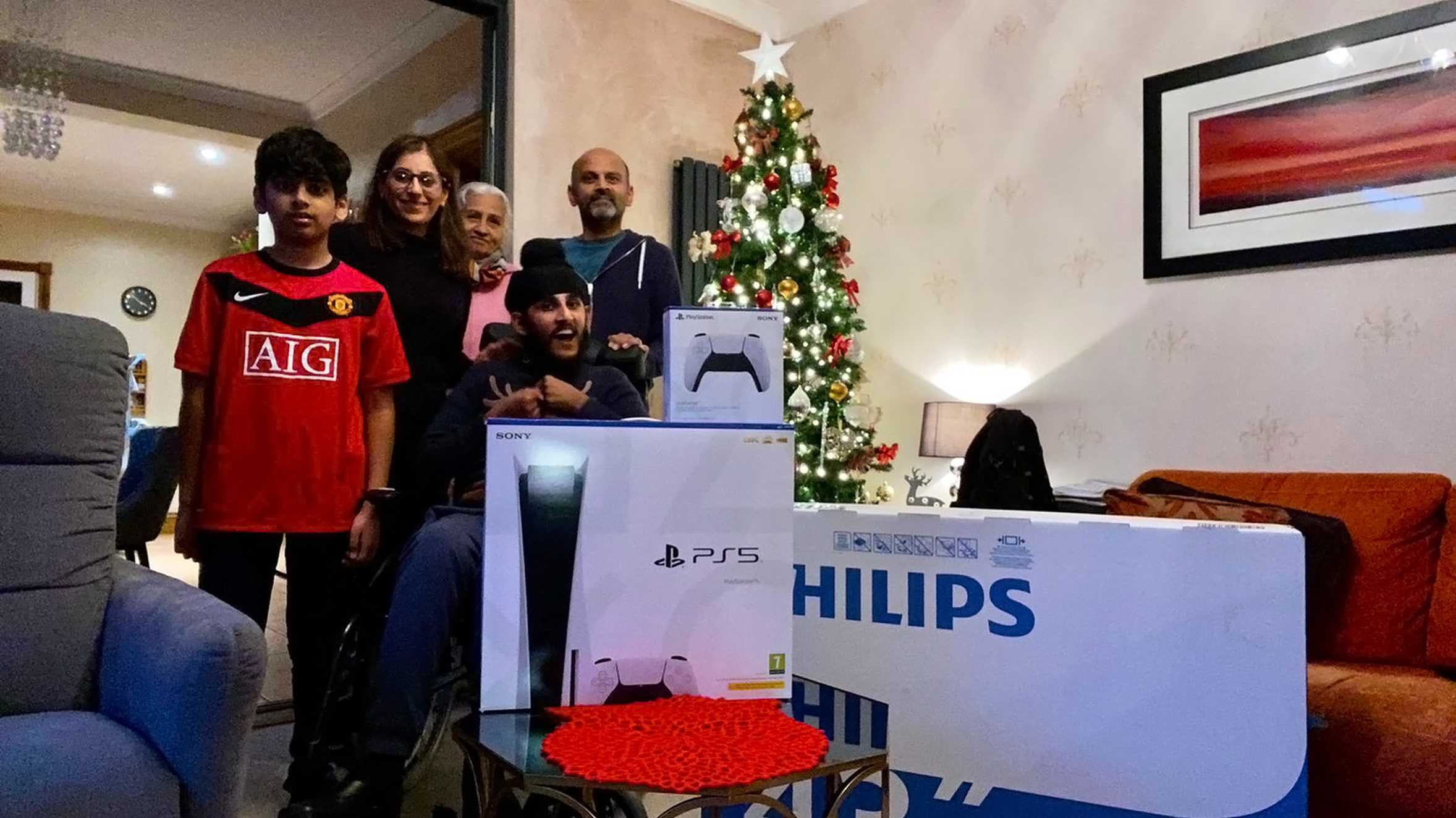 "His brother Rav holds the controller to help his brother game. They play Fortnite and Rocket League and want to get Minecraft. Everything happens for a reason – when Sunil was younger, he wanted a sibling and now Rav supports Sunil."

Speaking on a video call, Sunil managed to say a sentence near the end of the call, and of course used the opportunity to joke: "Ravi steals it [PlayStation 5] and plays it!"

"The whole wish process from start to finish gives us that light to make us happy in a very dark situation. Things like this in your home just make you happy."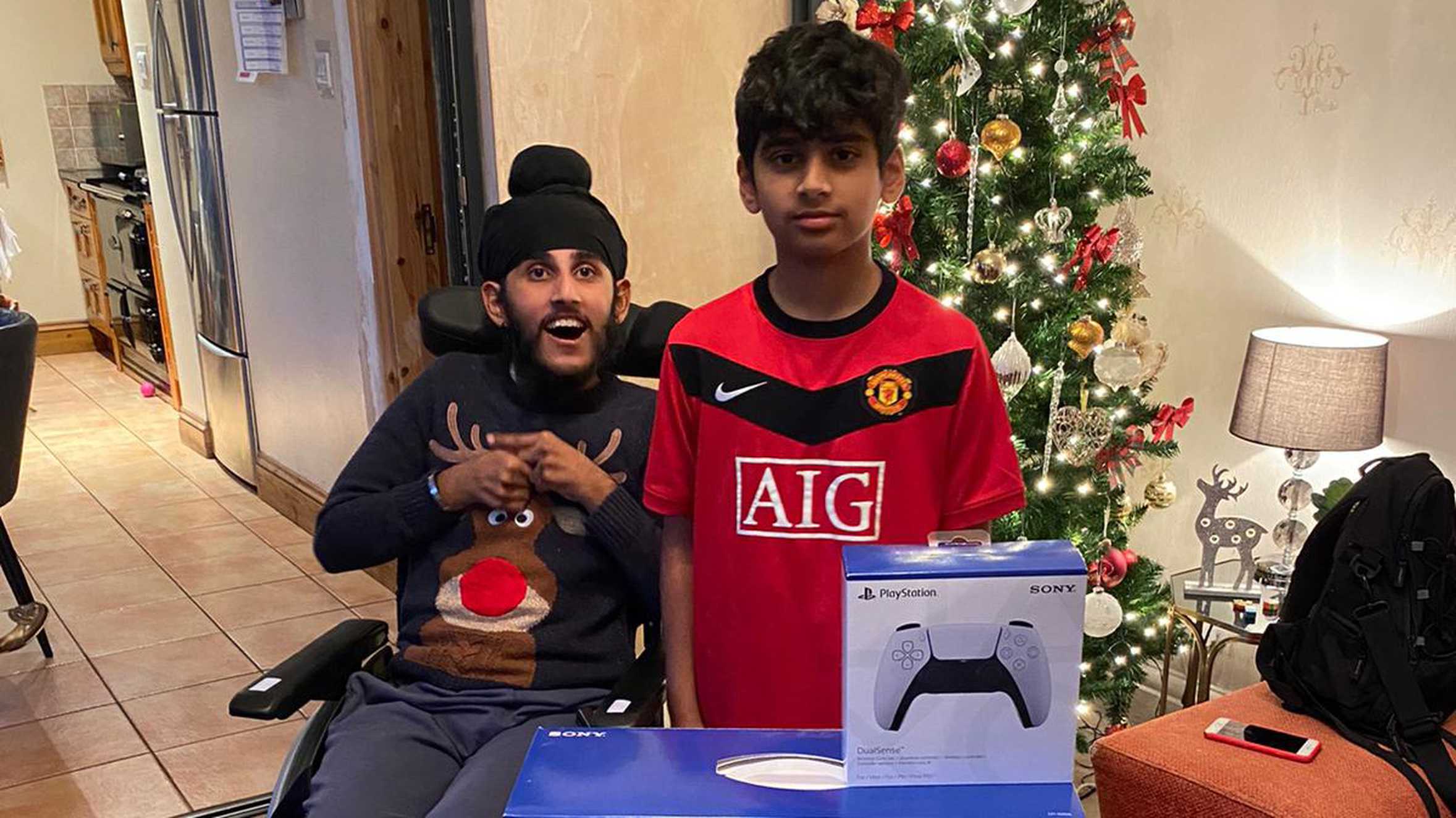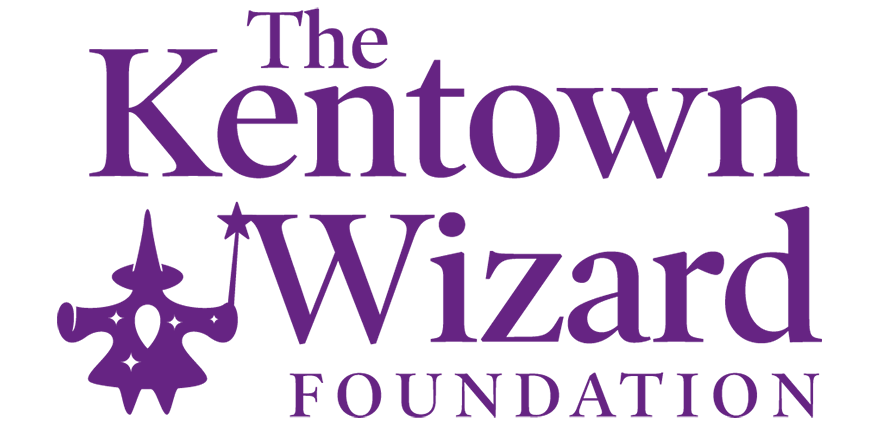 Thanks to The Kentown Wizard Foundation whose grant funded this wish.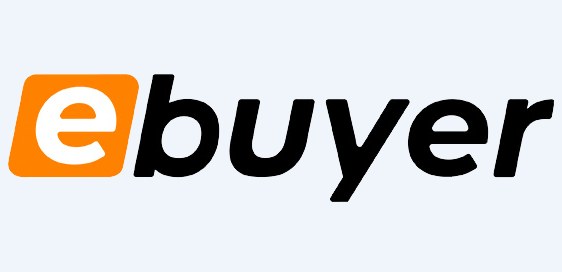 Thanks to Ebuyer who supplied the equipment for Sunil's wish.
From a new console to meeting their favourite streamer, read about other gaming wishes we've granted.
More wishes
Find out more about the positive impact wishes have on our wish children and their loved ones.
Read more
Read more about our special partnership with Ebuyer and how they help us grant magical technology wishes.
About Ebuyer
We rely on generous donations from people like you to grant wishes. Your donation will make wishes become a reality for critically ill children, supporting them where the need is greatest. Thank you.