Rhianna's wish...
"I wish to be a WWE commentator"
17 years old, Hampshire
Mastocytosis and complications
Seventeen-year-old Rhianna's living with Mastocytosis and Ehler Danlos Syndrome. When she turned to us to grant her One True Wish, she wished to be a WWE commentator!


Rhianna lives in Hampshire with her family. She was born with a rare genetic mutation called Mastocytosis and Ehler Danlos Syndrome which means she has a permanent rash on her skin, days when she's exhausted and in pain, as well as joints which sometimes dislocate. It's a six-hour drive for her to see specialists at Newcastle Hospital.

Rhianna felt bullied for being different at school and found access difficult, so she's now tutored at home. She loves music and plays the keyboard but her passion is WWE wrestling. When her support worker told her mum about Make-A-Wish, she wished to be a WWE commentator and meet WWE's Chief Brand Manager, Stephanie McMahon. She wanted to discuss storyline ideas with Stephanie and outline her suggestions for making the wrestling tournaments more accessible to people like herself, her brother Ryen, who has Asperger's, and her sister Ciara who struggles with her mobility after she was injured in a bus crash.
A few days before her wish was granted, a film crew from the American TV channel ESPN arrived at Rhianna's home. They said that they were making a film about her condition for the hospital. Little did Rhianna know, she was about to get a huge surprise! After some interviews the crew offered to show her some of the footage but instead a video message from Stephanie McMahon herself popped up on screen!
Rhianna was stunned into silence when Stephanie said her name, explained that her wish was being granted and added: "Pack your bags! I'll see you in Orlando next week."
That's when she realised that her Mum hadn't been getting their passports ready just for 'identification purposes' but for this surprise trip. She was thrilled!

The following week, ESPN producer Jen's familiar face greeted them at Orlando airport and they shared a taxi to their hotel. During the journey, they loved seeing the giant billboards and sites they'd only seen on US TV shows before.

Rhianna said: "Our hotel suite was really lovely and so big we could have lived there! The next morning, a stretch Limo was waiting to drive us to the WWE Performance Centre. Ryan Katz and Nia Jax, their top female wrestler, were waiting to meet us. Nia gave me a big hug and I felt like I was going to cry! I didn't expect to see her because she's been out with a knee injury. She said she remembered watching and sharing the video of me walking again for the first time that I posted on Twitter.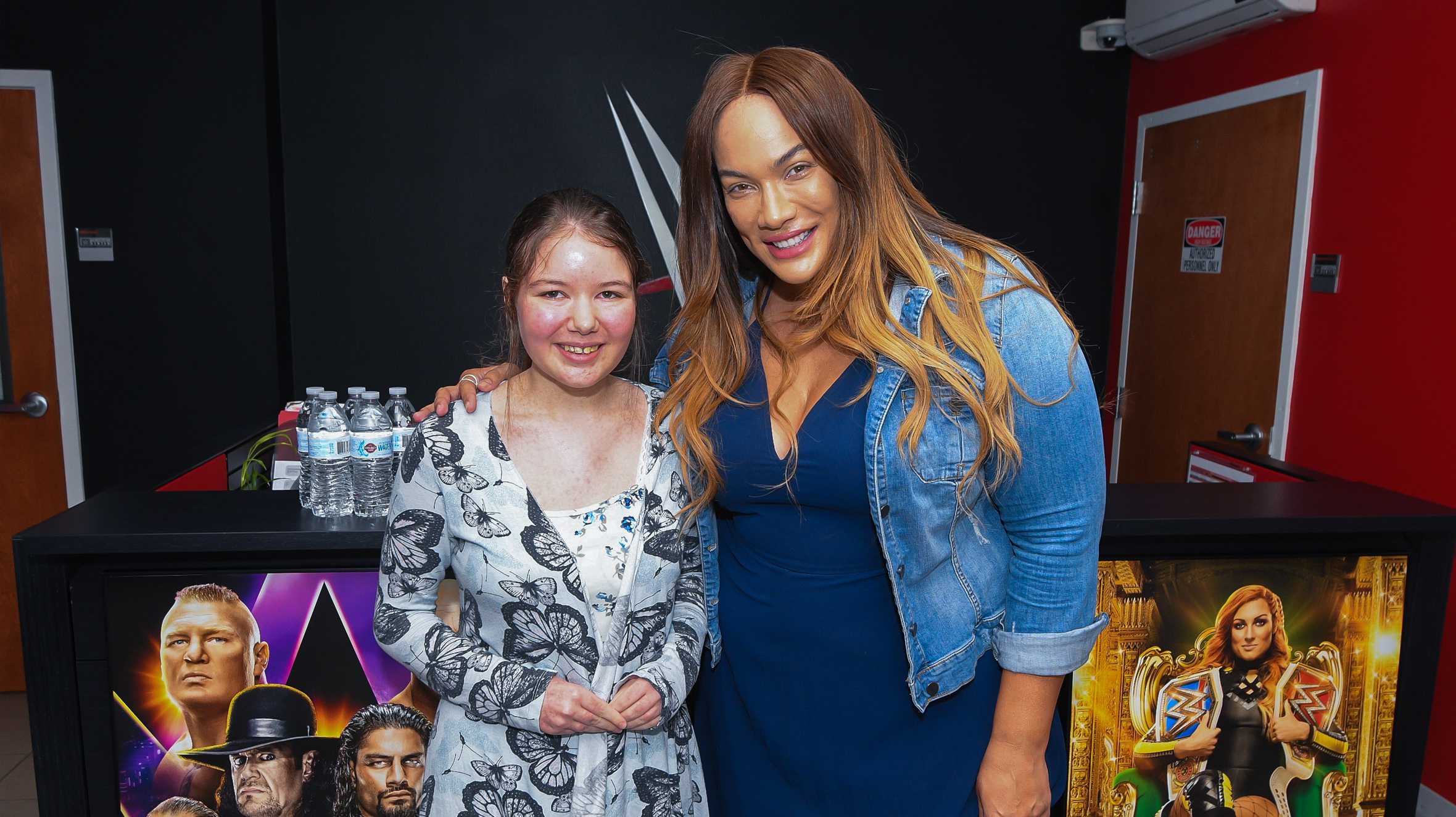 "Then we went on a tour and Adam Cole, the NXT champion, and Kasey Katinzaro, who is training up to be a full-time wrestler, joined us. Adam let me hold his belt, which was really heavy. They took us to a door with a sign on it saying 'meeting in progress' but Ryan just crashed the meeting! The legendary Sean Michaels and pretty much every single NXT superstar was in there! I couldn't believe it. Sean explained that they were watching old matches to see where they could make improvements. I said: "My mum loves you," and he said, "I have that effect on mothers!" Then he called her into the room and gave her a hug."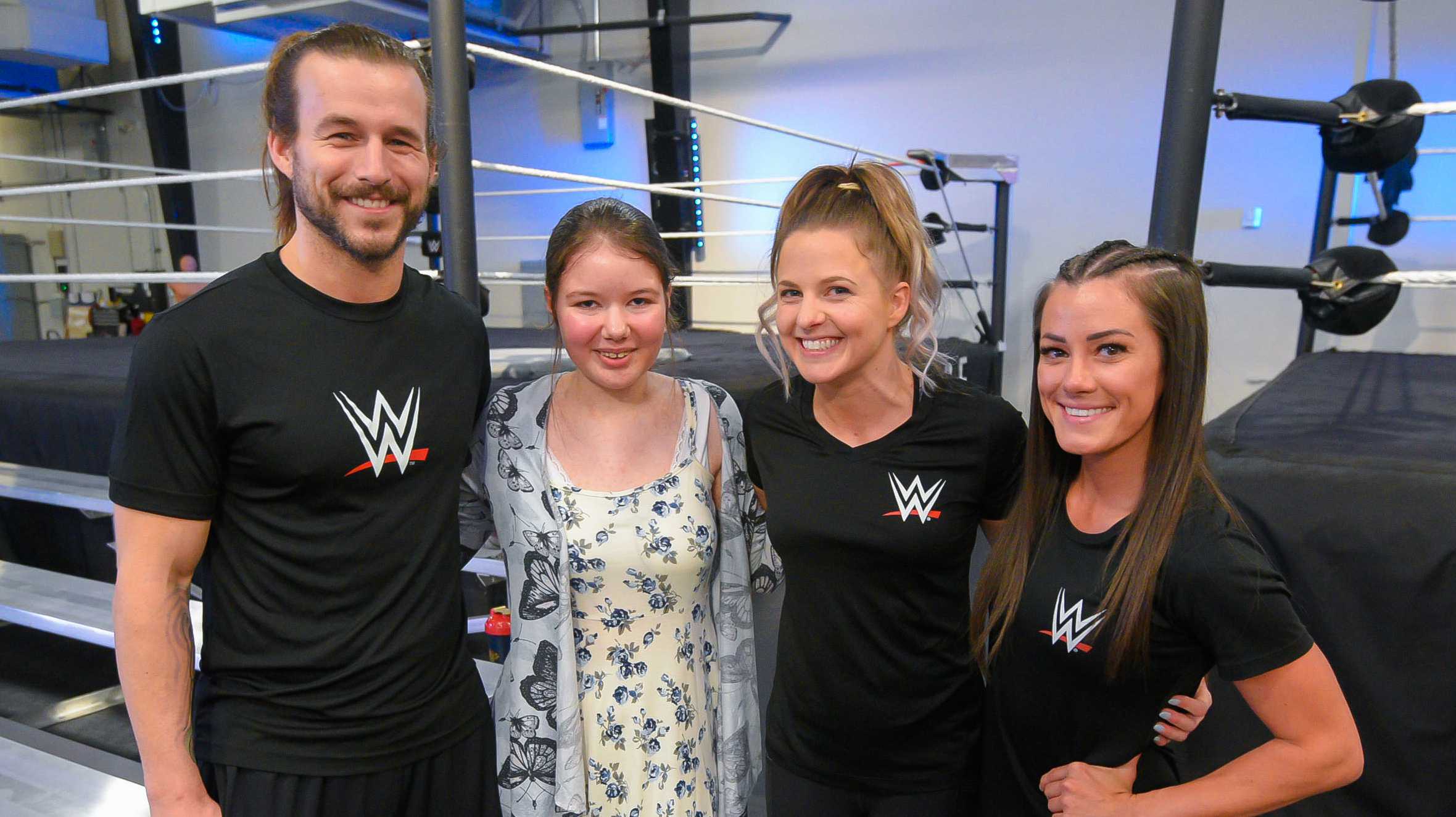 Rhianna's mum Debbie continues: "We continued on the tour and, when Rhianna had a go in the commentary practice room, everyone was so impressed! Someone said it was like Rhianna had been commentating for years. They're going to train her up as a commentator, which is brilliant. There's a performance centre in England and they're keen for her to train there. She's been on a high ever since!"
Next, Rhianna got to practice editing a WWE promotional film; she went to see the medical department and gym where some of the superstars were throwing each other in wrestling rings and then she made her own wrestling-style entrance music while everyone chanted her stage name, "Raging Rhianna Rox."
Rhianna said: "I stood at the bottom of the entrance ramp and Tyler Breeze's theme tune started playing. Then everyone stopped and they were looking at what was going behind me and there was Tyler! They took me behind the curtain and I got to walk down to my own entrance music. I was so overwhelmed! Then they brought out some t-shirts and goodies for me. I was talking to the wrestlers and asked them to sign my autograph book. We had a photo together holding their belts."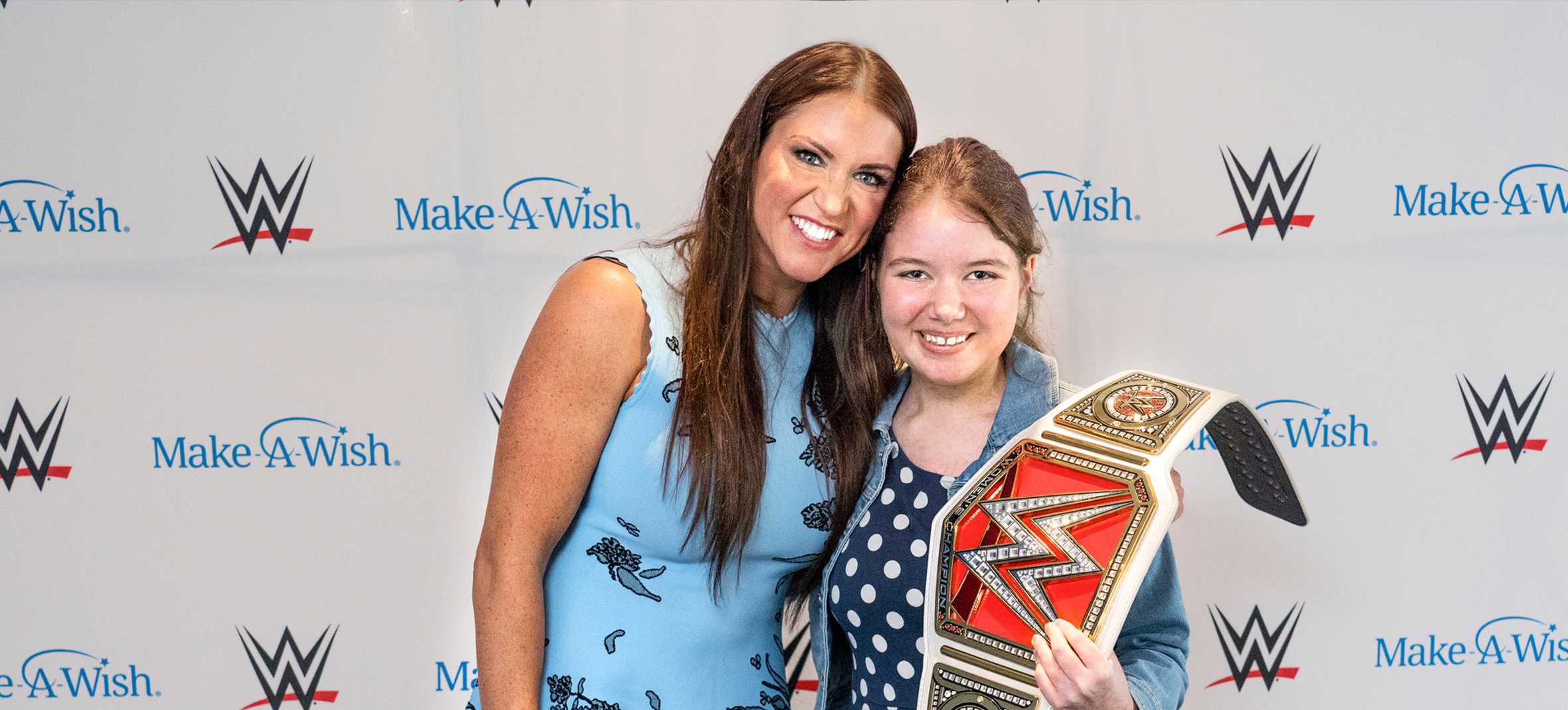 And that was just the first day of Rhianna's wish! That night, she went out for a fabulous meal in their own private dining room and the next day, a shopping spree. After buying some treats and gifts for her family, Rhianna and her mum were chauffeured to the NXT buildings where Rhianna met Stephanie in a conference room.
Rhianna said: "Stephanie gave me a huge hug as soon as I walked in. We sat down and I pulled out my clipboard and chatted through all my ideas. They're about inclusivity for disabled people and about giving proper acknowledgement to all the people who work behind-the-scenes. WWE are now planning to create a sensory room and a couch for people to watch from.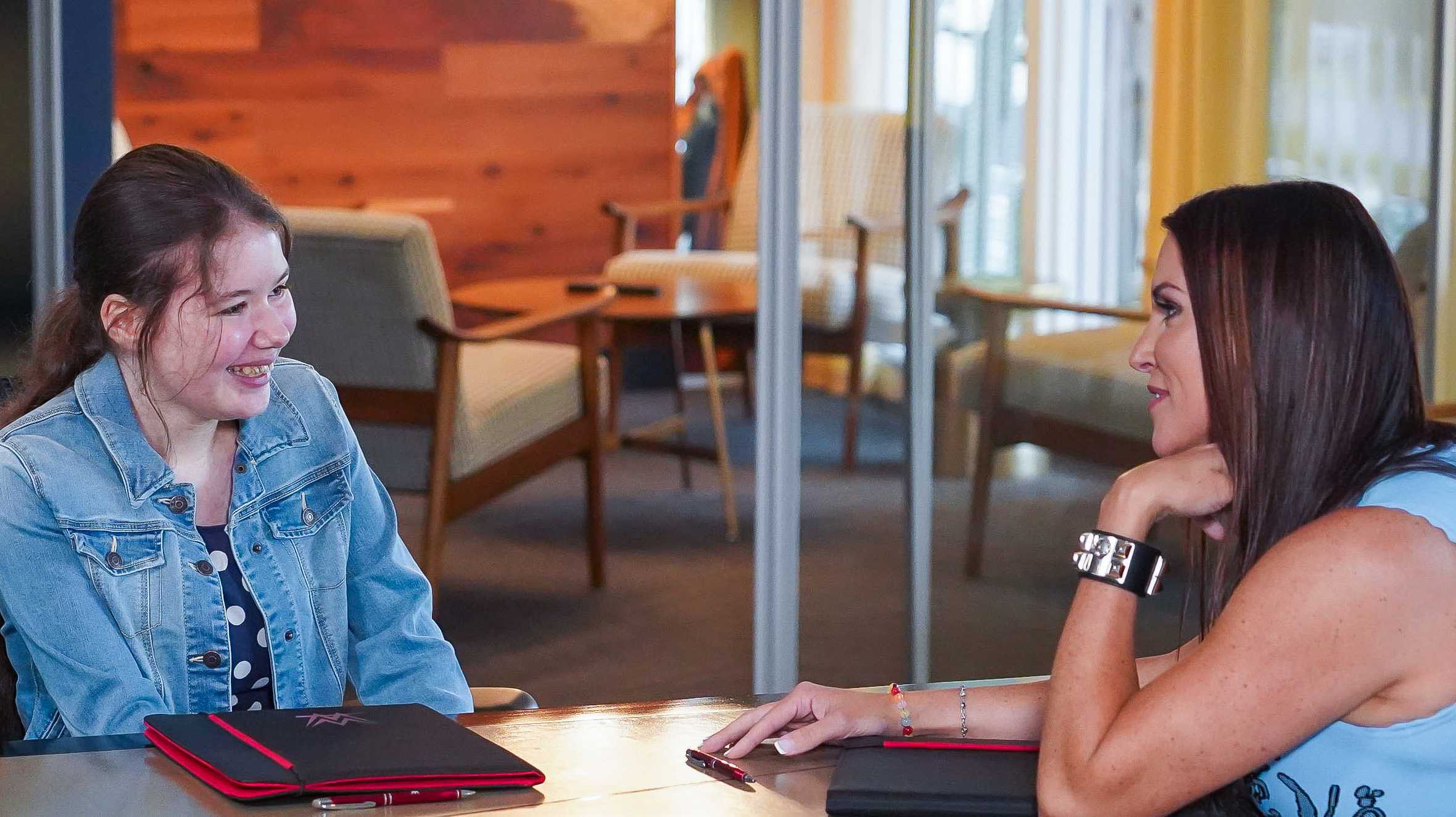 "When the meeting finished, I gave Stephanie some presents that my sister Ciara made and she did a video message for Ciara. Then she said she had something for me and it was a Real Roar women's championship belt. I had to carry it and it was so heavy! That evening, we were given tickets to see NXT and we were taken backstage with Triple H. He invited my whole family to go to the NXT Takeover in Cardiff on 31st August. He said we'd be VIP guests because now we're part of the WWE family."
Now WWE are going to send over some technology to help Rhianna practice commentating at home. She's almost got her dream career!
"It was amazing and I wouldn't change any of it for the world."
We rely on generous donations from people like you to grant wishes. Your donation will make wishes become a reality for critically ill children, supporting them where the need is greatest. Thank you.