Patrick's wish...
"I wish to go to Disneyland Paris"
4 years old, Leeds
Gastrointestinal transplant
Patrick's story
September 2019
Patrick needs a multi-organ transplant. His bowel transplant has failed and now he needs a new stomach, liver, bowel and pancreas. His mum jokes, in that way that only parents of very poorly children do - as a coping mechanism - that he is slowly being rebuilt altogether like The Bionic Man!
Patrick was born with a condition called gastroschisis, which meant his intestines didn't develop properly. He is fed through a TPN line over 14 hours each day because his condition means he now can't eat. But he would love to be able to. He would also love to 'grow up', he told his wish visitor volunteers when they met him at home to discuss his dearest wish.

That's all Make-A-Wish has been able to do for Patrick, who's five and from Leeds - grant his wish: to go on a plane and meet Buzz Lightyear and Woody from the film Toy Story.
His wish came true last September when he, his parents Michelle and Peter, and his older siblings, Molly and Carrick, flew from Manchester Airport to Paris. They were all thrilled to travel by plane because they had only ever been away before to go camping for the weekend.

At Disneyland Paris the next day, they met Buzz, Woody and a whole host of other characters like Pluto, Minnie Mouse and princesses, too.
Michelle told us: "I cried when I saw the castle for the first time. It was just overwhelming. I'd seen pictures of it in magazines and on TV but when you're literally standing there and when you see the light show, it's just... Wow!"

How Patrick's wish helped
August 2020
Once home, Patrick and his family were able to take in the experience and although life got back to normal with check ups, appointments and waiting for that call about his all-important transplant, they had treasured memories to hold onto.
Michelle continued: "It meant that our family could do something together and not have to worry about how we were going to get to places, or insurance, or getting Patrick's medication safely over there, or what we were going to do at mealtimes. We just got to enjoy it.

"Patrick wanted to see a plane and you sent him on one. He got to meet his favourite Disney characters and more. It's like the advert says, Disney is where dreams come true and it was a dream for all of us because there was something for everyone. We could never thank you enough. What you do is amazing!"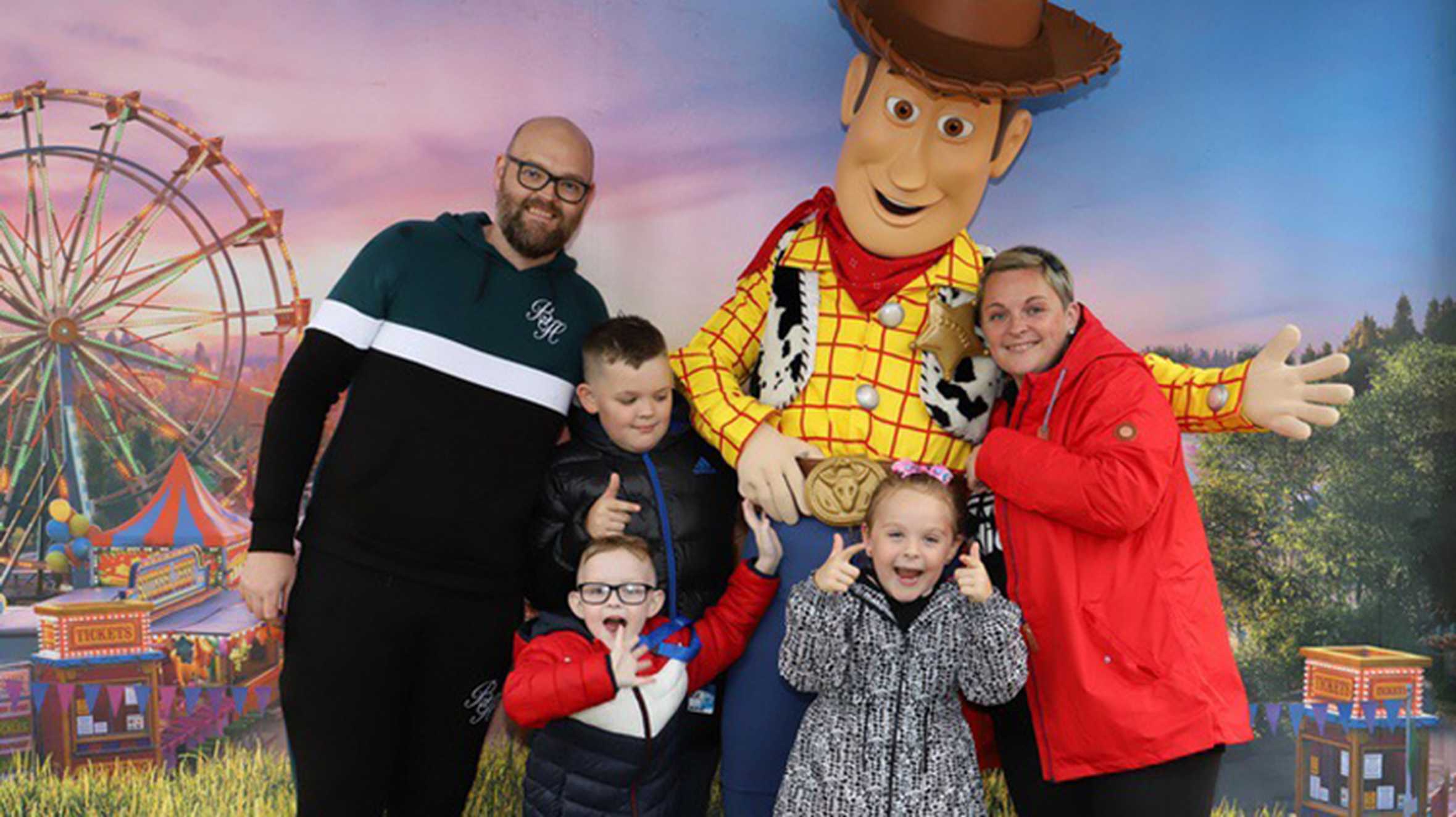 "We just got to be a family and we don't get to be a family very often. It's probably been the only time we've ever been able to just be a family together, having a good time."
The Make-A-Wish partnership is part of The Walt Disney Company's global commitment to deliver comfort and inspiration to families with children facing serious illness. Disney work in partnership Make-A-Wish to help build emotional resilience, leveraging the power of our brand, storytelling and characters to inspire and create Moments that Matter for children and those closet to them when they need it the most.
It's no surprise that many of our wish children are drawn to the magic of Disney for their wish.
More stories
Read how Disney helped us to surprise some of our wish children when legendary actor Will Smith dropped by.
Read more
Find out more about how we work with Disney and other partners to grant life-changing wishes.
Our partners
We rely on generous donations from people like you to grant wishes. Your donation will make wishes become a reality for critically ill children, supporting them where the need is greatest. Thank you.