Meadow's wish...
"I wish to be a celebrity"
11 years old, Essex
Epilepsy
Meadow lives in Essex with her mum and older brother. She has more than 20 seizures every day which don't respond to medication. What makes her condition worse is that other people assume she can't do things and she's stopped being invited to parties and sleepovers. Meadow's wish was to live like a celebrity, and so, she did! Her wish has given her a new-found confidence.
Meadow, 11, from Corringham near Basildon, was diagnosed with epilepsy just before her 10th birthday in January 2018. She's been prescribed a new drug by Great Ormond Street Hospital but it affects her cognitive ability so she can be slower to understand or respond to information. She plays the trumpet in a band and loves music, fashion and popular culture.

Although her wish wasn't until the end of May, it actually started two weeks earlier when Meadow and Harley, 13, were part of a group of wish children and superstar fundraisers who were invited by Disney to the premiere of the film Aladdin as part of a collaboration with Make-A-Wish. She got to learn the song 'Friend Like Me' with music meister Alan Williams, had a surprise chat with actor Will Smith and got to meet the other actors from the film, like Naomi Scott, on the red carpet!
Then, on the day of her wish itself, Meadow, Harley, and their mum got the train to London and hailed a cab to the Jumeirah Carlton Towers hotel in London's exclusive Knightsbridge. A porter immediately went to fetch their bags from the car and the staff on reception said they had been expecting her. This made Meadow feel really special.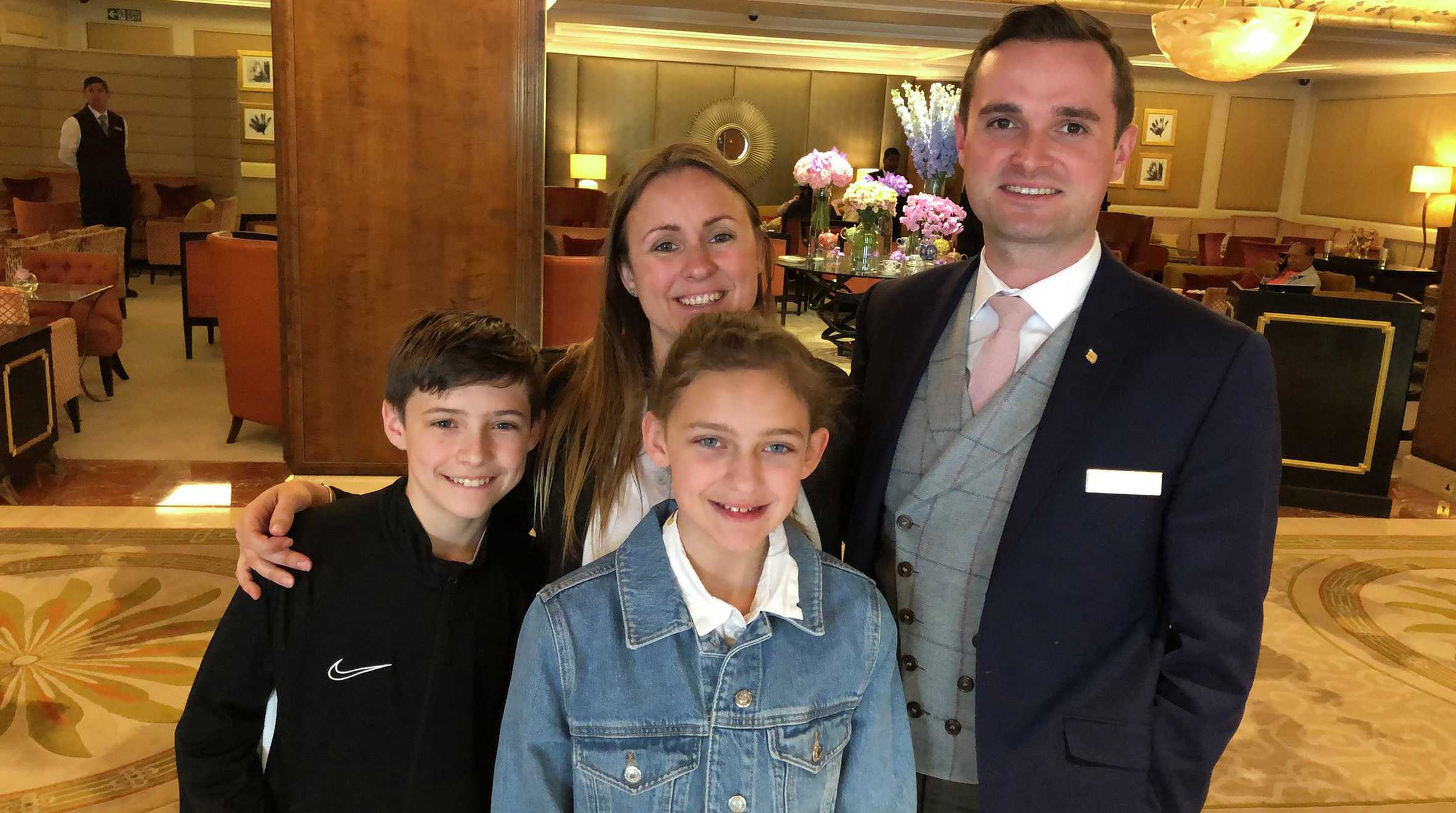 Louise said: "She was absolutely beaming! Peter introduced himself as our personal assistant and took us up to our suite. We were on the 17th floor in the biggest suite I've ever seen in my life. It was bigger than our house, that's no exaggeration! Our room didn't have a number, it was a name. Meadow went straight out onto the beautiful balcony and we had the most amazing view of London. The kids were just so excited. Meadow sprawled across the bed and then they each had a luxurious bath.
"Peter said: 'Anything you need, I'll get you.' He gave me his mobile number and said: 'I finish at six but if there's anything you need after that just text me and I'll sort it.'

Meadow fell asleep with the remote control still in her hand and woke the next morning to a huge breakfast. First on the schedule was a personal shopper experience at Topshop where staff "had her sussed completely" with the outfits they had chosen for her. Meadow had great fun posing for photos on different outfits but then thought really hard about the outfits she wanted.
Louise said: "She was quite sensible in choosing which clothes she bought and said I like that but I wouldn't wear it with what I do. She came away from there with amazing clothes and wore her new white jeans all day. Meanwhile, Harley got stuck into the cakes and sweets they had put out for us!"
When the family returned to the hotel carrying all their bags, they found lots more cakes and a personalised chocolate slab with Meadow's name piped onto it. Room service was the order of the day for dinner as Meadow was exhausted and having lots of seizures. The food was delivered on a trolley with silver domes keeping it warm and staff were amazing. Again, Meadow felt really special.
The next day, Peter suggested that Meadow have a manicure and he escorted her to the spa where a team of people was waiting to meet her.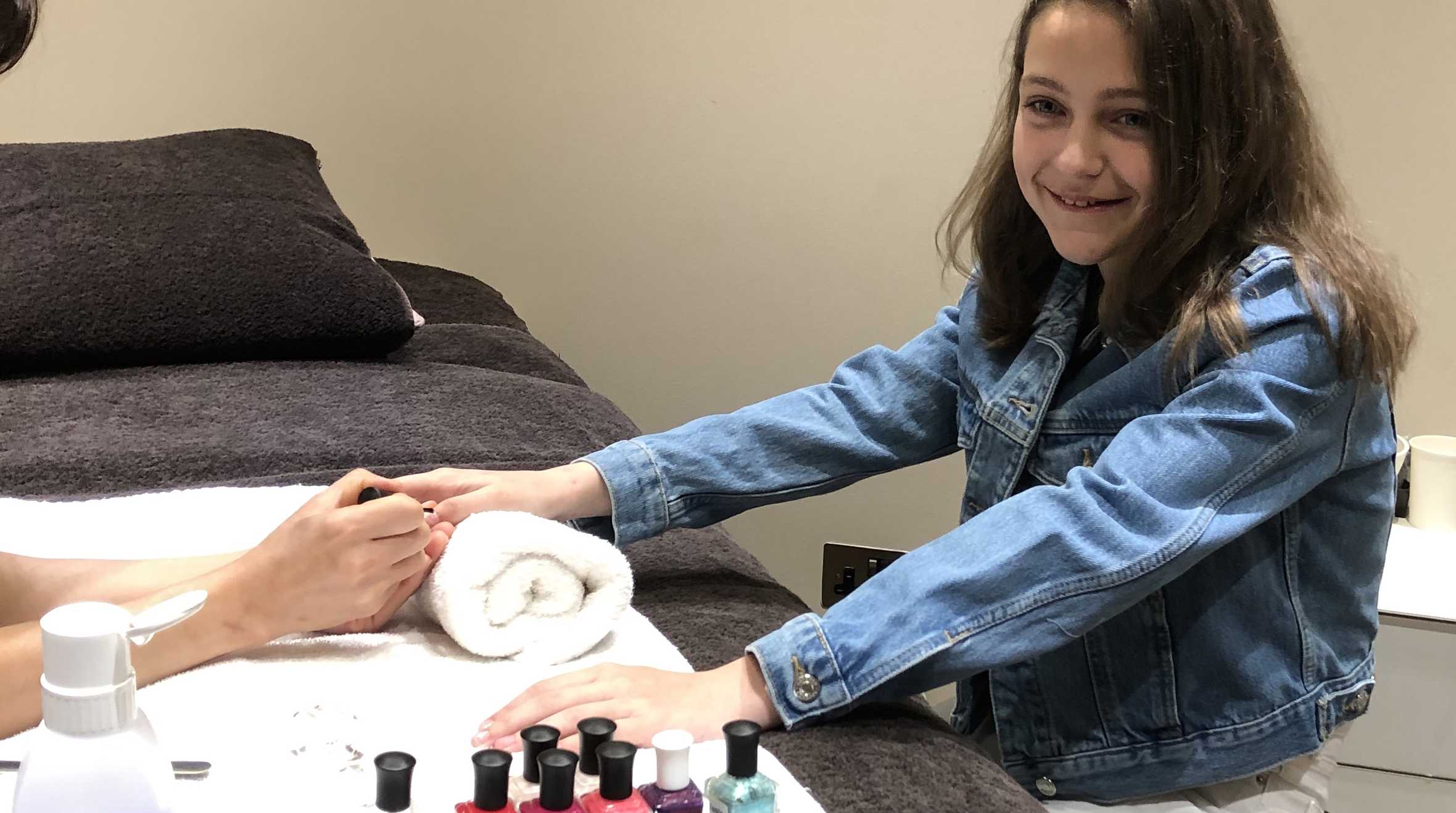 Louise said: "The beautician had to do Meadow's nails three times because she kept having seizures but she was so patient with her. She told her, you have really taught me what bravery is and gave her a free gift. She also talked to Harley and said that she saw lots of love in our family. Harley was never ignored though the whole wish was very much about Meadow."

For dinner, Meadow chose to go to Planet Hollywood where staff put sparklers in her dessert and created a special message for her that they broadcast on the big screen.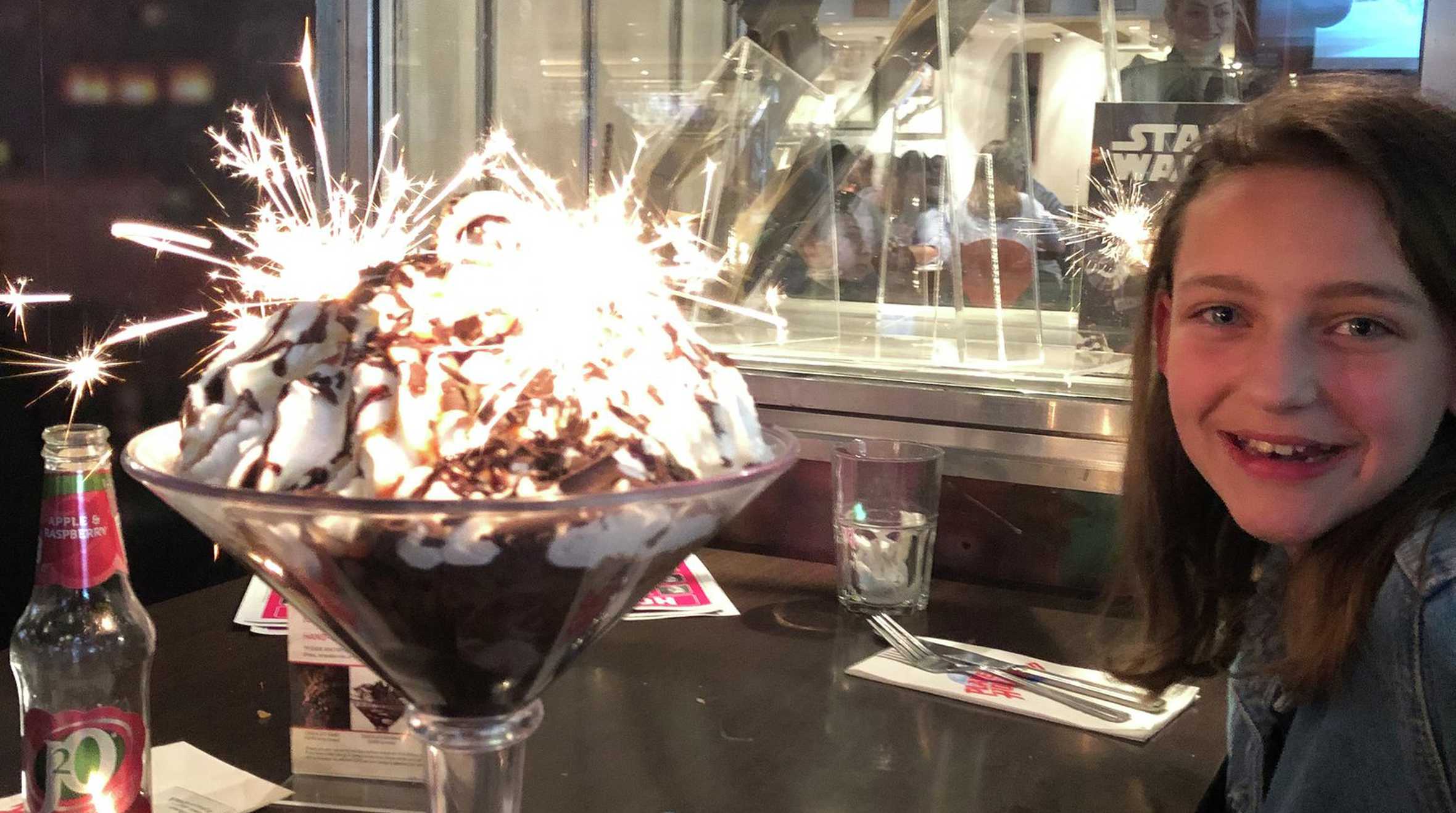 Afterwards, it was off to the West End to see Aladdin the musical at the Prince Edward theatre.

"We had great seats right near the front. Meadow was given a Jasmine teddy and a programme. What an amazing show! Then it was back to the hotel where there were more gifts including a signed programme from the cast of Aladdin and cookies in all the different shapes of fashion items."
At breakfast the next day, staff couldn't do enough for the family and then Peter gave Harley an England football and Meadow a Lego set as parting gifts.
Louise said: "I'm just not used to this! It was so lovely. But I was also pleased that at no point did the children start to take it for granted. They were grateful for everything. One of the moments that really put a lump in my throat was when I glanced at Peter after he'd shown us to our room and saw his face. He looked overjoyed at the kids' reaction and that was really lovely. It really hit me in the heart. He probably doesn't get that very often – seeing someone value what he and his team do every day.
How Meadow's wish helped
June 2019
Meadow is still reliving her wish and is going to spend the summer making up a scrap book of all the photos and mementos of the experience.
Louise said: "It was all just amazing. Her wish probably gets mentioned once a day every day, if not by us by someone else. She's a bit of a local celebrity now. I went to the local pharmacy and they said they'd read her story and said to each other I bet that's the Meadow that we do the medication for!
"The sad truth is that Meadow is losing a lot. She's losing her independence and she's losing her friends. But one thing that she keeps mentioning is 'I got to meet Will Smith and stay in that amazing hotel suite'. In her mind she's seeing it as a big positive in amongst the negatives, I think that's a massive help to her. I just can't say how grateful I am for everything. It means so much to all of us. It was such a wonderful experience for Harley as well. I'm often on my own with the children but during the wish I felt like I was getting quality time with my children while being well supported by other people.
"I felt like I was getting quality time with my children while being well supported by other people."
"It was also amazing for both the children to meet Will Smith. Not only is he a pretty cool guy but the kind of messages he was putting across to the children were really important. He talked about how he had done a bungee jump and about facing your fears. He said that the most frightening times of your life can become the most exhilarating."
We rely on generous donations from people like you to grant wishes. Your donation will make wishes become a reality for critically ill children, supporting them where the need is greatest. Thank you.