Harrison's wish...
"I wish to have a gaming PC"
7 years old, Newcastle-under-Lyme
Quadriplegic cerebral palsy
Being independent is something all children long for growing up, but for Harrison it's taking more than most to get there. His wish to have a gaming PC with a left-handed keyboard puts him one step closer as gaming is now one of the rare things he can enjoy completely unaided. His wish has allowed him to learn, socialise and grow during very testing times.
Harrison's story
August 2019
Harrison, seven, from Newcastle-under-Lyme, is full of life and love and "he's happy to be awake in the morning". Harrison enjoys getting lost in his imagination and playing make-believe with his favourite toys and Marvel DC figurines.
Yet Harrison's reality began being born prematurely and unconscious at 27 weeks after a brain haemorrhage in the womb. For his first hours of life, his family didn't know if he was alive and were expecting the worst. At nine months, Harrison was diagnosed with quadriplegic cerebral palsy. His early years were branded with pain and sleepless nights leading to specialist equipment, surgery and physiotherapy.
To this day, Harrison hasn't reached many developmental milestones such as walking, has very limited movement and needs intense physiotherapy to aid his mobility - he has learned to kneel and sit unaided but he's still heavily dependent on mum Lydia, as she explained:
"Day-to-day I do everything for him. Playing is difficult as he only has the use of one hand and he's stuck in his wheelchair, so he spends a lot of time on the PC."
Despite being reliant on his mum, Harrison attends special school where he loves to learn, particularly the history of the war and geography.
Lydia said: "Teachers say he is like a sponge. But he can't wait to get home and be independent."
An ongoing mission for Harrison and his family is to increase his independence in all areas of his life. This includes six years of perseverance to secure and adapt their ground floor flat to ensure it meets all his needs and fundraising for an operation to reduce his spasticity, as well as his ongoing physio and wheelchair.
Harrison's wish
September 2020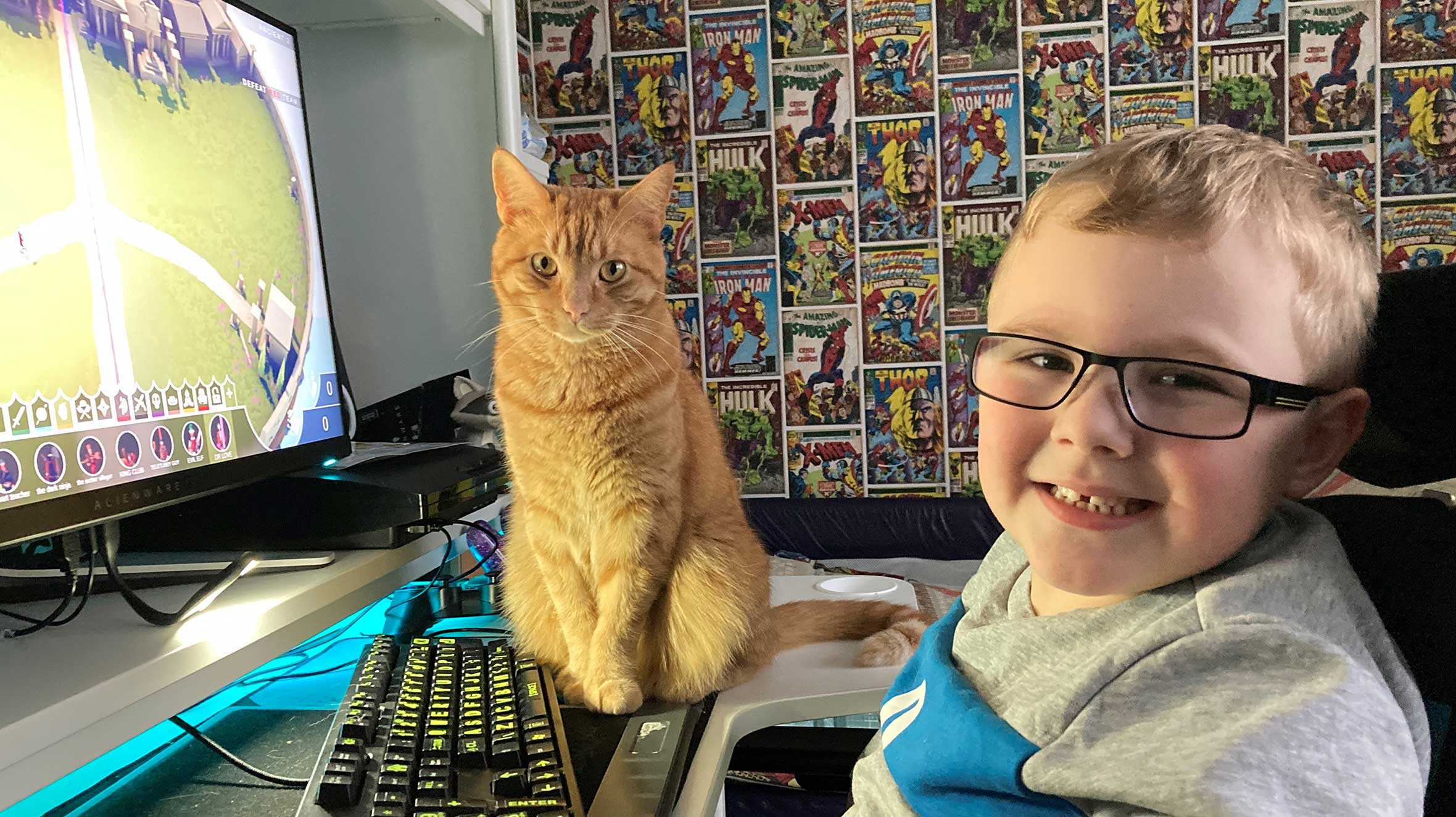 After having to change his wish due to the restrictions of Covid-19, Harrison expressed his interest in a gaming wish and was thinking about either a Nintendo Switch or a gaming PC.
"The Switch would've been virtually impossible to play as Harrison only has use of one hand, but you can get a left-handed keyboard and an adapted mouse for a PC, so it would be something he can play independently. When he gets older, he can also use it for school and spelling and things," Lydia told us.

"If he has people online that understand the game that's good for him as it's difficult for him to meet friends into the same things as him because he struggles to communicate with his stammer."
So, Harrison's Wishgranter, Micky worked her magic and arranged for Harrison to have a special bundle including a gaming PC, monitor, mouse, headset and a special left-handed keyboard for Harrison to play his games independently using one hand - which he has "taken to like a duck to water," according to his mum.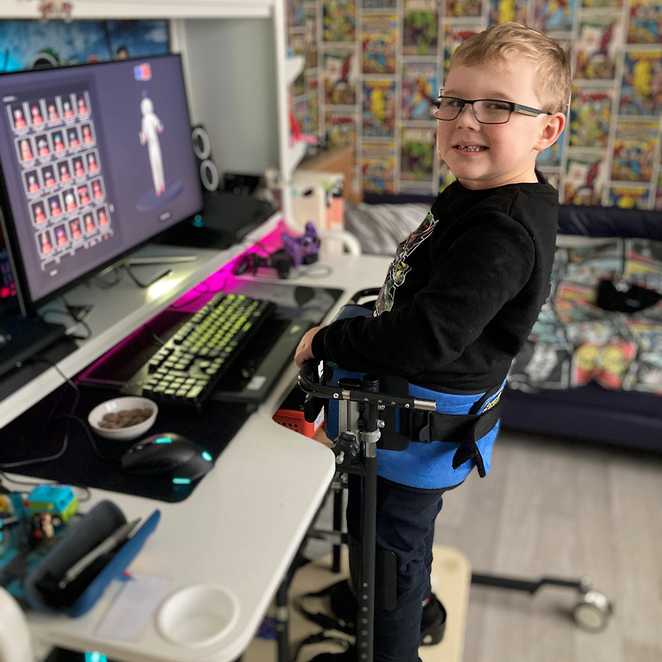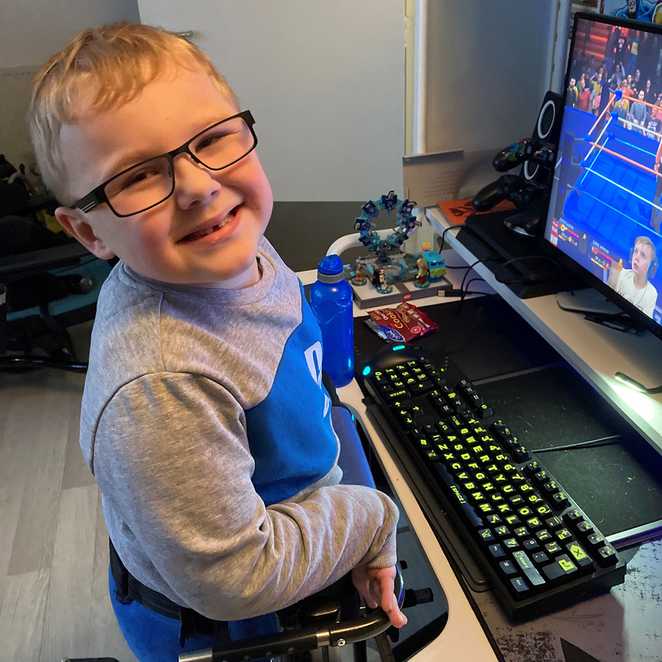 The impact of Harrison's wish
June 2021
When we asked Harrison his favourite thing about his wish he said: "I like playing lots of different types of games. I feel like I've got independence and I like spending time in my bedroom and enjoy playing online games with my sisters and my family. I have taught myself how to do certain things on my own."
Mum, Lydia added: "Harrison has always relied on someone to help him play with toys and the gaming consoles available require two hands; the PC has been brilliant for Harrison because he can use the mouse and with the left-handed keyboard he's able to do most things totally independently. He needs my assistance for every aspect of his life so it's lovely to see him playing and working things out for himself."
Lydia also shared the wider impact of Harrison's wish: "He is learning how to use a keyboard which is great because he finds using a pencil very difficult. He's also talked about wanting a job as a game developer when he's older and he's developing some really good IT skills for his age. He seems much happier and enjoys playing on his PC after a long day at school."

"It's lovely to watch him doing something he really enjoys and building confidence in himself. It allows Harrison to enjoy something like any other little boy regardless of his disability."
Lydia concluded: "Harrison's had low points over the past couple of years, coming to terms with his disability and the frustration of not being able to walk like other children. Having the PC has been a real help because he cannot access parks, or play areas, or join in when children are running around, so the PC allows him to play online with other children. Covid has meant Harrison has been stuck at home a lot but having the PC has gotten us through a lot of long, boring days."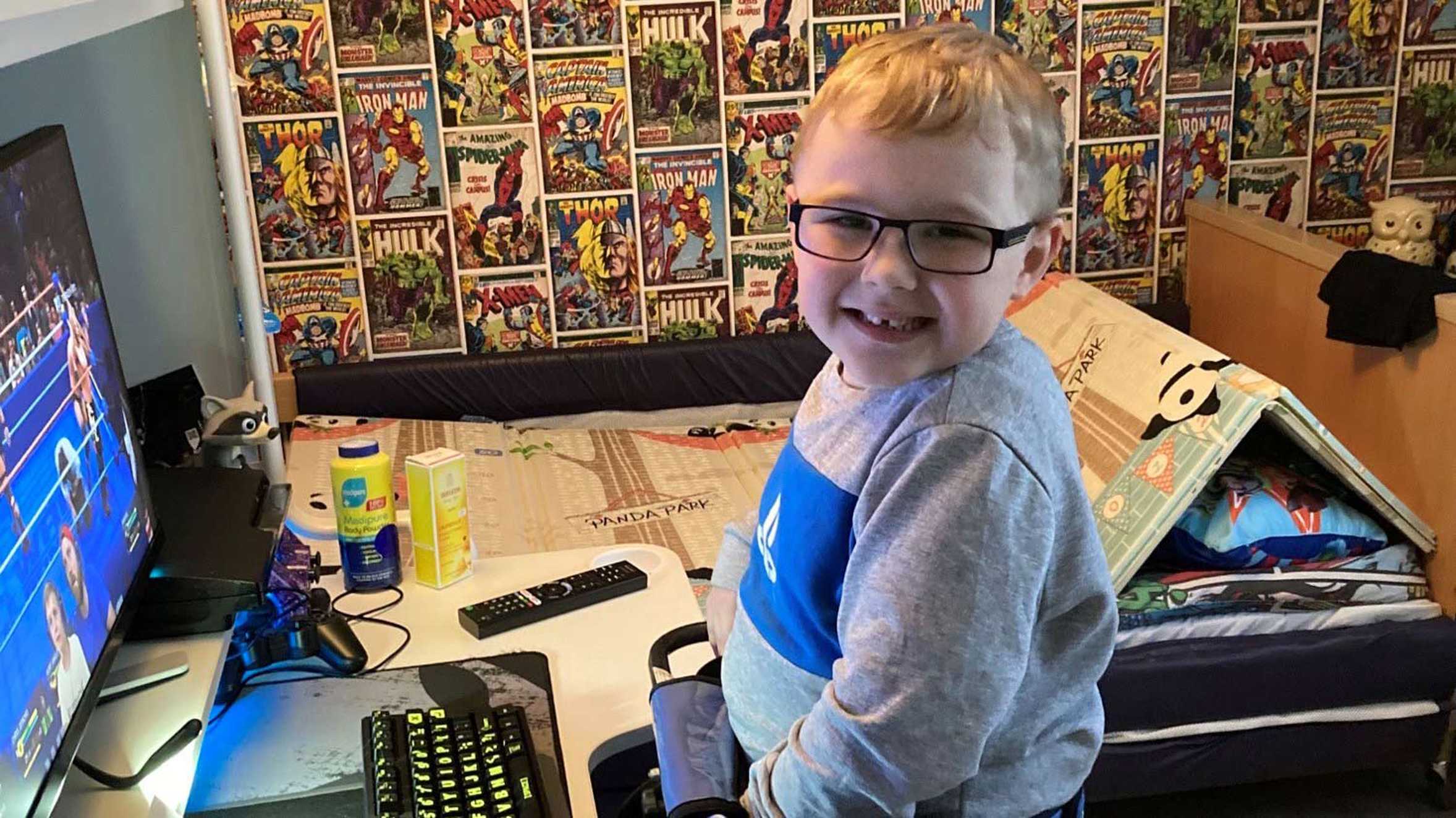 From a new console to meeting their favourite streamer, read about other gaming wishes we've granted.
More wishes
Find out more about the positive impact wishes have, not only on our wish children, but their families as well.
Read more
We rely on generous donations from people like you to grant wishes. Your donation will make wishes become a reality for critically ill children, supporting them where the need is greatest. Thank you.