Eric's wish...
"I wish to have an adapted bike"
18 years old, London
Septo Optic Dysplasia
Eric's condition may have stolen many things, including his eyesight, but he has proven that he's anything but short-sighted when it comes to showing love and spreading joy. His wish to have an adapted bike has given this cheeky chap a vehicle to spread his smiles, with Mum Lynsey describing it as "a show-stopper!"
Eric's story
September 2019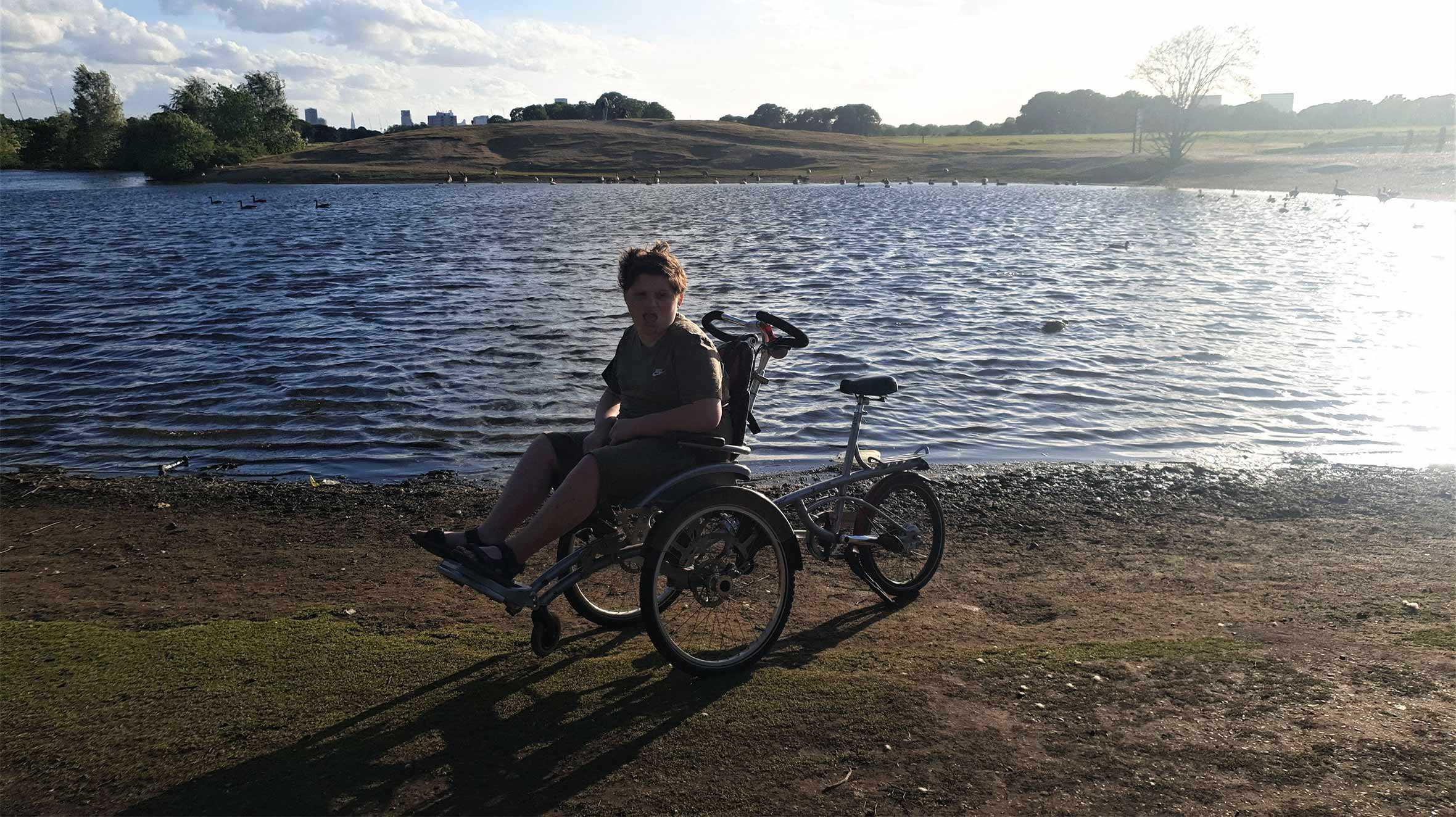 Finding his balance
Eric, 18, from London was born with septo-optic dysplasia - a condition that's prevented his optic nerve and pituitary gland fully developing. This limits his hormone production which means he has little verbal communication, reduced mobility and blindness.

Eric was born four weeks premature and was in intensive care for another four weeks with life-threatening sepsis. At eight weeks old, he was registered blind and within eight months, doctors discovered that his body was not producing the hormones that are critical for life. Eric also has feeding problems and a brain tumour that causes him to have seizures. He now takes 25 tablets a day and needs regular hospital treatment.
"Having a child like Eric makes you appreciate the little things. It's like planning to go to one place and then arriving at another. It may not be what you were expecting but we play the cards we are dealt. You learn to take in the moments in the everyday. We don't have a bad life but it is different."
Eric's multiple needs meant he was unable to cope in mainstream school; his struggle manifested itself in self-harm and "the most horrendous experience of our lives."

Gear change
Eric was eventually transferred to a school equipped to support him where he's flourished - winning awards for his confidence and abilities. He suddenly found his voice and now communicates his needs having never uttered a word throughout primary school.
His mum, Lynsey urges: "Never judge a book by its cover, it sounds too heavy when you read it. But Eric is just like other people."
Eric loves Beyoncé and with the slight vision in his left eye, he can recognise her and say "B." He also has a mischievous side and has been known to run off to try and buy his favourite chocolate!
It seems it's not only Eric who doesn't see everything! Lynsey says she needs to keep a close eye on him: "When he runs off or acts silly, we ask ourselves - maybe he isn't so blind?!"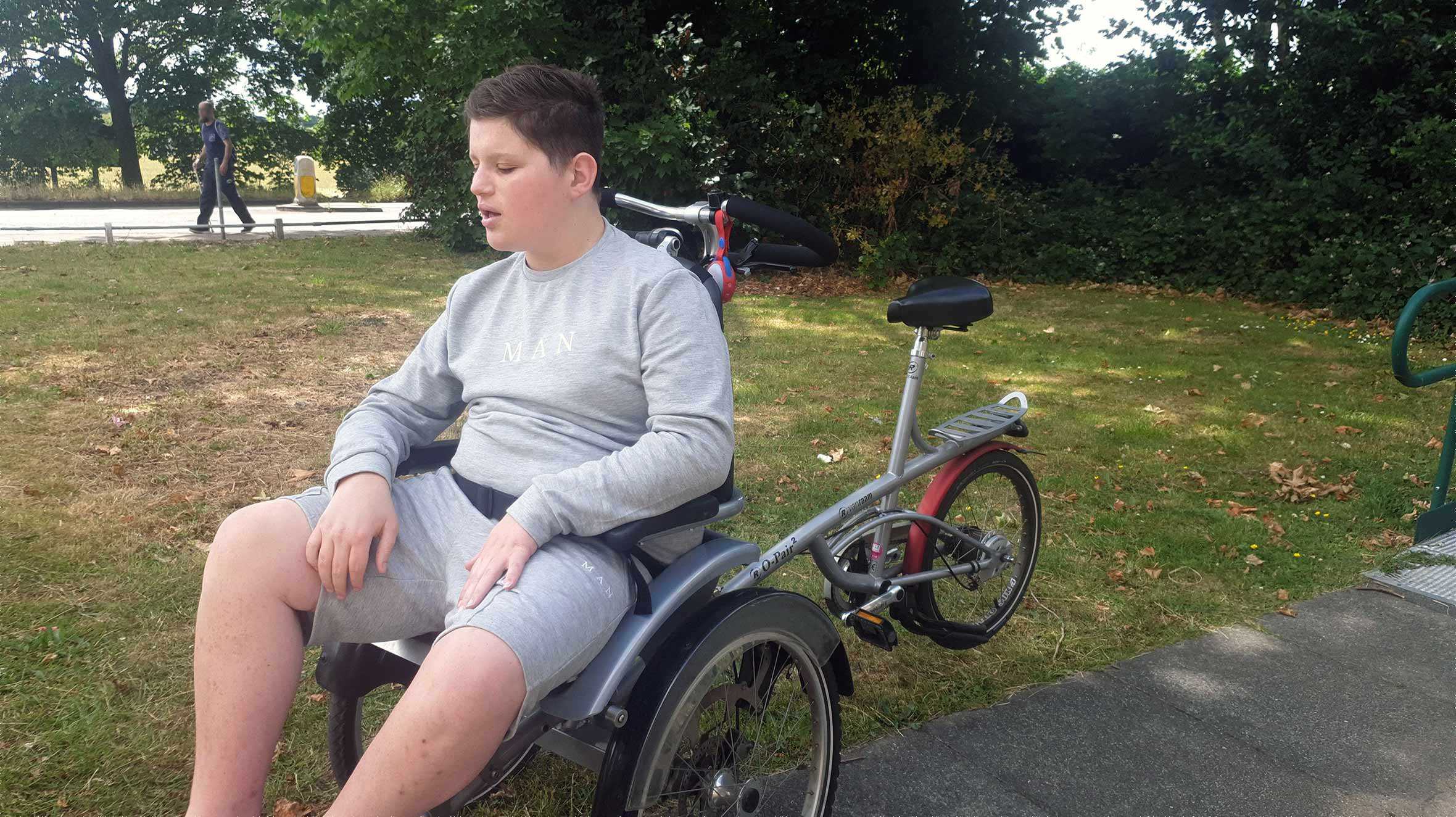 Enjoying the ride

Eric's nurse suggested he apply for a wish and he initially wanted to have a UK holiday in a caravan somewhere. But when the coronavirus limited travel, he came up with the idea to have an adapted bike so that his mum could pedal him around with Eric riding upfront. After seeing one on holiday, they saw the freedom it would bring. Despite the restrictions of lockdown, this was a wish we could deliver and since doing so, the benefits have been life-changing for Eric and his family, who said:
We can go shopping together easily
We've been invited to a BBQ by someone we regularly cycle past
We've been given free chips!
Bus drivers are beeping at us to say hello!
In lockdown it's been a saviour – we can get out at a distance
It is easier to push Eric in the bike than in his wheelchair
How Eric's wish helped
March 2021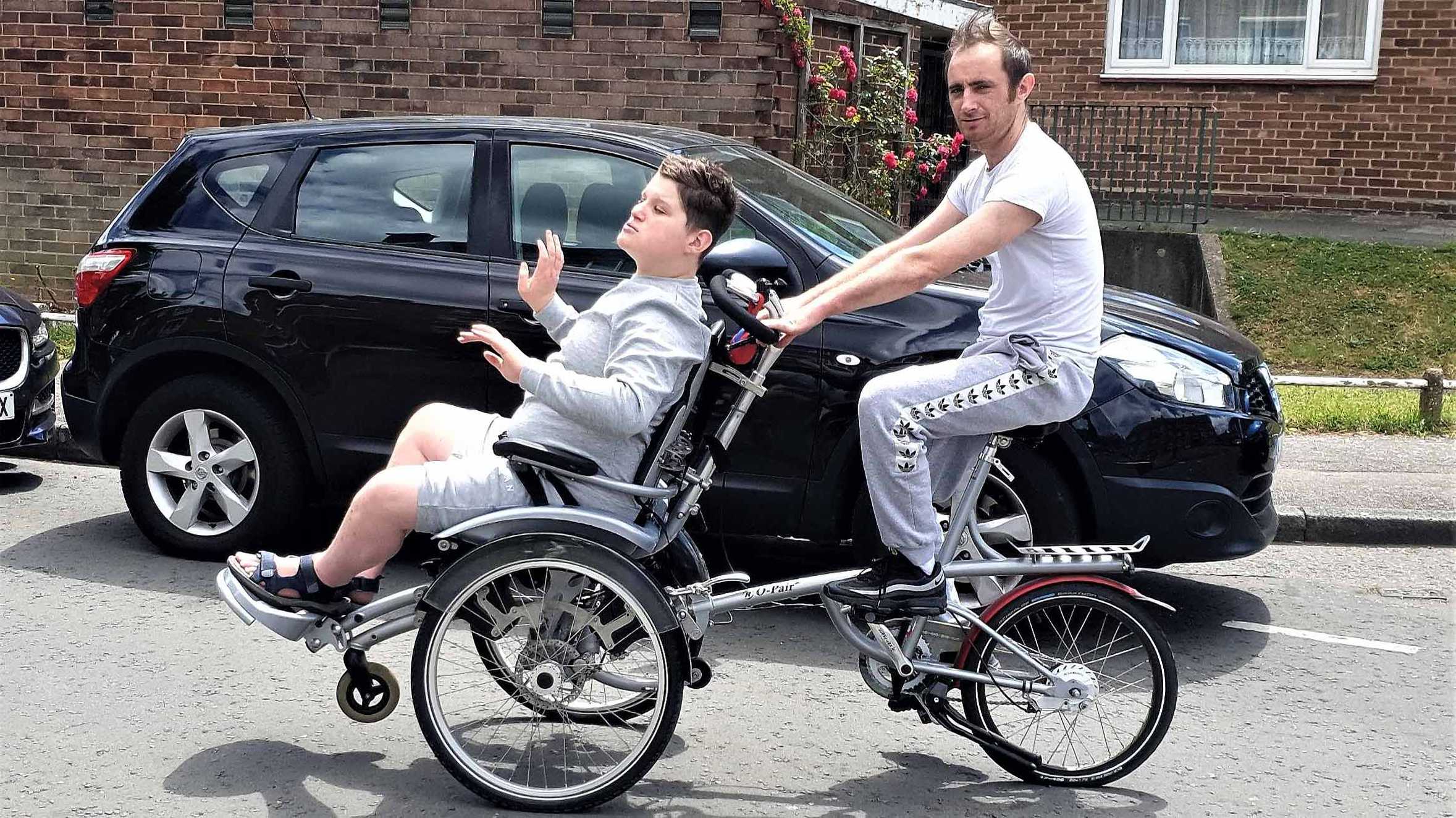 The power of a wish

They are even sharing the bike with others in the community so that they can benefit as much as Eric from the freedom and independence it brings.
Eric is clearly comfortable on wheels: "He never shuts up about his bike! He just loves it. He makes me laugh because he's casually waving as I cycle along, sweating, and trying to talk to people!"

"This has been the best gift he could have had. His whole mood changes when we've been out on the bike. We can now be part of the community and participate in everyday life. It has made our lives so much easier. I always want to keep Eric involved with everyone and now he can have experiences because of the bike and join in with everyone else. It isn't just a bike. It has changed our lives."
Read about other children who have regained their freedom and independence, thanks to a wish.
More wishes
Read more about the Kentown Wizard Foundation and how they help us grant wishes to those who need it most.
Read more
Whatever you can spare, a one-off or regular gift can make a huge difference to children with critical illnesses.
Find out how
We rely on generous donations from people like you to grant wishes. Your donation will make wishes become a reality for critically ill children, supporting them where the need is greatest. Thank you.