Disney helps grant wishes across the world
Since 1980, Disney has helped Make-A-Wish® grant more than 140,000 wishes around the world– experiences that not only brighten lives, but also help wish children and their families replace fear with confidence, sadness with joy and anxiety with hope.
Every part of The Walt Disney Company helps Make-A-Wish grant life-changing wishes: from the theme parks around the world, to Disney stores, to the television and movie studios.
From Our Family To Yours
Our friends at Disney have created a special holiday campaign, supporting Make-A-Wish. The campaign features a brand new animated Christmas advert about the festive traditions that connect generations and make lifelong memories . "From Our Family to Yours" features two new lovable characters, Lola and her granddaughter, alongside a familiar friend - Mickey Mouse. Watch the video below.
The animated Christmas advert premiered on 9th November across TV, Digital and Disney's owned channels across EMEA, U.S., Australia and New Zealand.
Mickey Vintage Holiday Soft Toy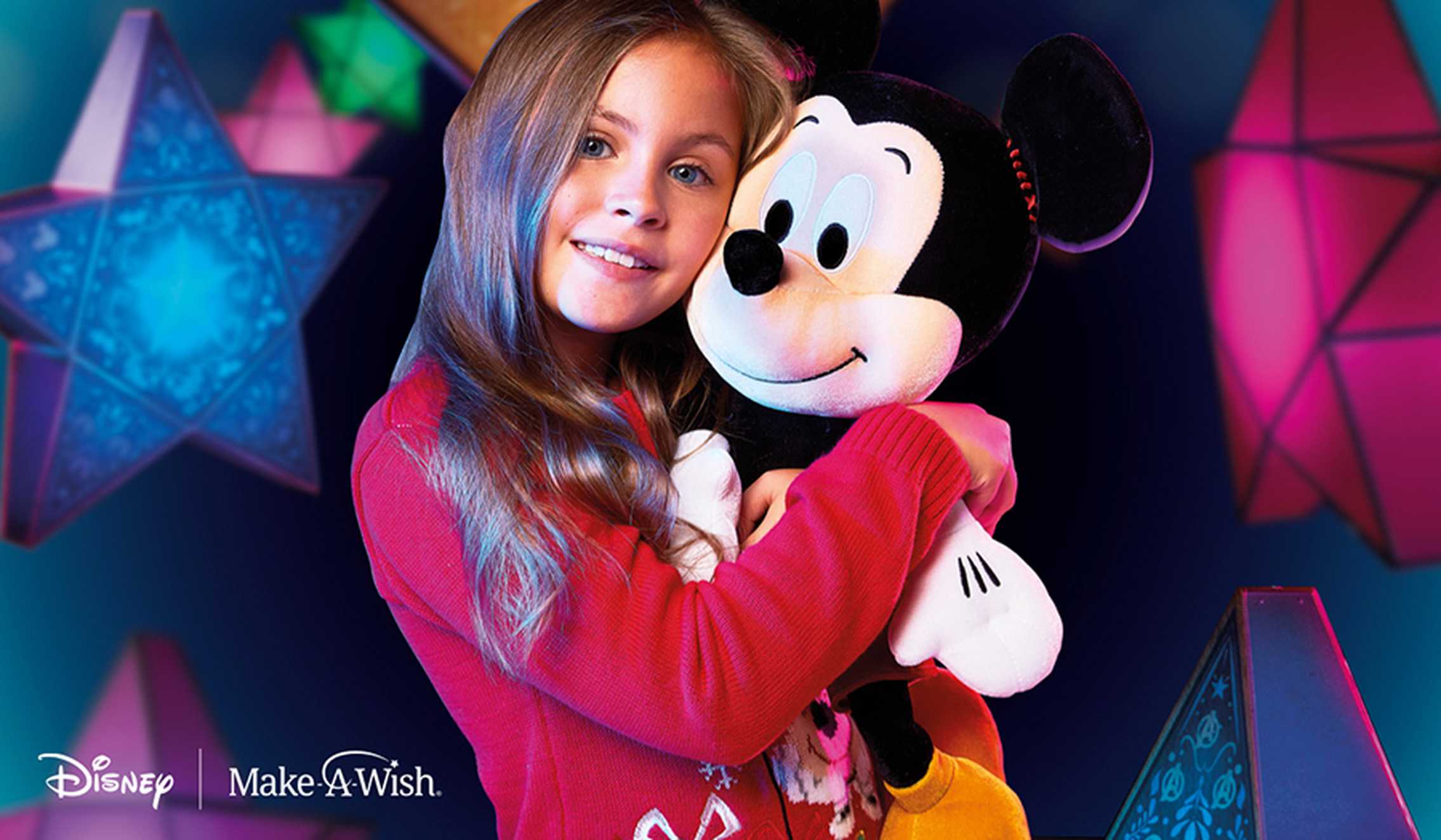 A Mickey Vintage Holiday Soft Toy, complete with unique features seen in the animated brand advert, is available to buy at Disney Stores and online at shopDisney.
For every Mickey sold within this range, between 9/11/20 and World Wish Day® 29/04/21 inclusive, in Disney Stores or online at shopDisney, 25% of the retail price (ex VAT/sales tax) will be donated to Make-A-Wish organisations to help grant wishes for children.
Get your own Vintage Mickey now
Terms & Conditions can be found at www.thewaltdisneycompany.eu/mickey
Get Involved #LoveFromDisney
You can get involved in the campaign too! Share some joy and help wishes come true. Simply share a family festive memory on Instagram, Facebook or Twitter with the following hashtag: #LoveFromDisney and as part of our campaign Disney will donate $1 to Make-A-Wish® (up to $100,000 US) on your behalf.
For more detail: www.thewaltdisneycompany.eu/fromourfamilytoyours
Love is a Compass Music Single
Love is a Compass, official soundtrack of Disney's festive 'From Our Family To Yours' campaign, celebrates 40 years of Make-A-Wish. It is written by LA-based songwriters PARKWILD and is an original soundtrack. It is performed by UK-based singer Griff.
Stream now to help raise awareness, and for every download before 31 December 2020, 100% of the proceeds from the retail price will be donated to Make-A-Wish International, to help grant life-changing wishes.
For terms and conditions please visit www.thewaltdisneycompany.eu/fromourfamilytoyours.
Festive Disney fundraising pack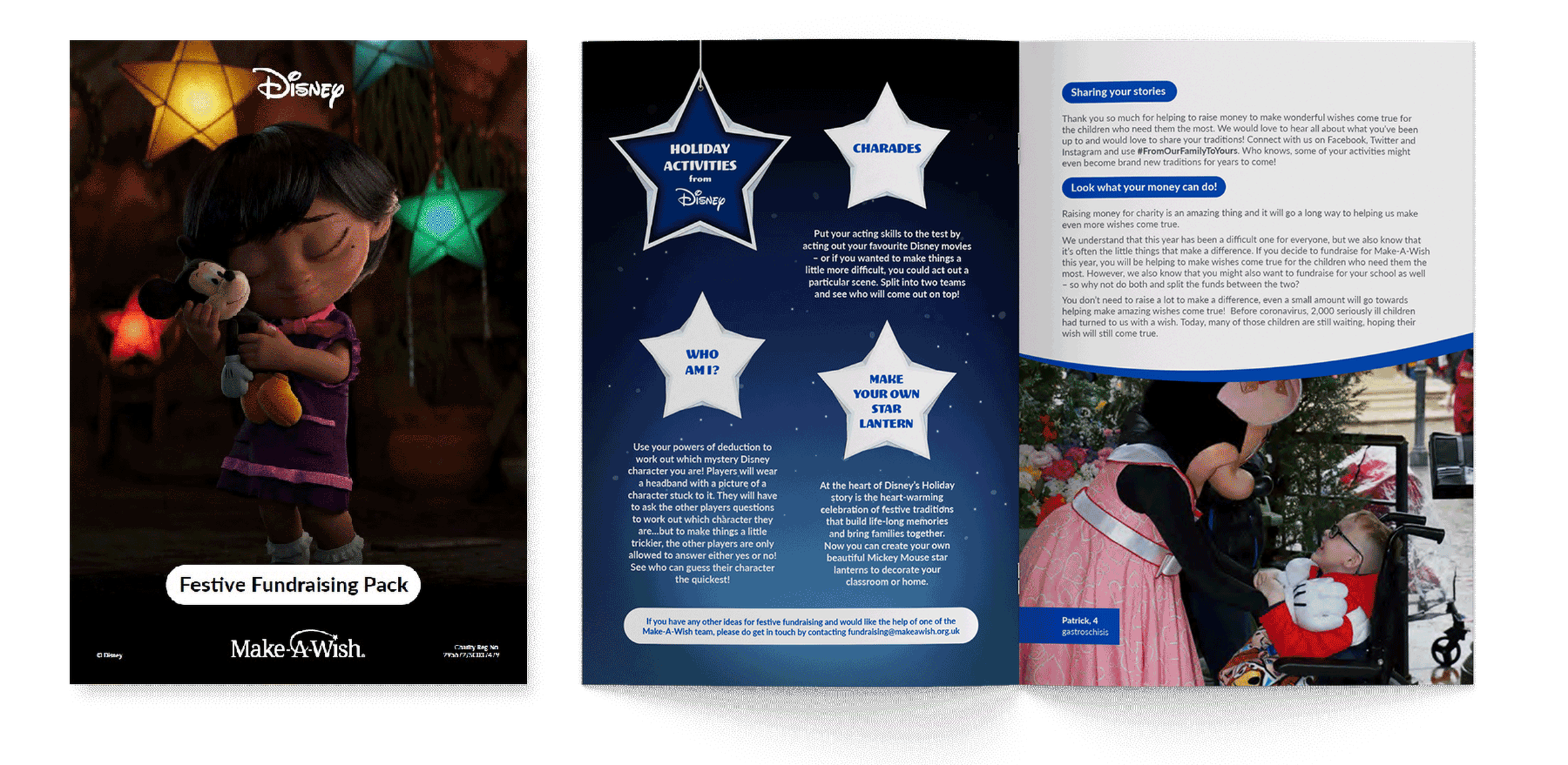 If you fancy some festive Disney fundraising this holiday season, then download our very special pack that is inspired by the Our Family to Yours Disney campaign. There are plenty of ideas for family fun, or you may wish to organise an event at your school, with your colleagues, or with friends over a video call.
Learn about some of our Disney Wish Children
Immerse yourself in the wonder of wishes with some of our incredible stories. Grab a cuppa and see for yourself the amazing impact that a wish can have!
Sign up to our newsletter
Wishes are all about hope, excitement and delight and we would love for you to share in these wonderful adventures. Sign up for our newsletter today to get an exclusive glimpse of the wonderful work that we do here at Make-A-Wish UK.