Fraser's wish...
"A Disney Wish"
6 years old,
Leukaemia
Six-year-old Fraser is nicknamed a 'walking miracle' by his parents as he continually defined the odds of his extremely rare illness. After not knowing if he would make his next birthday following a rare cancer diagnosis, Fraser's parents were able to watch their son meet his idol, Spider man, at this year's A Disney Wish.
Fraser's story
November 2021
When Fraser was just 17 months old, his parents Andrew and Ali were given the devastating news that their son had a rare and little-known illness called B Cell lymphoma with Burkitt's MYC gene rearrangement - a disease normally found in children in Central Africa. Immediately after his diagnosis the family's world became 'consumed by cancer', turning everyday turned into 'a complete guessing game.'
Thought to be one of the youngest people in the world with the condition, Fraser was extremely ill. Aged three, he underwent a bone marrow transplant with just a 5% survival rate, placing the family into a world of uncertainty and worry. "I planned his funeral. I planned the songs that were going to get played," said Ali. As Fraser was wheeled into the surgery room, Ali recalled thinking: "I'm never going to see him again. This is that last chance I'll ever have to see him." But, against all odds, she did.
Fraser's recovery began at Great Ormond Street Hospital, with doctors amazed at how he managed to fight back - terming it "The Fraser Effect" each time he recovered. Now aged 6, life is very different for 'sporty and cheeky' Fraser. Now excelling at primary school, Fraser is filled with beans and has even bagged two first place medals at his school sports day!
Fraser's wish
September 2022
For a long time, 'normal' for Fraser and his family meant harsh treatments, resurgent tumours, frequent hospital trips and unwelcome news. This is why Fraser's wish mattered so much to him - it allowed him to 'escape from normality'. By immersing himself into the magical world of Disney, Fraser was able to enjoy being a kid whilst 'being treated to something he deserves'.
On the lead up to his wish, Fraser counted the sleeps he had left until the big day. The sense of excitement was shared by the whole family, with Ali explaining that "It was always nice to have that hope that our child was going to get a wish. That's a lovely thing to have".
Fraser's wish allowed his parents to watch him immerse himself into a different world. "We've been through hell," said Andrew. "Fraser has been through hell. But these last couple of days have been absolutely awesome. Just to see our fit, healthy young boy have the time of his life."
For Spiderman obsessed Fraser, the best part of the wish was meeting his favourite superhero. As dad told us, "he's obsessed, he has been for the last couple of years. So, to have him come out and teach him how to shoot his web is just amazing!"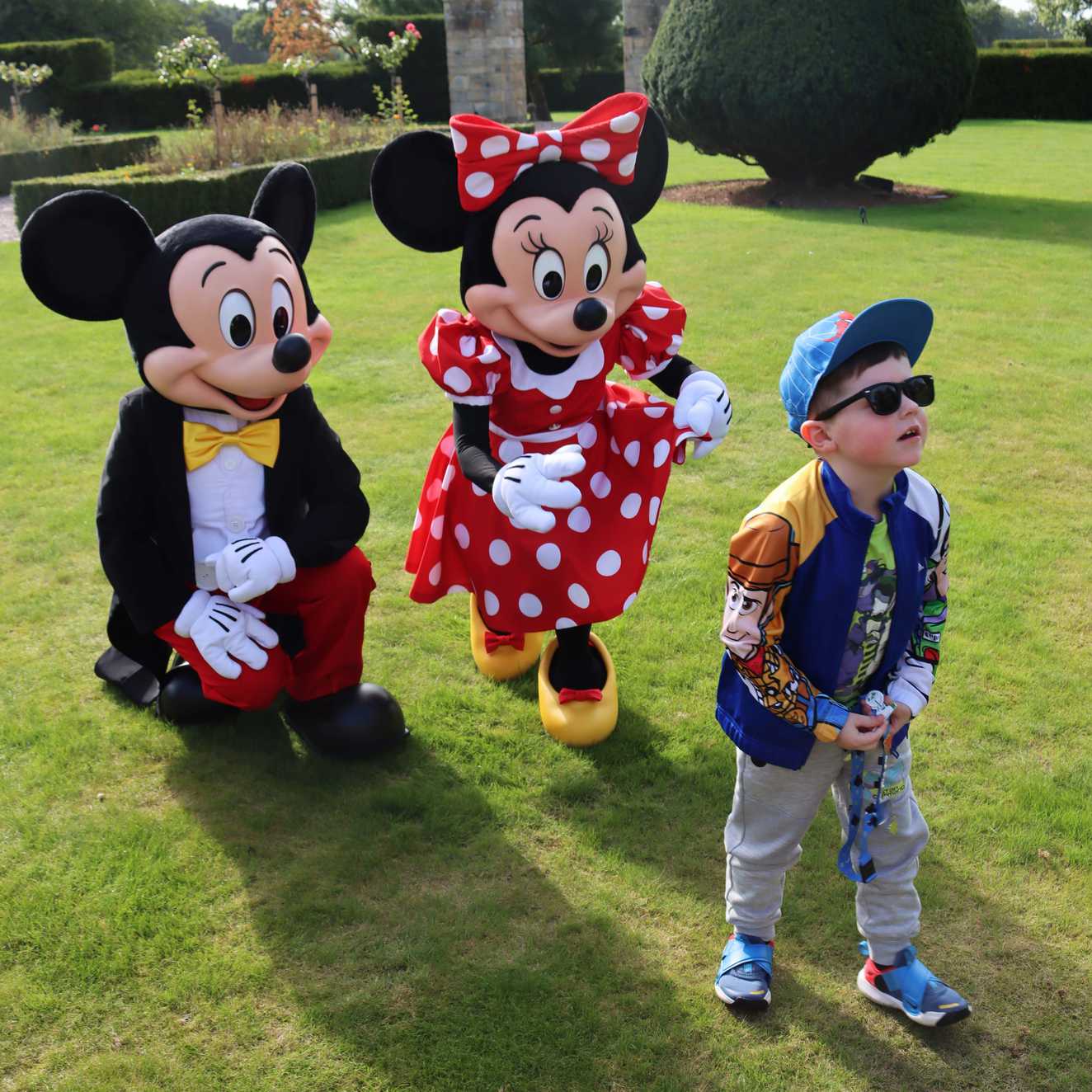 The impact of Fraser's wish
November 2022
The wish served as a well-deserved reward for Fraser after his gruelling ordeal. As Ali told us, "He really is a living, breathing miracle with everything he's been through and fought back from."

"I hope his story can give other families hope that there's a way back. Watching Fraser meet all his favourite superheroes, particularly Spiderman has been so wonderful – we can't thank everyone involved enough."
To help more children like Fraser experience the magic of a wish, please donate today.
Donate today
It's no surprise that many of our wish children are drawn to the magic of Disney for their wish.
More stories
Find out more about how we work with Disney and other partners to grant life-changing wishes.
Our partners
We rely on generous donations from people like you to grant wishes. Your donation will make wishes become a reality for critically ill children, supporting them where the need is greatest. Thank you.