Zakk's wish...
"I wish to have a PS5 Games Console"
7 years old, Scunthorpe
Acute lymphoblastic leukaemia
Seven-year-old Zakk hasn't been outside for eight months while he's having hospital treatment following a stem cell transplant and complications from leukaemia. So his wish to have a gaming console has brought the outside world to him!

Zakk's story
September 2021
It took a long time to find a matching stem cell donor for Zakk after he was diagnosed with acute lymphoblastic leukaemia when he was four. But after a local appeal, searching national and international registers, a match was found.
It was all a "bit of a blur" for his mum Elizabeth who had an older daughter and was heavily pregnant with her youngest daughter when Zakk first became unwell in 2019.
Looking back, Elizabeth regrets that medical teams hadn't made the connection between all his symptoms sooner. Zakk had repeated infections, skin rashes, pain when he walked and was pale and lethargic. But these minor complaints weren't initially linked and, instead, were put down to childhood conditions like a viral rash, growing pains and fatigue.
"I've found you have to be assertive and fight for your child," said Elizabeth.
It was after he went for a swimming lesson, when it was clear that his stomach was distended, that he went back to his GP who referred him to hospital. There, doctors could see from just a cursory examination that his liver and spleen were enlarged, so they ordered further tests.
Elizabeth said: "It was devastating. He didn't respond to chemotherapy to begin with, so they stepped up the intensity and then put him on maintenance chemo. He was still quite a poorly boy who was prone to infections. I stayed with Zakk solidly in hospital for the first month or so. Then his dad and stepdad started visiting. It was upsetting for everybody. One of many reasons was because my daughter was used to me being at home.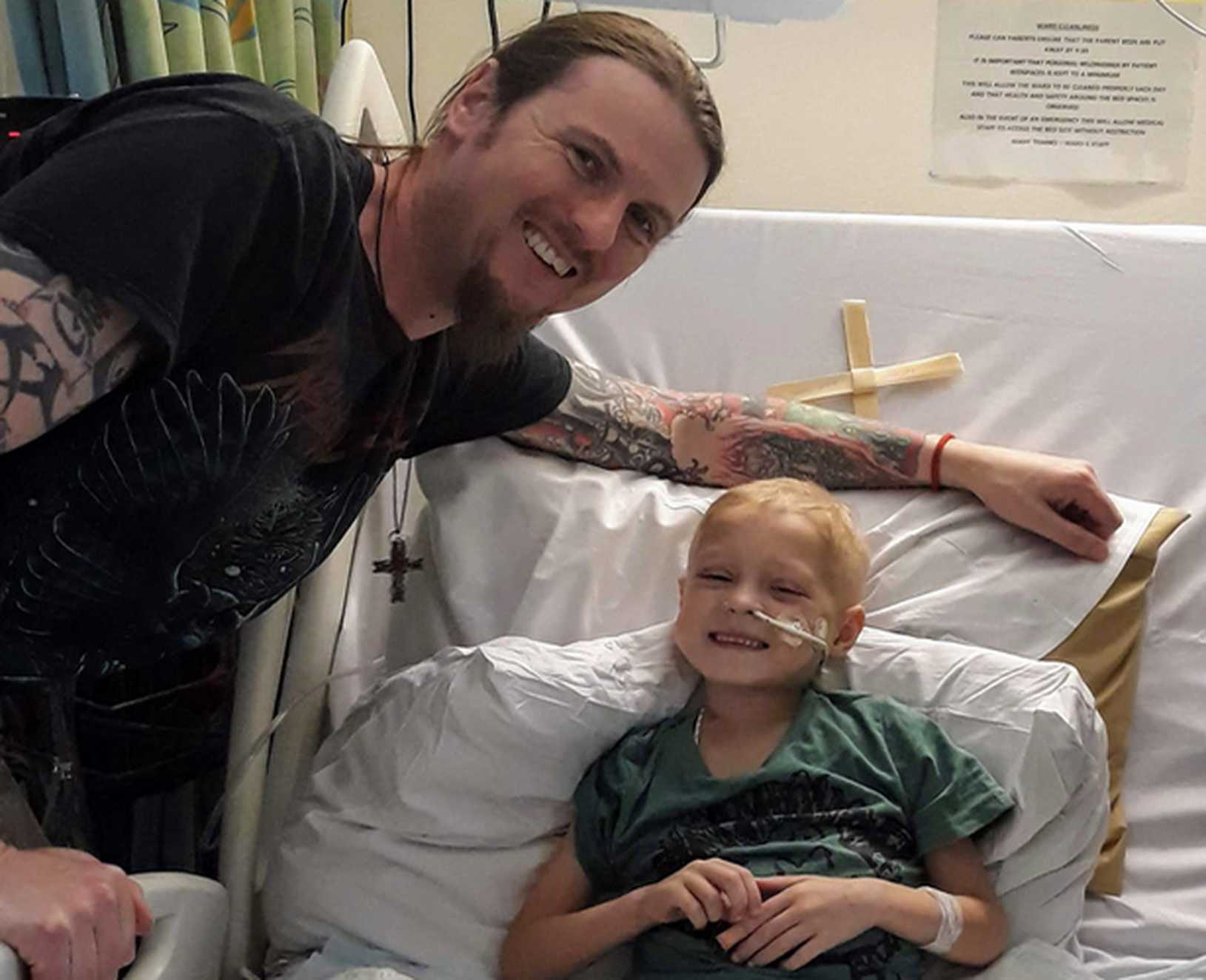 "Within two years he had relapsed with crippling headaches, vomiting and a build-up of fluid on his brain – believed at first to be intracranial hypertension. Sadly, this turned out to be his cancer returning. The next step was a stem cell transplant and that was brutal because he needed total body irradiation for two weeks and other medication to wipe his system clean. He was allowed to see his parents but not his sisters, Annabelle and Esther, which really upset them all."
It was a dark time for Zakk who felt rotten. Things were even more difficult because his mum doesn't drive and – depending on the traffic – the journey from her home in a village near Scunthorpe to hospital in Sheffield can take up to three hours. Then lockdown hit.
Zakk had been waiting to choose his wish but his family delayed things because he wasn't well enough to enjoy it. As if that wasn't enough, Zakk then had a reaction to the transplant. He's fed through a naso-gastric tube and has intravenous medication, so needs to stay in hospital until he can tolerate more feed without getting sick and until he can take his medication by mouth or through the tube.

Described as a "cracking lad" who has a great sense of humour and who loves his cats, Zakk says the most interesting trip he has had lately was going for an x-ray in another part of Sheffield Children's Hospital!

He enjoys playing immersive video games like Minecraft or Roblox, which he sometimes plays with his friends or sisters. That's why his wish was to have a PlayStation console so he could have fun while interacting with others during an otherwise isolating time.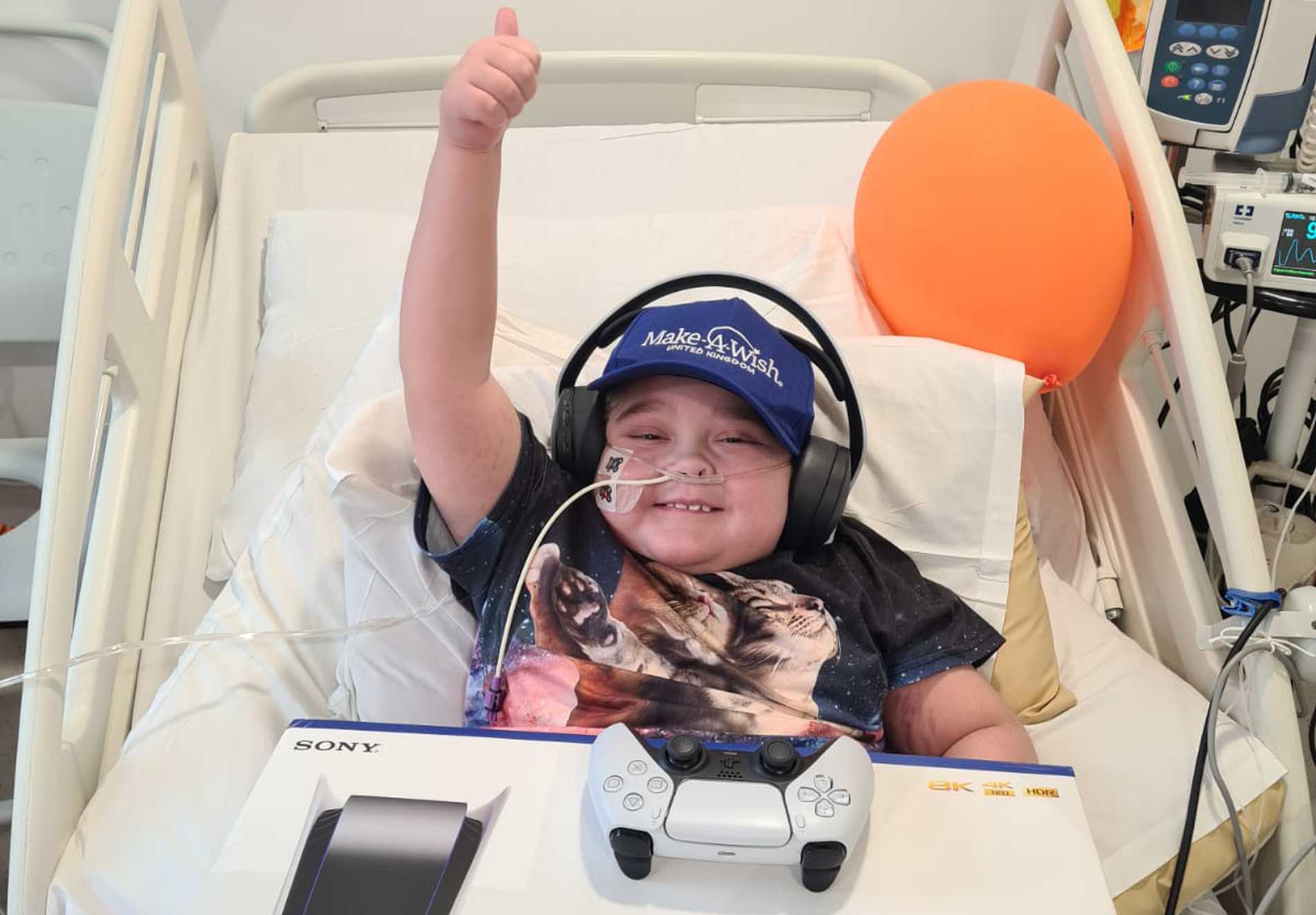 The impact of Zakk's wish
February 2022
Thanks to our supporters and our partners at Ebuyer, Zakk's wish – granted within six weeks - is helping him recuperate as he endures the boredom of being stuck in a small room on a hospital ward. It's broadened his horizons during tough times and meant that he can spend time with his sisters online when Covid restrictions haven't permitted visits in person.

"We couldn't be happier with the wish for Zakk. The PS5 breaks up the boredom in hospital. This wish brought such light into Zakk's life. We still have a long way to go, but we are so grateful to Make-A-Wish UK for their dedication to helping poorly children live their lives."
He's building up some immunity now and is in a much better place than he was in January 2020.

Now, we are all rooting for Zakk and he'll be well enough to go home from hospital in time for his birthday at the end of March 2022.
UPDATE: Zakk went home from hospital in early April and is now having regular check-ups.
From iPads and laptops to the latest consoles, technology wishes can have a huge impact on the lives of wish children.
More wishes
Find out more about the positive impact wishes have, not only on our wish children, but their families as well.
Read more
We rely on generous donations from people like you to grant wishes. Your donation will make wishes become a reality for critically ill children, supporting them where the need is greatest. Thank you.