Isla's wish...
"I wish to be a YouTuber"
6 years old, Salford
Wilms' tumour
Planning Isla's wish and birthday party gave her whole family something positive to look forward to, and to distract them from their worries, while they waited for her to recover from treatment. Her story featured in our World Wish Day campaign because it encapsulates the power of hope that a wish creates.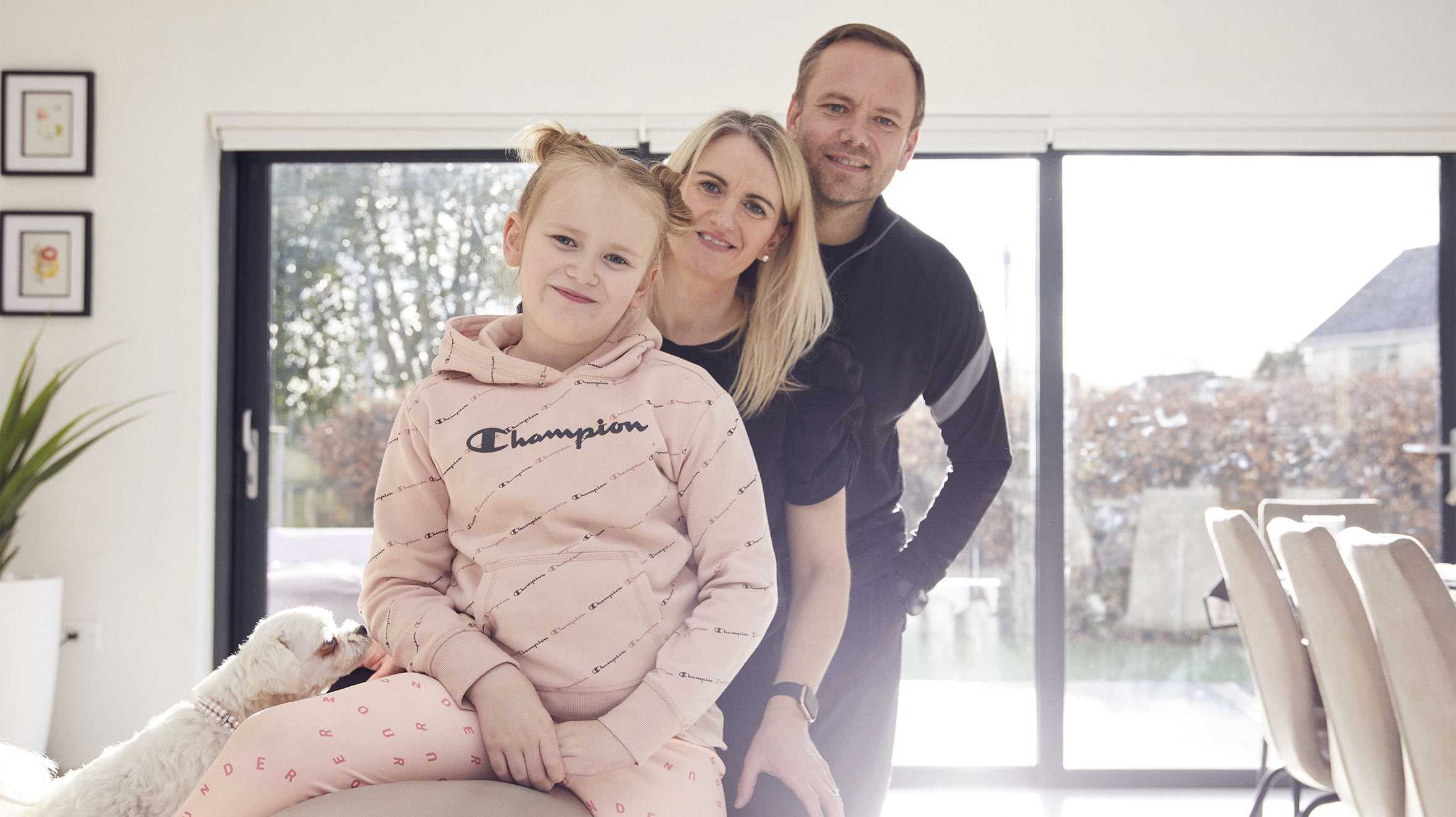 Pacing the hospital corridors, Jill wondered what she could do to pass the time while her daughter Isla was having surgery.
It was 16th May 2019 and Isla, five, was having her kidney removed after being diagnosed with a Wilms' tumour - a kidney cancer which affects about 70 children a year in the UK.
As Jill headed back to the hospital café, where the rest of her family was waiting, she looked at her watch again. Isla had gone down to theatre at one o'clock that afternoon. Eight nerve-wracking hours later, she was still there.
Planning something positive helped to distract and occupy Jill, as well as her parents, her husband Ken, her sister, and Isla's brothers Lorcan and Finley while they waited and worried.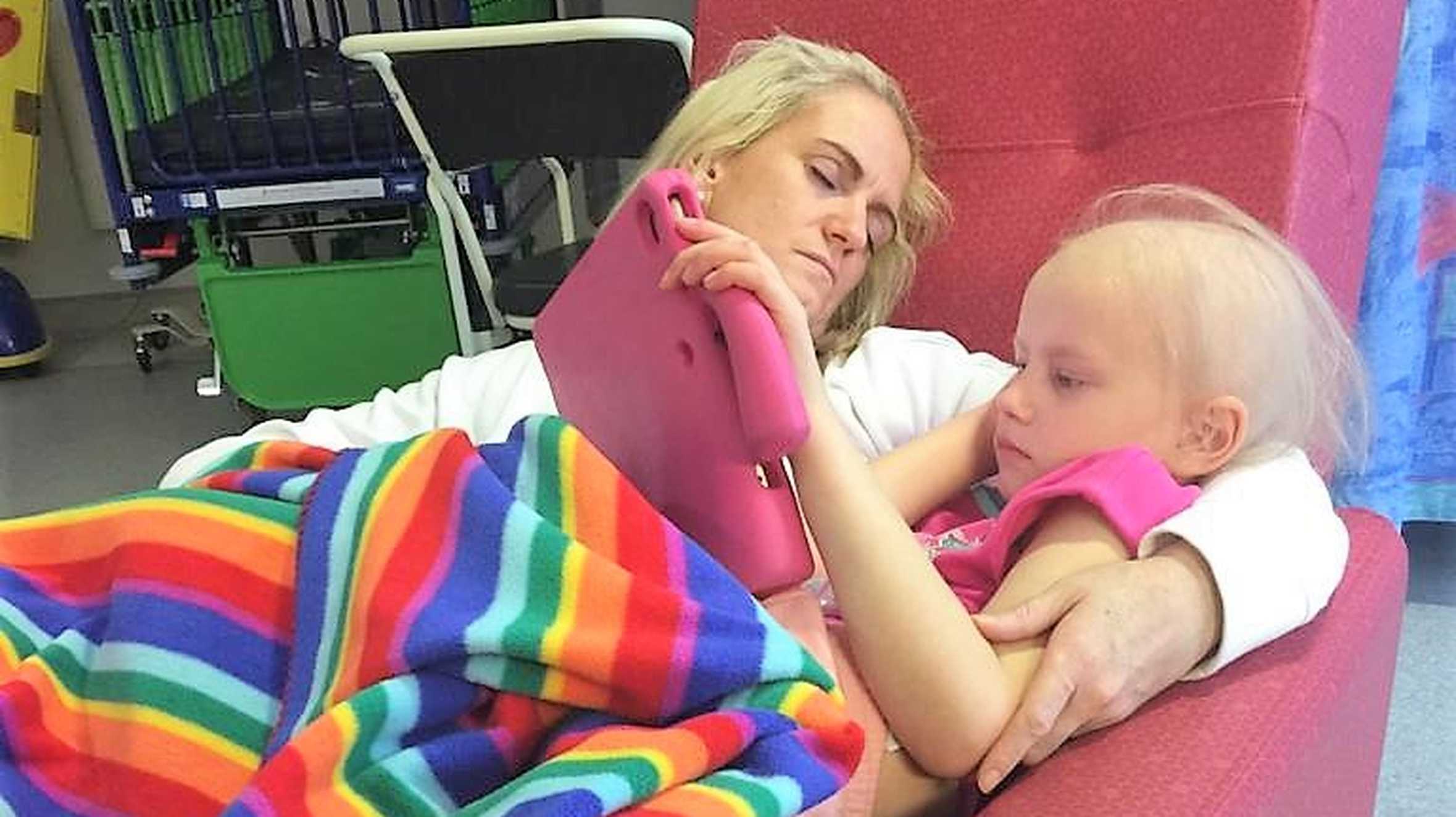 In the café that night, it was planning her birthday party. Longer term, it was planning her wish.

Jill, from Worsley near Manchester, recalled: "We knew that Isla would need another four weeks of chemotherapy after the surgery. So we worked out that, best case scenario, she would have finished treatment by the time it was her birthday. So, in the café, my sister said, 'let's plan her party.' We decided we'd have all her friends there as princesses."
Isla had been diagnosed three months earlier, after getting recurrent urinary infections. An ultrasound scan showed a mass in her abdomen, and then while Isla was encouraged to play with one of the nurses, the senior consultant said: "I've got two little girls of my own, so I know how hard it's going to be to hear this. We think Isla's got a tumour."
Jill remembered saying: "What, cancer?!"
When that was confirmed, she said: "It's like someone pulls the plug out of you and your body just collapses. Everything was just a blur after that. He gave me some information and I said I don't want to read it."
But there was hope in the consultant's words, when he added: "If there's such a thing as a better cancer to have, she's got one of the better ones. You'll have a really tough time, but you will get through it."
That tough time included having a Hickman line fitted, a biopsy, four weeks of chemotherapy, surgery to remove the kidney and tumour, another two-week wait to determine what type and what stage the cancer was at, and then four more weeks of chemotherapy.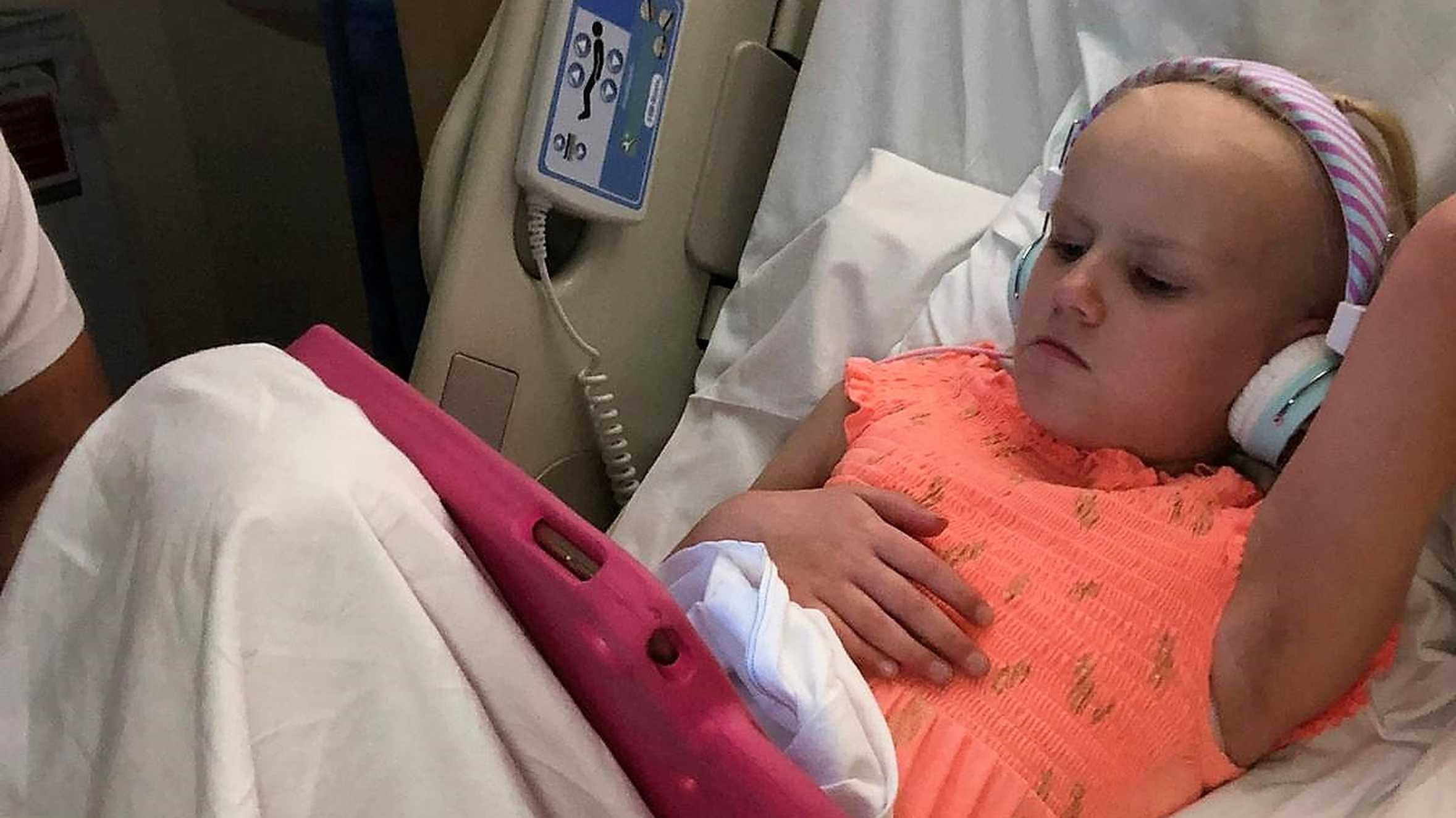 Isla had her waist-length blonde hair cut into a bob, to make its total loss less traumatic.

She's have chemo, go home, spike a temperature, get readmitted to hospital to be bombarded with antibiotics, then go home again. Then the next treatment would kick off the relentless cycle again. Her family had never seen Isla so poorly.
In medical terms, Isla's kidney and appendix removal was straightforward. But for her family it was an exhausting wait, and they were over the moon to be able to visit her again on the ward at nine thirty that evening.

Isla's wish
February 2020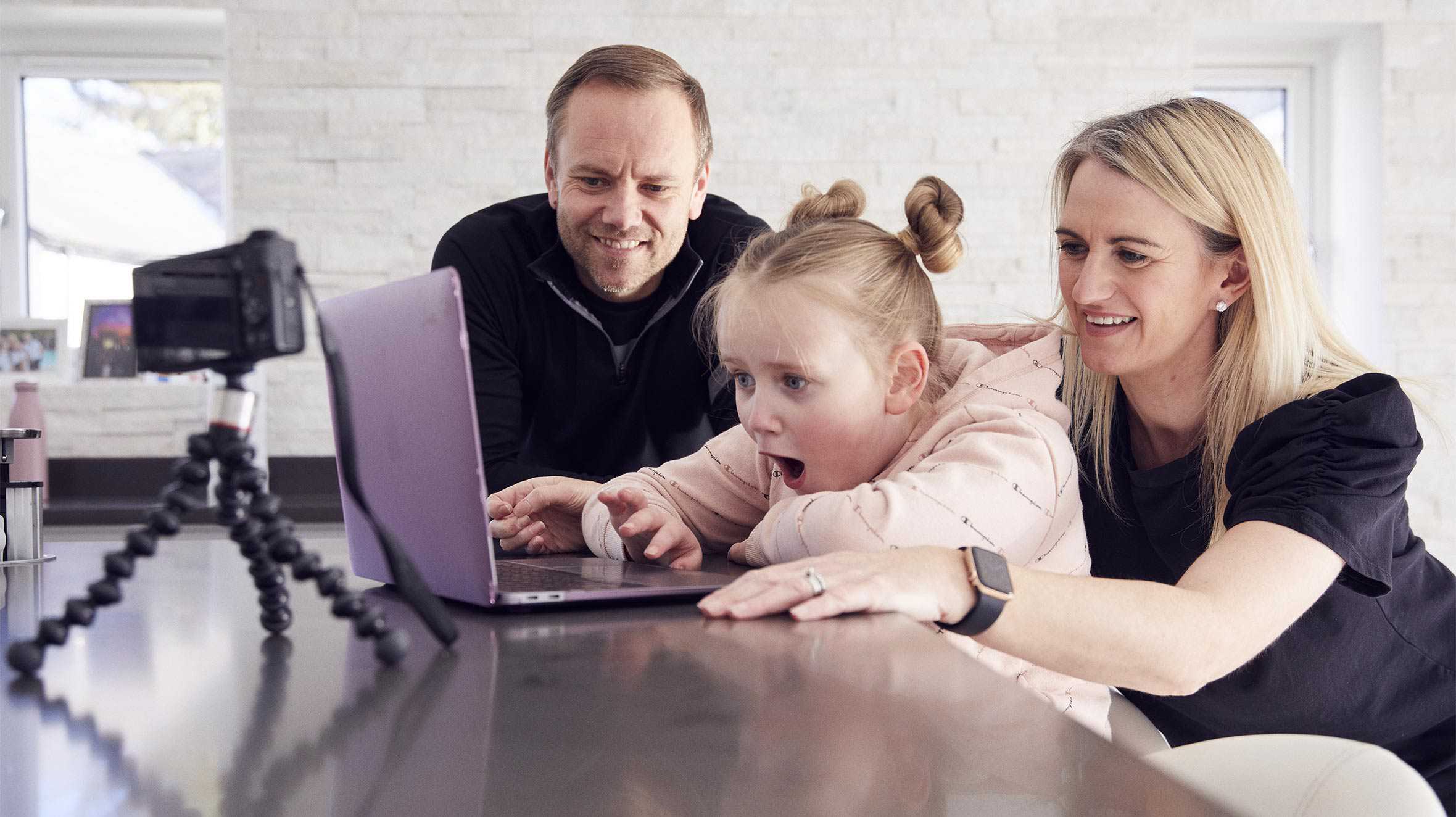 One day, a paediatric social worker from CLIC Sargent popped in and introduced herself as Josanne. She checked in on Isla regularly after that to see how she was doing.

At the end of one of their chats, she told Isla: "Don't forget you can have a wish for being so brave." Isla's ears pricked up; her attention was drawn away from her beloved iPad for a while and she asked what that meant.
Josanne continued: "While you're lying there and not running around, have a think about what you might want to do or to have. You get to make a nice wish and it's something you can look forward to."

Isla had been watching a lot of YouTube videos about pranks and toy reviews while she was in hospital, so she decided her wish was to meet a YouTuber and make her own film. So that's what she did!
"It was way more than Isla ever expected," Jill recalled. "We went to the Apple store in Manchester and picked up a laptop for her. Isla said, 'is this mine, can I keep it?" she couldn't believe it. She was also given a vlogging camera, and then we drove down to meet YouTuber Rosie McClelland at her home in Hertfordshire.

"I can't say what she loved more, whether it was meeting someone she'd seen on YouTube or making her own video. All of it just blew her mind! She's still active on YouTube and sometimes she'll tell people that she's a famous YouTuber!"
How Isla's wish helped
April 2021
Jill commented: "Obviously, I'd heard of Make-A-Wish and I knew exactly what the charity did but in that intense time, I couldn't see the light at the end of the tunnel. You're just bombarded with information, and living in the moment, so we just put it one side.
"But for Isla, it was looking forward to her wish and ringing the bell at the end of treatment that got her through. It changed the way she talked about what was going on from: "Am I going to get better?" to: "When I get better..."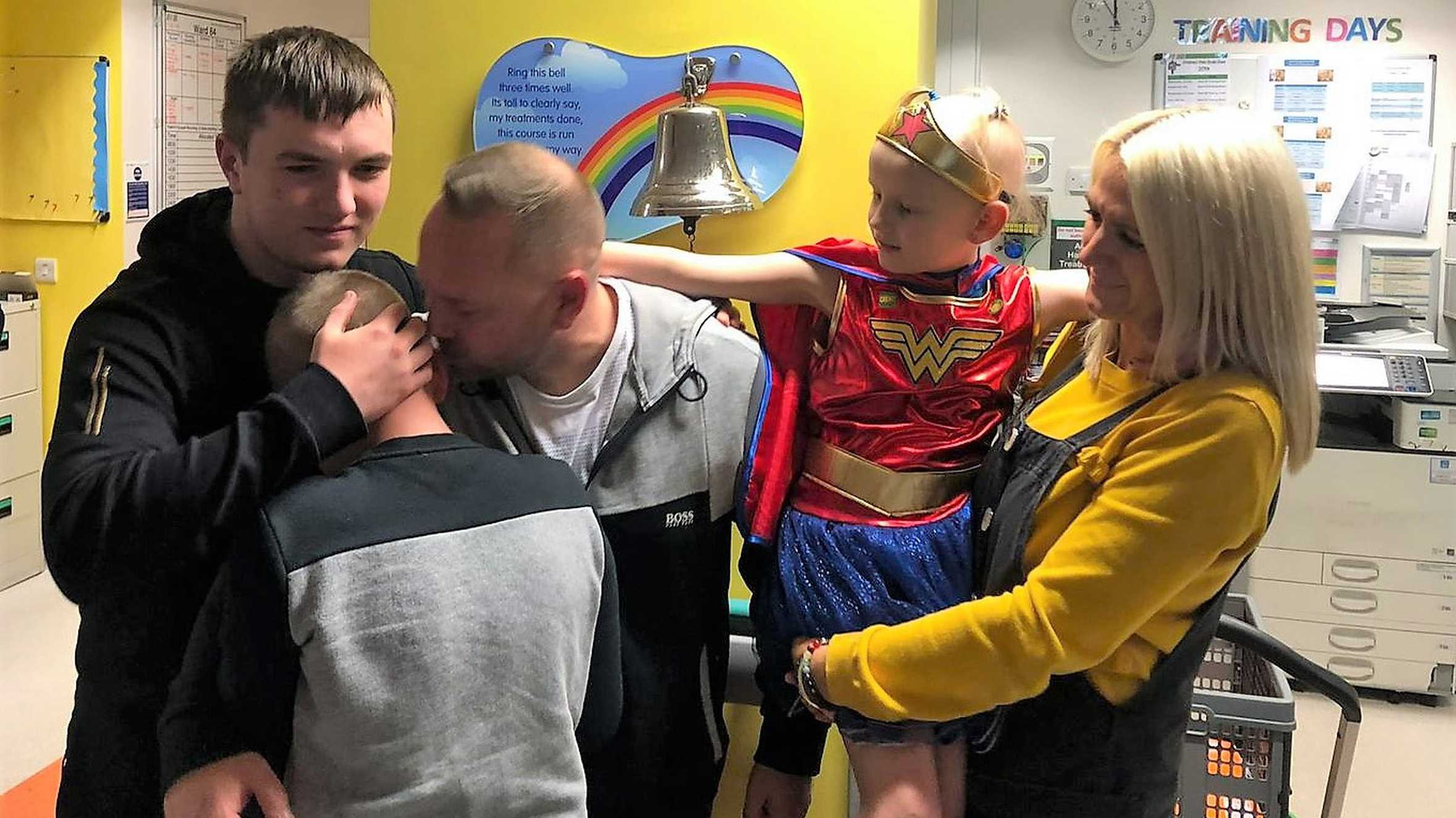 "She was so matter of fact, and that's exactly what did happen. It spurred Isla on, and it made us refocus on thinking positively and make us determined to get to that end thing. I don't think people realise how much thinking about that wish gets them through the treatment."
Isla did recover and now has regular check-ups. She's also given back – taking part in several fundraising challenges during lockdown to help charities and other children.

Read the stories of other children like Isla whose wish was to be or meet a famous YouTuber.
More stories
If you'd like to follow Isla's lead and fundraise for wishes, here are some ideas to get you started.
Get involved
Find out more about the positive impact wishes have on our wish children and their loved ones.
Read more
We rely on generous donations from people like you to grant wishes. Your donation will make wishes become a reality for critically ill children, supporting them where the need is greatest. Thank you.