Chloe's wish...
"I wish to go to the James Bond premiere in London"
16 years old, Cambridge
Dyskeratosis congenita
Chloe's wish was a chance for her to escape from the uncertainty of treatment for a rare condition and experience a day in the life of a celebrity at a red carpet premiere!
Make-A-Wish needed all of Moneypenny's organisational skills, M's contacts, and Q's cunning ways to create Chloe's wish: to go to the premiere of the latest Bond film 'No Time To Die' in September!

It was a chance for Chloe and her family to mingle with the A-listers after enduring the uncertainty of her treatment for a type of bone marrow failure. Dyskeratosis congenita is a rare condition that affects one in a million people.
For Chloe, it means regular trips from her home in Cambridge to see the only specialist in the country in London, as well as appointments closer to home at Addenbrooke's Hospital.
Chloe's wish
September 2021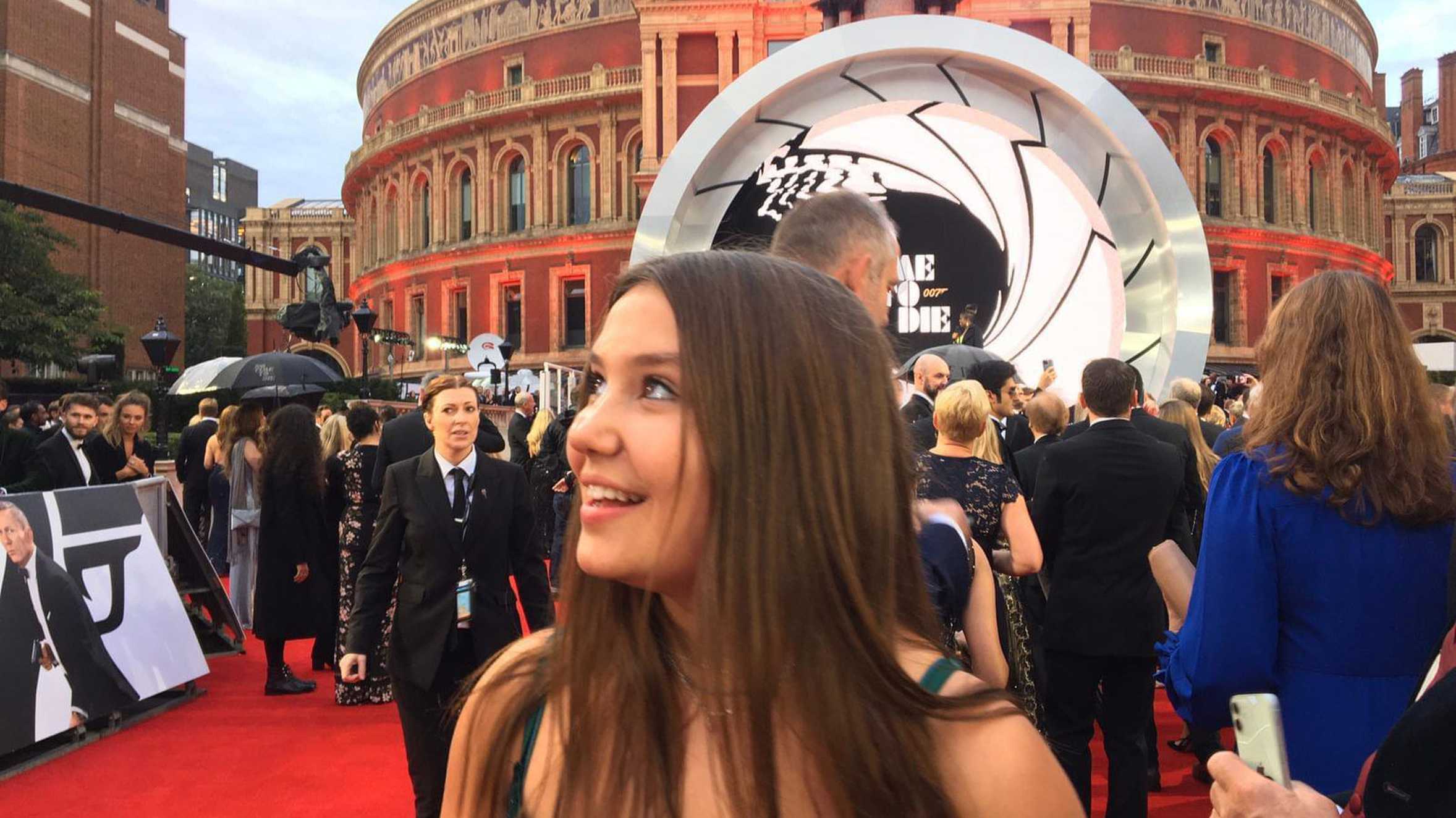 Her VIP wish journey began three years ago when two volunteers visited Chloe at home and she showed them a mind map of all her interests. She's studied drama, dance and singing so she was interested in meeting her celebrity idol.
Her mum Jackie recalled: "Our Wish Makers were so lovely and really put Chloe at ease. Nothing was a silly suggestion and every idea we came up, they kept adding to it."
Fast forward through the delays caused by the Covid-19 pandemic and Chloe, 16, decided to change her wish. She had seen all the Bond films and there was a lot of buzz around the latest one because it was Daniel Craig's swan song as James Bond. So, her wish was to go to the premiere in London to observe all the red carpet action and to be in the audience at the Royal Albert Hall.

"I've always been a massive fan of all the Bond movies, and Daniel Craig is a great actor, so I was thrilled when I emailed my Wishgranter Amy and within days she got back to me to say we had tickets!"
Amy arranged for a limo to pick up Chloe and her family for the journey to the capital, but the fuel crisis meant a Land Rover Defender had to be sent instead. The silver lining was that it was the same model as the one featured in the movie - alongside the usual Aston Martin!

Chloe said: "The day of my wish was amazing because I had my hair curled in the morning and we'd all bought new outfits. Then we drove down and went to a restaurant round the corner from the Royal Albert Hall and the pizza was fabulous. We walked round and there was a big queue on the red carpet. It was chucking it down.... but it stopped raining for the photos, and we had fabulous VIP seats. The usher who showed us to them said 'you must know some people to be sitting here!' We were in one of the front rows in the middle and there was water and posh popcorn laid out for us.
"We saw Harry Kane, which was great for my dad because he loves football. Jeremy Lynch was there as well as loads of YouTubers and rappers like Stormy and AJ Tracey. Dynamo was in the bar, and we saw Tess Daly and Vernon Kay, then Rami Malek giving an interview. Trumpets sounded when the royal family arrived, and Daniel Craig gave a speech at the beginning. Then the film itself was fantastic – I've already gone to see it again since. It was so loud in there – I flew out of my seat a couple of times with jump scares!"
How Chloe's wish helped
February 2022
Jackie later rated their experience a 10 out of 10, adding: "We always wanted Chloe's wish to be something that was special and unique for her because she is really special. She really did think long and hard about it. It all unfolded very quickly after she said: 'what about this?' but it turned into this incredible experience."

It wasn't Chloe's first visit to the Royal Albert Hall as she had performed there herself with Theatre Trains – an acting school she used to do at weekends. And the whole experience has sustained her interest in the media, performing and directing. Who knows, Chloe may well attend her own film premiere one day.... Never Say Never (again)!
14-year-old Skye's wish to go to the iconic Milan Fashion Week.
Meet Skye
10-year-old Emily wished to be an actor and star in a film.
Meet Emily
Find out more about the positive impact a wish has on the child and their family.
Read more
We rely on generous donations from people like you to grant wishes. Your donation will make wishes become a reality for critically ill children, supporting them where the need is greatest. Thank you.