Allan's wish...
"I wish to be a police officer"
7 years old, Swansea
Tumour
When Allan, from Swansea, first went to the doctors at the age of five, they thought he had Scarlet Fever. But then a biopsy showed a major bleed and further tests showed he had a form of soft tissue cancer called rhabdomyosarcoma.
An emergency
Just as he had started school, Allan's childhood was catapulted into a world of hospitals and discomfort. He had 14 months of chemotherapy and six weeks of radiotherapy, all in the lead up to an operation to remove the tumour in May 2018.
Allan's mum, Mandy, said: "It was touch and go in the beginning. If they didn't operate, he could die."
Allan showed true courage during his six consecutive weeks of treatment: "His radiotherapy was so severe that he was burnt as a result. He never moaned once. When he was having radiotherapy, they said he was better than an adult."
A true Bobby
Allan is no stranger to dealing with doctors and nurses, but it's with the police that his obsession lies.
Mandy told us: "Ever since he was little, he always wanted to be a policeman. He's playing police all the time."
Allan even fitted a water bottle to his bicycle so it would sound more like a motorbike with an engine! It sounds like Allan has all the makings of a police officer too, as Mandy said he loves Avengers, Mr Bean and Horrid Henry and is always racing about at 100mph. So, it was no surprise when volunteers learnt that his wish was to be a police officer for the day.
Allan's wish
February 2020
On the right side of the law
After weeks of waiting while his wishgranter Dan made arrangements, the day of his wish finally arrived and Allan put on his unique police uniform.
There were crowds lining the streets and Mandy said: "They thought royalty was coming. They had the police force in a row all saluting and waving for him.

Once at West Yorkshire Police Training and Development Centre, Allan dusted for fingerprints, casted for footprints and practised handcuffing, before being sworn in as the police officer he's destined to be.
Lights, camera, ACTION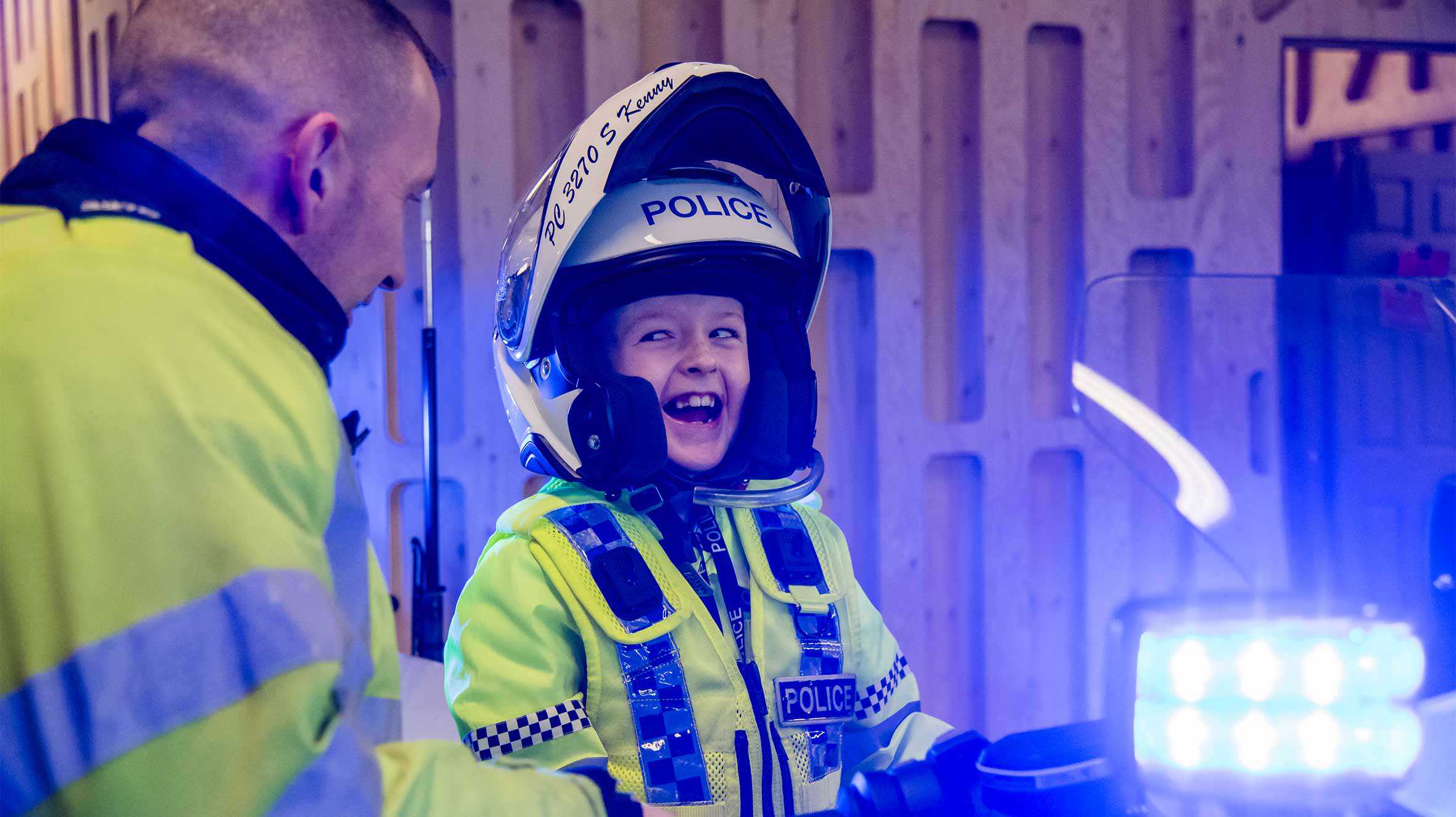 Next, he was briefed about the day's operation - codenamed: Avenger. Allan bravely took to the shield and controlled a riot, searched properties, gathered evidence, witnessed car chases and armed response, as well as seeing the police dogs, motorbikes and helicopter.

In a thrilling finale, Allan arrested the culprits and recovered the missing gem from the Thanos' gang! And just has he had arrived in style, he left in a convoy to pick up his favourite McDonalds meal, which he and his new partners enjoyed in the dinner hall.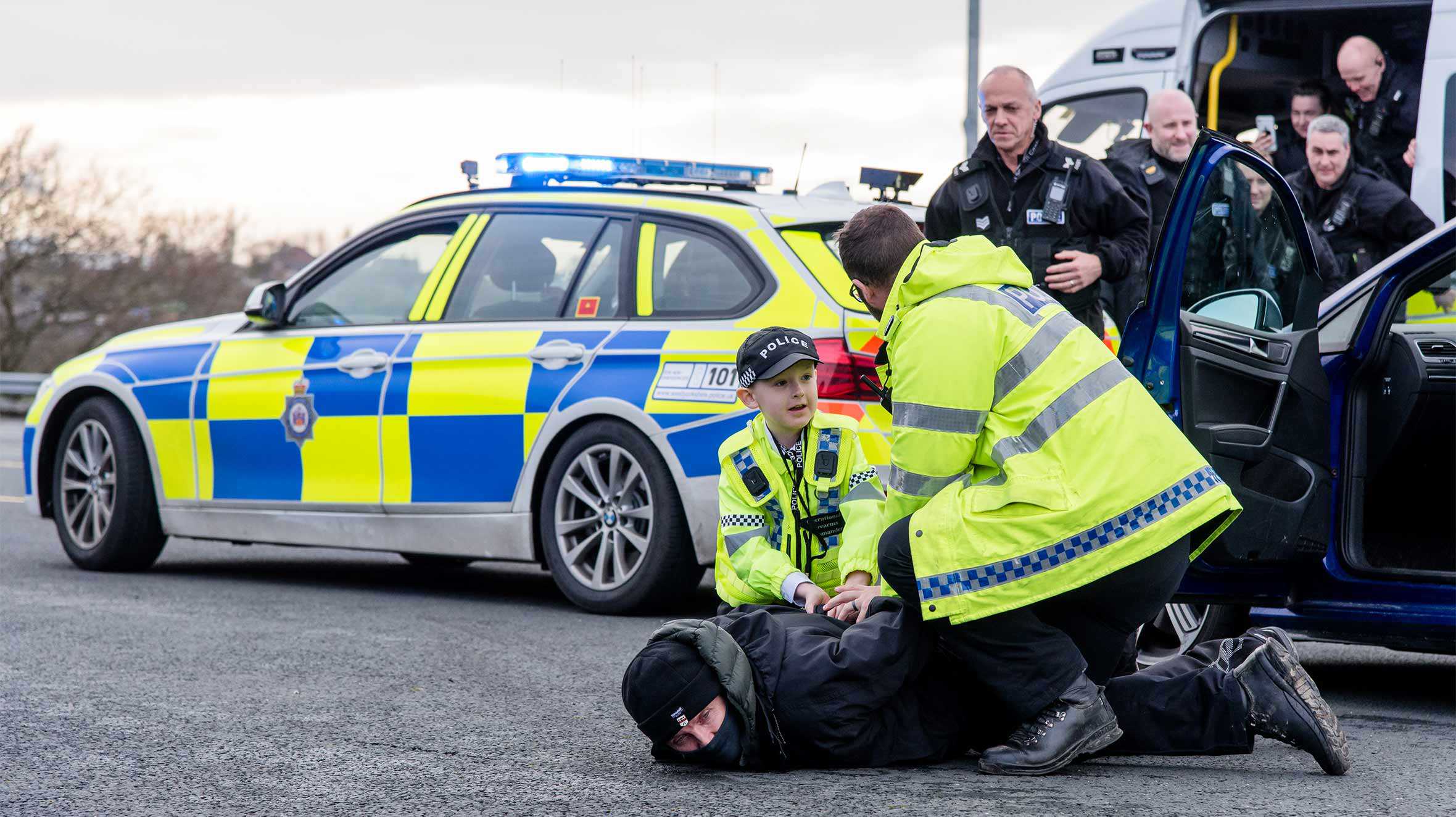 Got their man

Allan was never out of his depth, neither when undergoing treatment for cancer, nor being part of the force:
"He was one of the boys, laughing and joking," commented Mandy.
"Our minds are blown. The whole thing, you can't put a price on it."
When Allan rang the bell to signify the end of his treatment, he had a family party with a cake in the shape of a bell.
But his wish came true to the sound of sirens and cheers – and social media notifications - after someone live-tweeted his wish and it went viral!

Read about other children who wished to be police officers.
Read stories
Read about other wishes granted for children from Wales.
Read stories
Find out more about the positive impact of our wishes.
Read more
We rely on generous donations from people like you to grant wishes. Your donation will make wishes become a reality for critically ill children, supporting them where the need is greatest. Thank you.