Kieran's wish...
"I wish to be a Transformers designer and make an actual figure"
12 years old, Stoke-on-Trent
Neurological condition
Kieran, a 12-year-old from Stoke-on-Trent, has a rare genetic condition - Friedreich's ataxia. Over time, his condition has impacted his mobility, meaning that normal childhood activities, like playing football and cricket, have had to be stopped. But Kieran's love for Transformers provides him with a world of respite. 'The Transformer films and his toys have allowed him to travel to a different world,' said mum Leeann. So, when Kieran was given the opportunity to have a wish granted, he chose to design his very own Transformer.
For mum, Kieran's diagnosis came as a shock. The genetic condition required two parents to be the carrier. Prior to Kieran's diagnosis neither mum, nor anyone in the family had heard of the disease. 'I was in disbelief. How can he have a genetic condition when I or no one in our family has heard of it?' said mum.
Due to the rarity of his condition, the road to gaining his diagnosis was turbulent. When Kieran was four, mum noticed that his mobility skills were different to his peers. 'We took him to gymnastics, and they mentioned how he couldn't do bunny hops properly'. Mum then brought Kieran to the GP, though was told that there was nothing to worry about.
When Kieran was six, teachers noticed that his handwriting was deteriorating. A few months later Kieran and his mum would visit a neurologist, who was finally able to diagnose Kieran's condition.
'He asked if anyone had told me about his condition. When I said no, he shook his head. He told me that Kieran's nerves aren't working the way they should'. After running further tests, Kieran finally received his diagnosis, Friedreich's ataxia - a genetic disorder which impacts the body's nerves. Further testing revealed that he also had hypertrophic cardiomyopathy - a condition which thickens the heart's muscle walls, making it difficult for Kieran to pump blood around his body.
When Kieran received his diagnosis, he was still able to walk, but his condition rapidly deteriorated. 'When he started primary school at five-years-old he was running and playing with his friends. When he finished, he was unable to walk,' said mum. 'It's not a normal childhood. I can't let him go out the front door and play with his friends.'
Despite all this, Kieran is now exceling in high school, achieving outstanding grades in mathematics. 'He's in top set for all his lessons, he is very intelligent,' said mum. Having just undergone surgery on his feet, Kieran is currently recovering at home - 'he's got two large heavy casts on his feet which makes his limited mobility much harder!'
But amid mundane recoveries and periods of tiredness and severe fatigue, a side-effect of Kieran's condition, he's had the immersive world of Transformer's to escape to. 'I also love Transformers; I introduced it to him he was five,' said mum. Bumblebee is my favourite transformer!' said Kieran. Kieran and his mum watch every transformer film together. 'It's something we do together as a family,' explained mum.
Kieran's wish
December 2022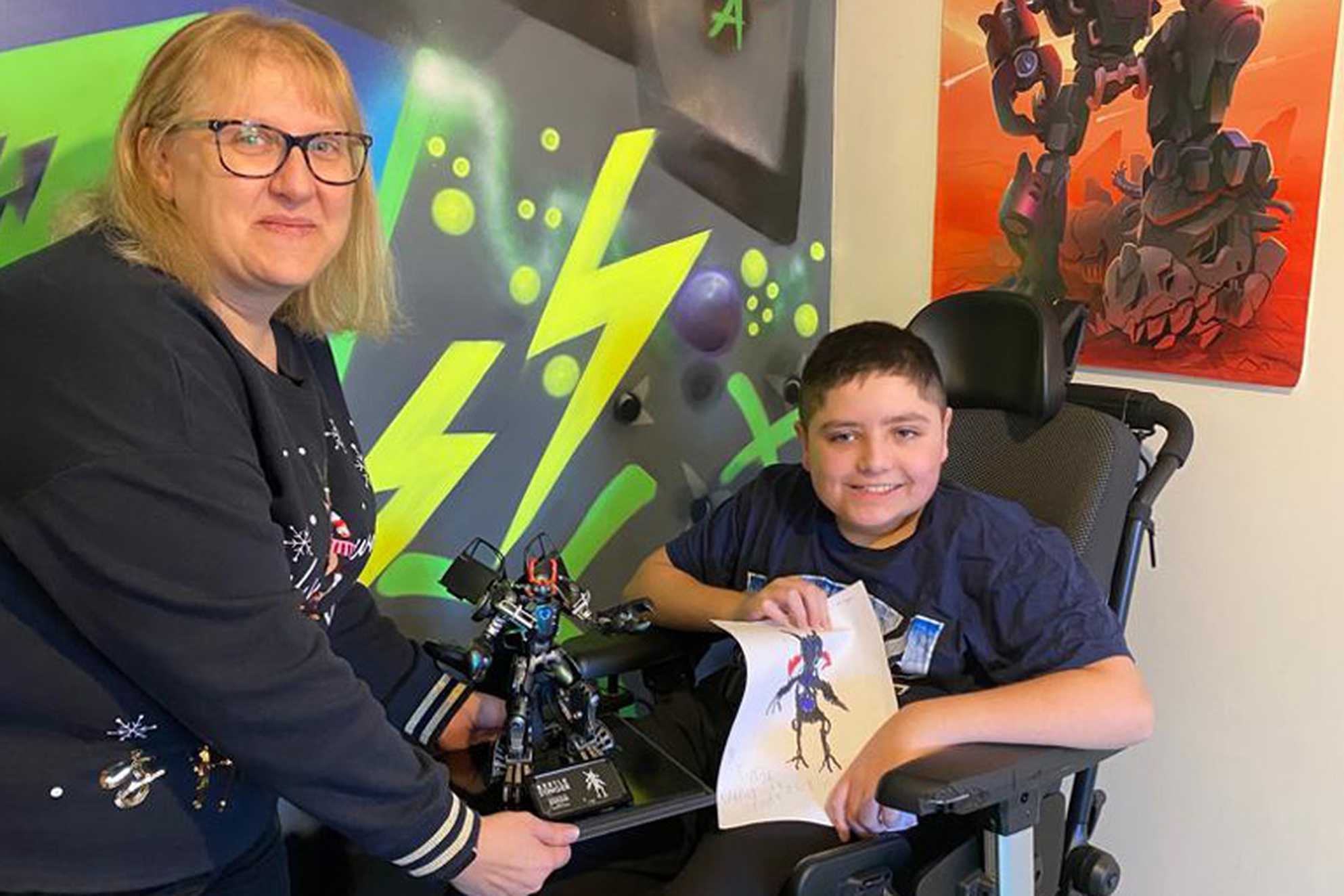 The films provided 'a different world where he isn't thinking about what's going on around him for 2 hours', as mum told us. When Kieran was asked what he would like his wish to be, he straight away knew that he wanted to design a transformer of his own.
After Kieran was presented with his one-of-a-kind Transformer, Beetle Stinger, his face lit up with joy. 'A volunteer came to drop it off on Christmas Eve, which made it even more special', said mum. 'The toy is currently in a box, whenever his friends or cousins come over, they're in complete awe of it'.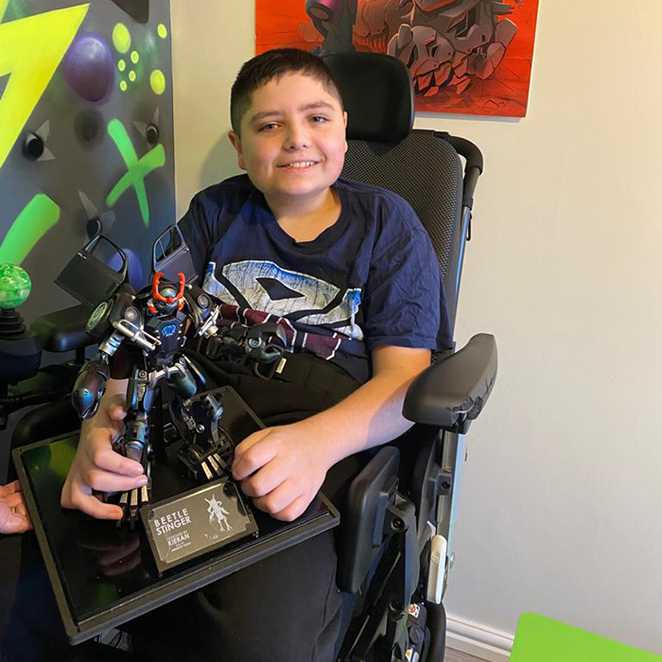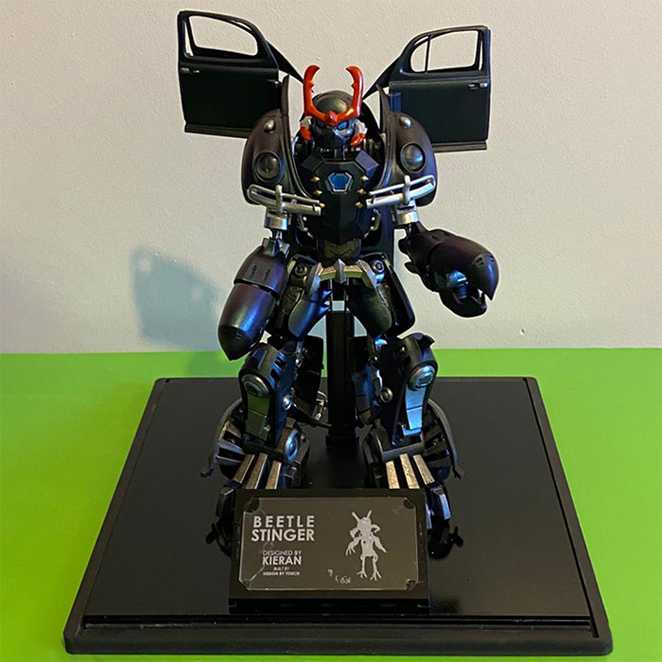 For Kieran, his wish has made him feel extra special. 'he'll always be able to look at it and think I designed that and it's a one-of-a-kind figure' said mum, 'It's something that he will have forever'. The two are looking forward to seeing the new Transformers film Rise of the Beasts in June of 2023, with Kieran hoping to see his Transformer Beetle Stinger in future films. Kieran also hopes to create more Transformers, donating the profits raised from their sales to Make-A-Wish UK and Ataxia UK.

The impact of Kieran's wish
February 2023
'For a child with critical condition or illness, everything is centred around their health. They miss on so many childhood things,' said mum. But having his wish granted meant that Kieran's childhood was restored as he now has something different than hospital appointments to focus on.
'Thank you for everything you have done,' said mum 'It's the best present he has ever had, it's made him feel so special!'.
Read about other wishes inspired by famous movies and characters.
More wishes
From artists to budding chefs, meet other creative wish children like Kieran.
More stories
A wish can have a hugely positive impact on our wish children.
Read more
We rely on generous donations from people like you to grant wishes. Your donation will make wishes become a reality for critically ill children, supporting them where the need is greatest. Thank you.