Finley's wish...
"I wish to meet all my favourite characters and have them come visit me at home"
3 years old, Clacton-on-Sea
Leukaemia
In October of 2022, Finley's parents were told that they had a matter of hours to days left with their three-year-old son following the resurgence of his cancer. But his wish to have the Paw Patrol characters visit him allowed him to enjoy something within the comfort of his own home whilst making valuable long-lasting memories with his family and friends. 'It just makes me smile to think that we had that time with him,' said mum Becky.
Finley's story
October 2022
In December of 2021, When Finley started experiencing fatigue as well as bruising around his body, Mum noticed that something wasn't right. After being taken to the hospital, a blood test showed that his platelets were low. Following this, doctors discovered that Finley had T-cell acute lymphoblastic leukaemia
Finley soon quickly started chemotherapy at Addenbrooks Hospital in Cambridge. 'He was poorly on his third birthday,' said mum, 'his hair was falling out, and he lost all mobility.' Finley's treatment came with a wave of complications. After the intensity of his chemotherapy increased, Finley experienced a blood clot leading to painful injections twice a day. Finley had also contracted sepsis following an infection caused by his Hickman line. 'We thought we would lose him,' said Mum.
But in June of 2022, bone marrow tests soon revealed that Finley was in remission. 'It was good news, but the thought that he could relapse was always there,' said Mum. Up until August of 2022, Finley was doing fine. But on the same weekend as Mum's birthday, Finley relapsed. 'It's rare to relapse this early on,' said Mum. His cancer cells were returning in full force.
Following this, Finley went back on chemotherapy, though this proved too toxic for his body. In October of 2022, Mum and Dad were told there were no other treatment options for Finley.
'We were told to just spend as much time as possible at home together,' said Becky. For Finley's brother and best friend Ollie, the news hit hard. 'It's the first time he experienced anyone dying, for it to be his little brother was difficult,' said Mum.
Finley's wish
October 2022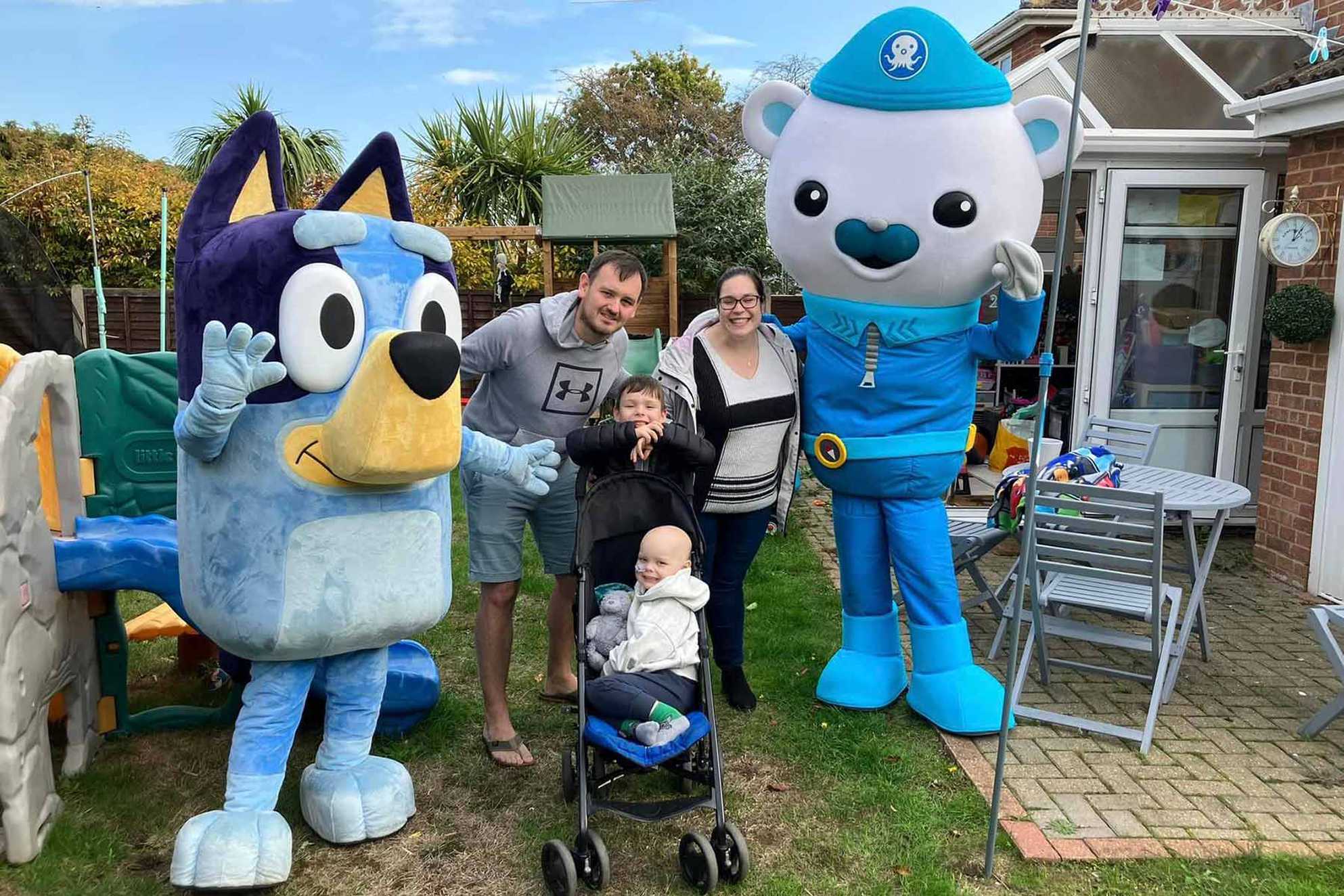 After finding out that Finley had between hours to days to live, the family decided to have his favourite characters from his favourite show Paw Patrol visit him. 'We knew he wouldn't be feeling well to go outside, so it had to be something that he could enjoy from home,' said Mum. In only a matter of days, Finley's Wishgranter had arranged for the characters to pass by his house. 'We wanted to make the most of the time we had with him without being upset,' said Mum.
Just days after his wish, Finley unfortunately passed.
But his wish provided his family and friends the opportunity to create long-lasting positive memories of Finley's beaming smile. Finley played games and had fun with his favourite characters: Marsha, Zuma, Captain Barnacle, and Bluey. 'He gave all the character's a high-five,' said Mum. His wish also allowed him to create valuable memories with his brother Ollie.
After spending six weeks in the hospital after going into remission, his wish allowed him to have an exciting experience. 'We hadn't seen him get that excited over something in ages. It just makes me smile to think that we had that time with him,' said Mum.
'He got to have pizza that evening. Finley was obsessed with pepperoni pizza. he was so happy to have that pizza. We were able to have take away as a family together,' said Mum.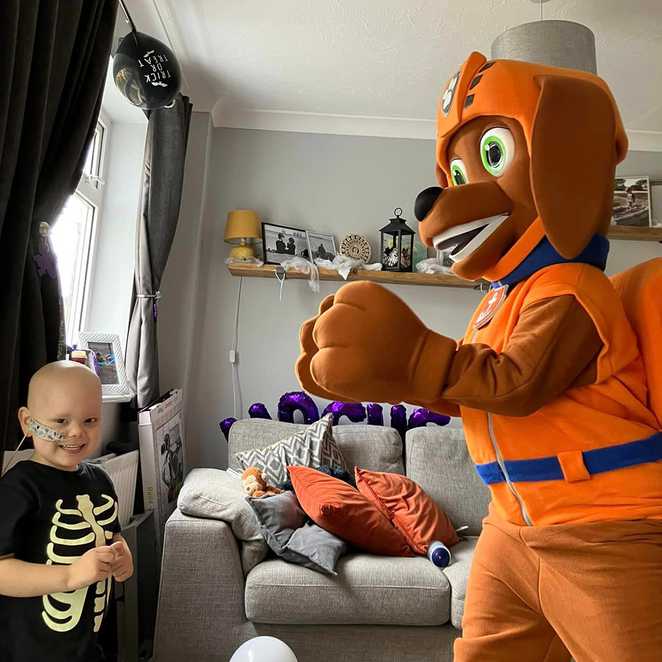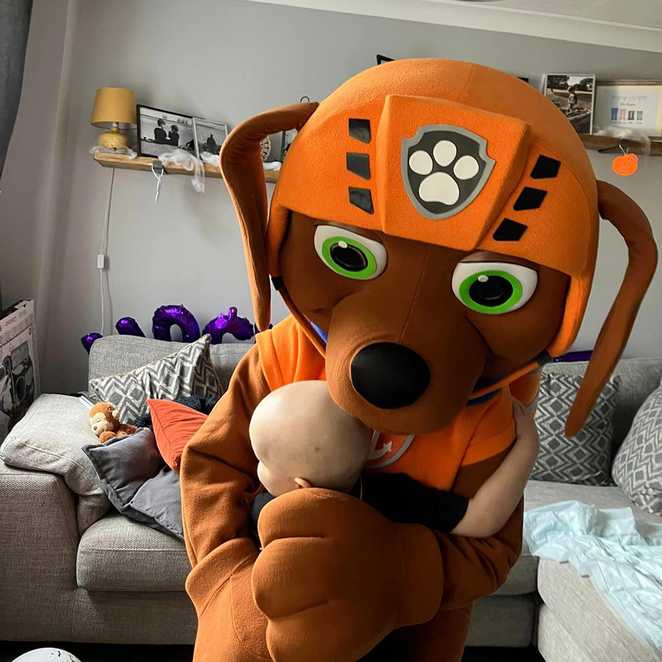 How Finley's wish helped
May 2023
Looking back on Finley's wish, Mum told us 'It was so hard to enjoy anything when we knew he was dying but this was such a special day. It's given us a beautiful memory of him being so happy which is priceless. This was an incredible experience for the family.' 'For us, this was one of the most important days', added Dad. 'Thank you to anyone who has supported Make-A-Wish. We wouldn't have had this memory otherwise.'
You can create life-changing wishes for more children like Finley by donating today.
Donate now
Read about other children whose wish was to meet their fictional or real life heroes.
More wishes
Find out more about the positive impact wishes have on wish children and their families.
Read more
We rely on generous donations from people like you to grant wishes. Your donation will make wishes become a reality for critically ill children, supporting them where the need is greatest. Thank you.