Amber's wish...
"I wish to go to the London Horse Show"
10 years old, Somerset
Large cell lymphoma
A rare cancer diagnosis led to a 'journey from hell' for Amber, a 'horse-mad' 11-year-old from Somerset. But after meeting her life-long equestrian influencer idol Esme, and experiencing the International Horse Show live in London, Amber now has positive memories to combat the negative ones formed during her cancer experience.
In September 2021, at the age of nine, Amber started her first week of school the way no child should: she had just received a devastating cancer diagnosis.
After a ten day dose of penicillin saw no improvement for a suspected case of tonsillitis, Amber spotted a large lump on her neck. 'I felt the lump and it was like a golf ball. I thought that's not right,' said mum Tanya. Amber was then rushed to the hospital, where an x-ray found that Amber had stage 3 anaplastic large T-cell lymphoma, a rare form of cancer. After originally being told that it was tonsilitis, the diagnosis came as a shock to the family.
Due to her cancer being rare, young Amber had to endure seven rounds of rough chemotherapy. 'It was the journey from hell - it was horrific to watch her go through it,' said mum.
Adding to their 'horrific' journey was a serious fungal infection - the result of a complication with her chemotherapy. Unfortunately, Amber was allergic to the only medication known to treat it, resulting in a head-to-toe rash.
Mum described the gruelling ordeal that her daughter went through: 'Her eyes were so red it was like they were bleeding from the inside and her lips were constantly peeling. She suffered every side effect possible - hallucinations, weight loss, insomnia. It was a scary time, but she fought so hard. She's my hero, she really is.'
In March of 2022 Amber rang the end-of-treatment bell. Coinciding with this celebratory event was Amber's referral to Make-A-Wish. 'There was no chance of her wishing for anything other than something to do with horses!' said mum.
Amber's wish
December 2022
Amber's love for horses started at a young age. 'It's always been all about horses for Amber,' said mum. At the age of just five, Amber joined a local riding school, taking lessons every Sunday. With her grandparents owning a stable yard, Amber was born into a 'family full of horses'.
Amber's love for horses also led to her discovery of equestrian influencer Esme. 'Amber has been watching Esme's YouTube channel since she was five years old,' said mum, 'she's seen every video'.
Watching Esme's videos helped Amber through rounds of harsh chemotherapy. 'When she was poorly in hospital, it was that drive to see her ponies again and get back in the saddle that got her through,' said mum.
Through her wish, Amber was finally able to meet her life-long idol Esme. 'It was just incredible - It was magical,' said mum 'it means everything to Amber, she'll remember this for her entire life.'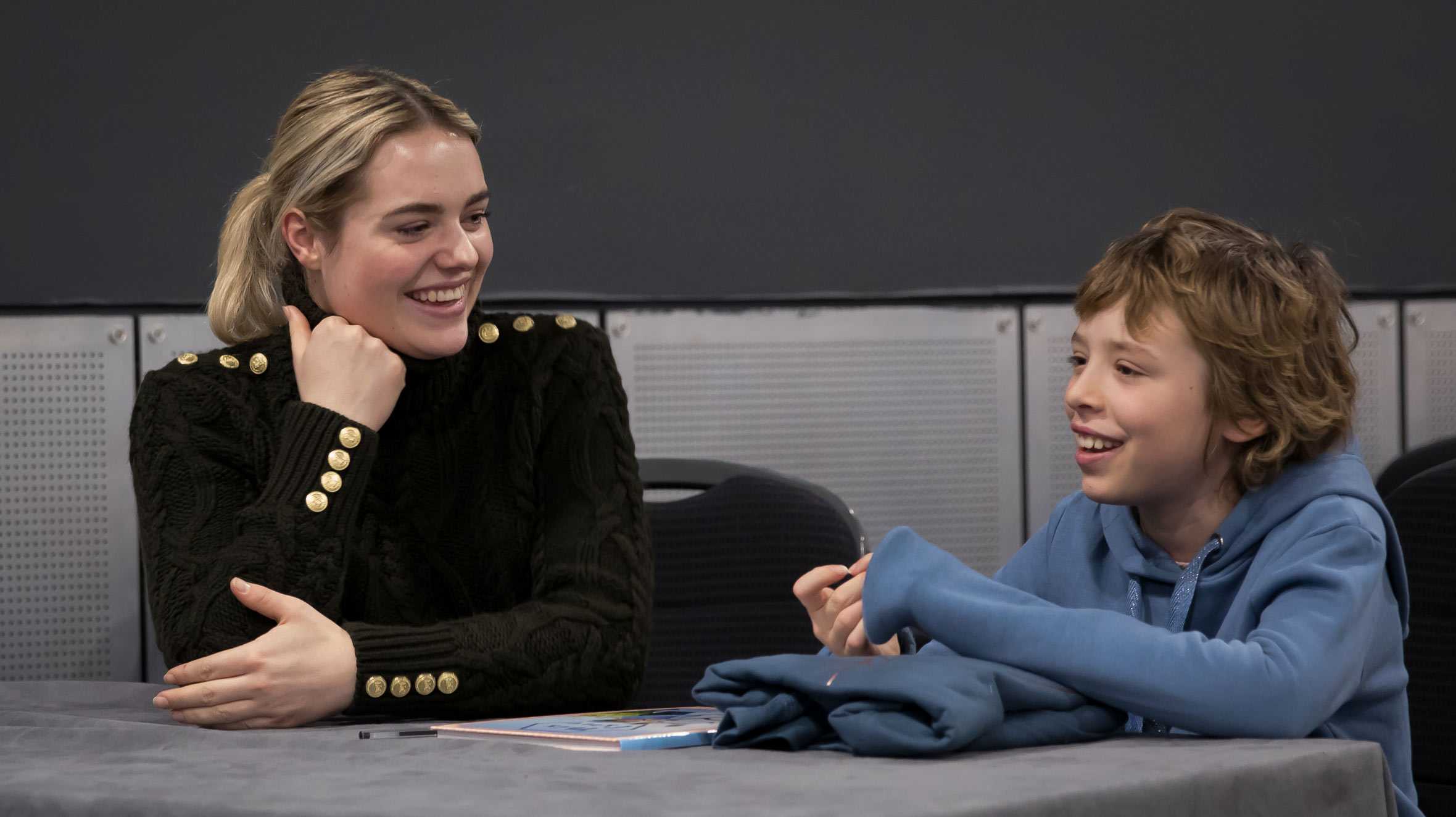 The family also enjoyed front row seats to a Sunday night evening performance at the London Horse Show. Spectators were treated to show-jumping displays from world class athletes, as well as a dog agility show and 'the Shetland Pony Grand National'.

When asked which part of her wish had been the best, Amber said - 'everything!'
The impact of Amber's wish
March 2023
A cancer diagnosis meant that Amber's life had come to a standstill. But For Amber and her family, her wish has provided an opportunity to 'draw a line' under 'the worst year imaginable,' allowing the family to focus on the future.
'When she was diagnosed with cancer, it was like someone pressed the pause button on her life,' said mum. 'She missed a year of her childhood, so to see her now, so happy and confident at her wish - it's magical.'

"We can put away all the bad memories now because we have this memory to focus on instead. We can't thank Make-A-Wish enough, honestly. We're so incredibly grateful. To everyone who has donated – thank you. Thank you so much."
From horses to tigers, read about other animal related wishes you've helped us to grant.
More stories
Find out more about the positive impact a wish can have on children like Amber and their families.
Read more
Please donate today and help to grant life-changing wishes for more children like Amber.
Donate today
We rely on generous donations from people like you to grant wishes. Your donation will make wishes become a reality for critically ill children, supporting them where the need is greatest. Thank you.