Make-A-Wish UK and Disney Stores Unlock Children's Wishes
Make-A-Wish UK and Disney Store Unlock Children's Wishes

Four-year-old Daniel from Cairneyhill in Scotland was born with renal failure and became Scotland's youngest dialysis patient when he was just 10 months old.
He needed a kidney transplant and his auntie Carolyn offered to help when she proved to be the closest match for him. Surgery took place successfully last year when Daniel reached the minimum weight requirement.
Now recuperating and coping with one or two complications, Daniel is being granted his One True Wish – to meet Mickey Mouse on a family holiday to Disneyland Paris.
But first, he was one of six wish children who were treated to an amazing behind-the-scenes experience at their local Disney Store. It's all part of a collaboration between Disney and Make-A-Wish to help children with critical illnesses because of the two organisations' longstanding history.
For Daniel, that meant a trip to The Gyle in Edinburgh along with his heroic Auntie Carolyn, mum Louise and his dad Nicky who's a local chef.
Daniel's magical morning included:
Disney theme tunes playing in the shopping Mall all morning
Getting to switch on the lights in the store using a "magic" lamp
A treasure hunt to find six magical Mickey boxes – each containing a gift, including some "Mickey Money"
The chance to design his own superhero shield
A game of hide and seek in the store
A shopping spree, using his Mickey Money, for Disney-themed pyjamas and toys to take with him on this wish
Posting some pixie dust to Mickey in a magical Mickey envelope - Mickey then appeared on screen to say he was very excited about meeting him
Sharing some magical Mickey cake kindly baked by Disney store member Dot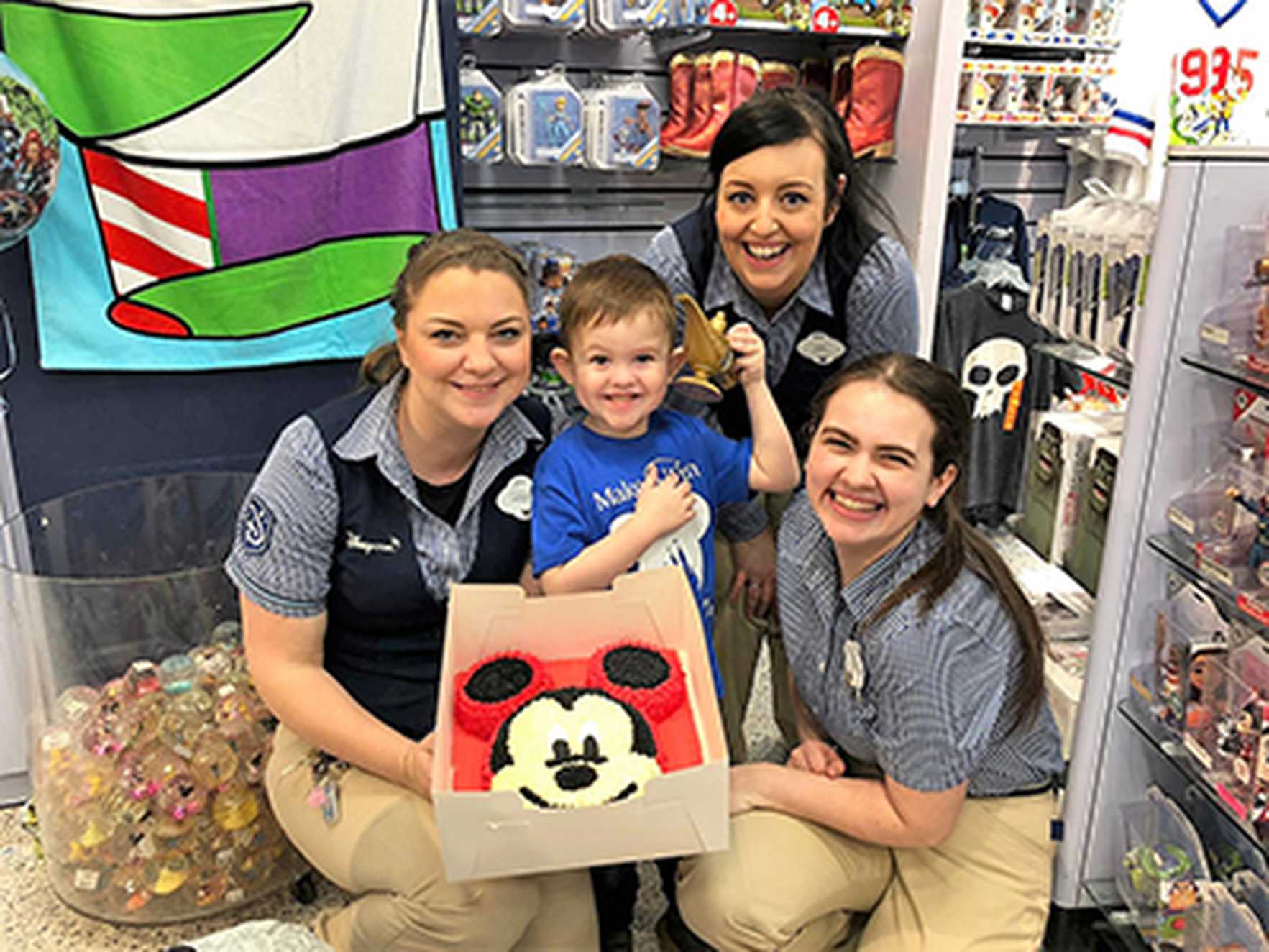 Daniel's mum Louise said: "It's been a very difficult time, and this has just made the wish even more magical. Daniel had an absolute ball and kept telling us it must be his birthday because he was given so many presents!"
A spokeswoman for the Store said: "We all had the most amazing time getting to know Daniel and his family, making magical memories and new friends."
Similar experiences took place around the country. Wish child Bobby from Yardley went to a store in Birmingham; Hallie-Mae and Ryan were in Cardiff and in London, Alex and Alyssa are set to enjoy their special days.
The Disney Store experience was just one of several initiatives including a special gala screening of the new Disney film Aladdin and the chance for some wish children and fundraising ambassadors to learn the song "Friend Like Me" with a surprise visit from the genie himself Will Smith.
Disney customers can play their part by purchasing special edition Aladdin keys at Disney stores on Saturday 25th May. Follow shopDisney on Instagram or Facebook to find out more.
In addition, for every Walt Disney World Theme Park Ticket booked through the Walt Disney Travel Company, arriving from 1st June 2019, Disney Worldwide Services will donate £10 to Make-A-Wish® as part of their pledge to raise £100,000 to help to grant more wishes for seriously-ill children across Europe. The donations will continue until the £100,000 target is reached.
Since 1980, Disney has helped realise more than 130,000 wishes for children around the world and the Walt Disney Company has a global commitment to deliver comfort and inspiration to families with children facing serious illnesses.
Disney aims to work with others to help build emotional resilience, leveraging the power of its brand, storytelling and characters to inspire and create Moments that Matter for the children and those closest to them, who need it most. For more details, see: https://www.thewaltdisneycompany.eu/aladdin/