Christmas is a magical time for any child so it's no surprise that, when asked "what would your greatest wish be?", many of our wish children would like nothing more than to meet Father Christmas himself.
There's something about spending time in a winter wonderland, surrounded by reindeer and huskies (not to mention Santa and his elves!), that can have an incredibly positive and long lasting effect on our wish children and give them some much-needed respite from the daily trials of living with a critical illness.
"It was completely amazing. Just seeing Ben's face and seeing how happy it made him. As a mum, it completely melted my heart. Thank you isn't enough, it was a priceless gift."
Respite for George
Five-year-old George, who was diagnosed with leukaemia, had his wish come true when he visited Lapland at Christmas in 2018.
George was referred by one of his nurses to offer some respite from the cycle of medicine and hospitals, where he endured a course of chemotherapy, steroids and lumbar punctures.
George's mum, Vici, told us how brilliant their trip to Lapland was …
"It was the perfect way to get into the Christmas spirit. Home life is so busy with medical appointments and school but there it was just us and we felt just like a normal family. We didn't have a care in the world, no sense of time passing, the children were just laughing and throwing themselves in the snow. It was pure joy."
Making memories for Olivia
Five-year-old Olivia has already fought many battles –at her 20-week scan, Olivia's mum Jane found out her baby had a complex heart condition, requiring surgery, and she was born with a cleft palette.
Olivia was so excited about her trip to Lapland that she was packed and ready weeks before her plane departed. She told us that she was most looking forward to seeing the huskies, making snow angels and helping the elves to make toys for other children.
"We turned to Make-A-Wish to give Olivia something to look forward to that's not hospital – something fun."
Olivia couldn't choose a favourite memory from her wish, as it was all just so special and magical. The family returned home with renewed confidence, strength and hope for Olivia's future. Her mum says that she felt like "it made up for all the times she has missed out on."
Giving Ffion something to look forward to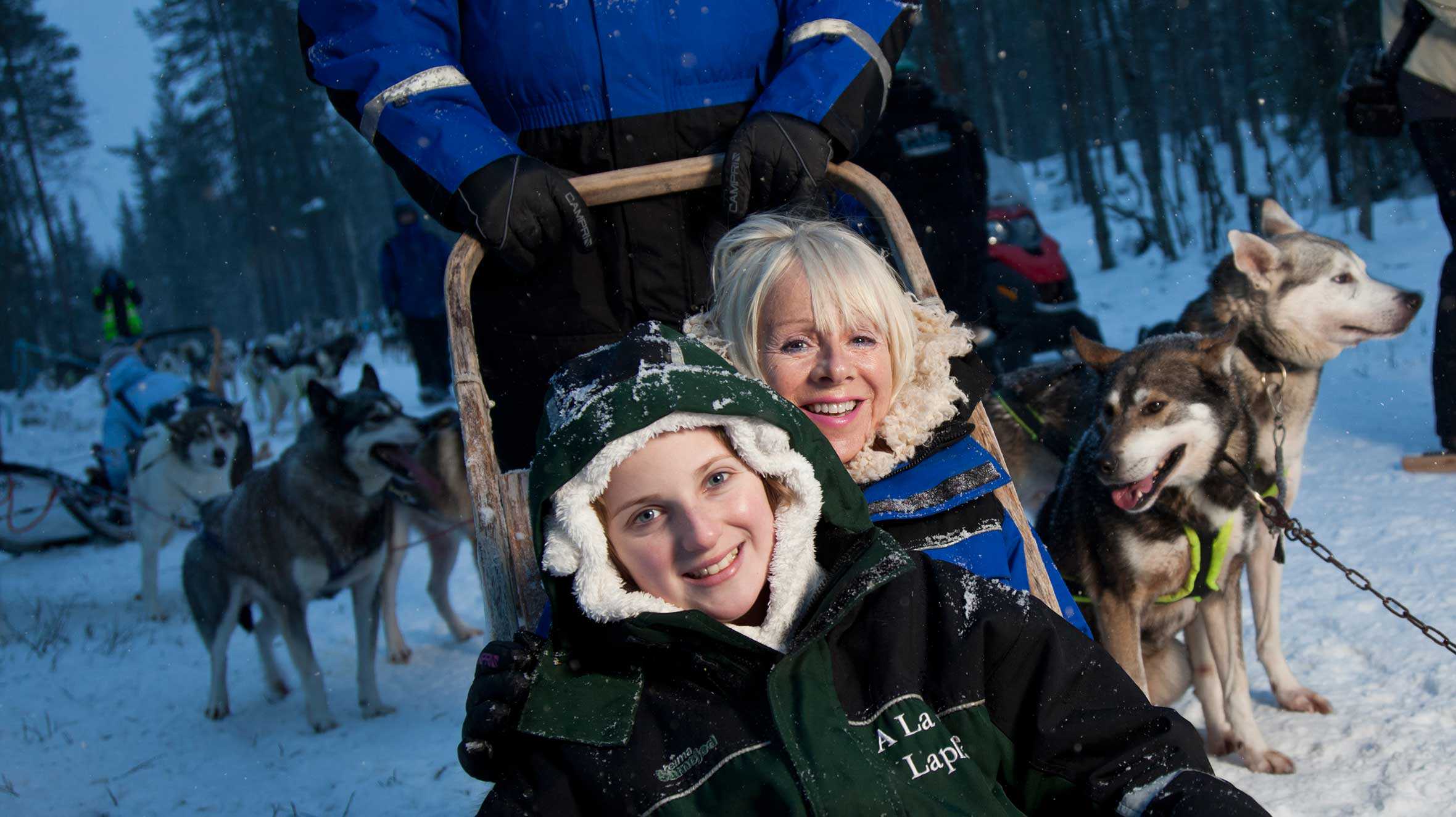 Ffion was diagnosed with Hodgkin lymphoma, a type of cancer, when she was 12 years old, which then spread to her chest and armpit. After a gruelling course of chemotherapy and stem cell treatment, she was declared 'in remission' in February 2013.

In 2014, after a difficult few years for Ffion and her whole family, she turned to us and wished to go on holiday with her family – she loves snow, husky dogs and sledging, so her One True Wish was to go to Lapland!
Wishes give seriously ill children and young people something to look forward to when they're going through really hard times and, after her wish, Ffion's mum Debbie told us the impact the wish had had on her.
"The wish has been something to really look forward to after all Ffion has been through. We will never forget the wish, it was so magical and it was beautiful watching her enjoying herself in a winter wonderland."
A priceless gift for Ben
Sixteen-year-old Ben has microcephaly. His brain hasn't developed properly, so he has severe learning difficulties and limited speech, but this hasn't stopped him learning to communicate with his family through signing and always talking about how much he'd love to meet Father Christmas!
In addition to his microcephaly, Ben was diagnosed with dilated cardio myopathy in 2012, a virus which was attacking Ben's heart and causing it to fail. After several months in hospital, he underwent a seven-hour heart transplant operation, and came home after 21 days.
After four years, Ben was well again and in December 2016 he travelled to Lapland with his mum and stepdad to enjoy all things Christmassy for three whole days!
One of Ben's favourite things about his trip was the elves – from the air crew dressing up as elves on the plane, to visiting Santa's workshop – and of course his personal favourite elf, Tricky Dicky, who made him laugh by pinching his chips and playing jokes on everyone!
"It was completely amazing. Just seeing Ben's face and seeing how happy it made him. As a mum, it completely melted my heart. Thank you isn't enough, it was a priceless gift."
A confidence boost for Sofia
When Sofia was born, mum Sarah thought she had a perfectly healthy child but, at 18 months, Sofia started to show signs that everything was not quite right.
Sofia was diagnosed with Rett syndrome, a rare and incurable life-threatening illness which affects the development of her brain. Now eight years old, her condition has prevented Sofia from hitting the usual milestones. She has no verbal communication ability and has problems with her reflux and bowels.
2014 was particularly difficult for Sofia and, after such a tough year, her family wanted to do something that they knew would make her happy and give her a boost, so they turned to us to make her wish come true!
Sofia's mum told our Wish Visitors how much she loves Santa and the texture of snow, so it was a natural choice for Sofia's wish to be to go to Lapland to meet Father Christmas!
Excitement levels were high for Sofia, her mum, dad and younger sister Poppy and, once they arrived, they were treated to husky rides, met reindeer and elves and had a tour around Santa's workshop. The best bit for Sofia was riding on skidoos to see Santa – she didn't stop smiling!
"We have had a very tough year so the wish has given a confidence boost to Sofia. The wish created very happy memories – it was wonderful to see her smile and brought joy and happiness to us all."
The impact of wishes
A wish can be incredibly powerful a seriously ill child, giving them something exciting to look forward to and taking them away from their daily routine of illness, medication and hospital visits. A wish allows children to forget about everything else, if only for a short time, and just enjoy being a child again.
The one thing that wish parents tell us about time and again is the long-lasting impact on both the child and their family.
"This wish has had a huge impact on Ben. He remembers certain things in a very detailed way, and even though he can hardly count to five, he can talk about his wish trip to Lapland in detail. He goes back through his photo album of the holiday and it gives us all such happy memories."
From building confidence, strength and hope, to bringing families closer together, wishes bring many positive effects that help families to cope with the ongoing challenges of living with critical illnesses.