Jasmine meets Princess Jasmine
Make-A-Wish and Disney join forces to unlock wishes - wish child Jasmine meets Aladdin's Princess Jasmine!
Jamine's One True Wish
Ten-year-old Jasmine was born with severe epilepsy and global developmental delay. This means she's visually impaired and mostly gets about in a wheelchair.
Jasmine lives in Swindon with her mum Hannah and two brothers. She loves music and all things Disney! She was even named after Princess Jasmine from Disney's film and musical - Aladdin.
When Jasmine was referred for a wish, our specially-trained volunteer Wish Visitors went to Jasmine's home to discover what her One True Wish would be and it was clear that a family holiday to Disneyland Paris would bring her joy.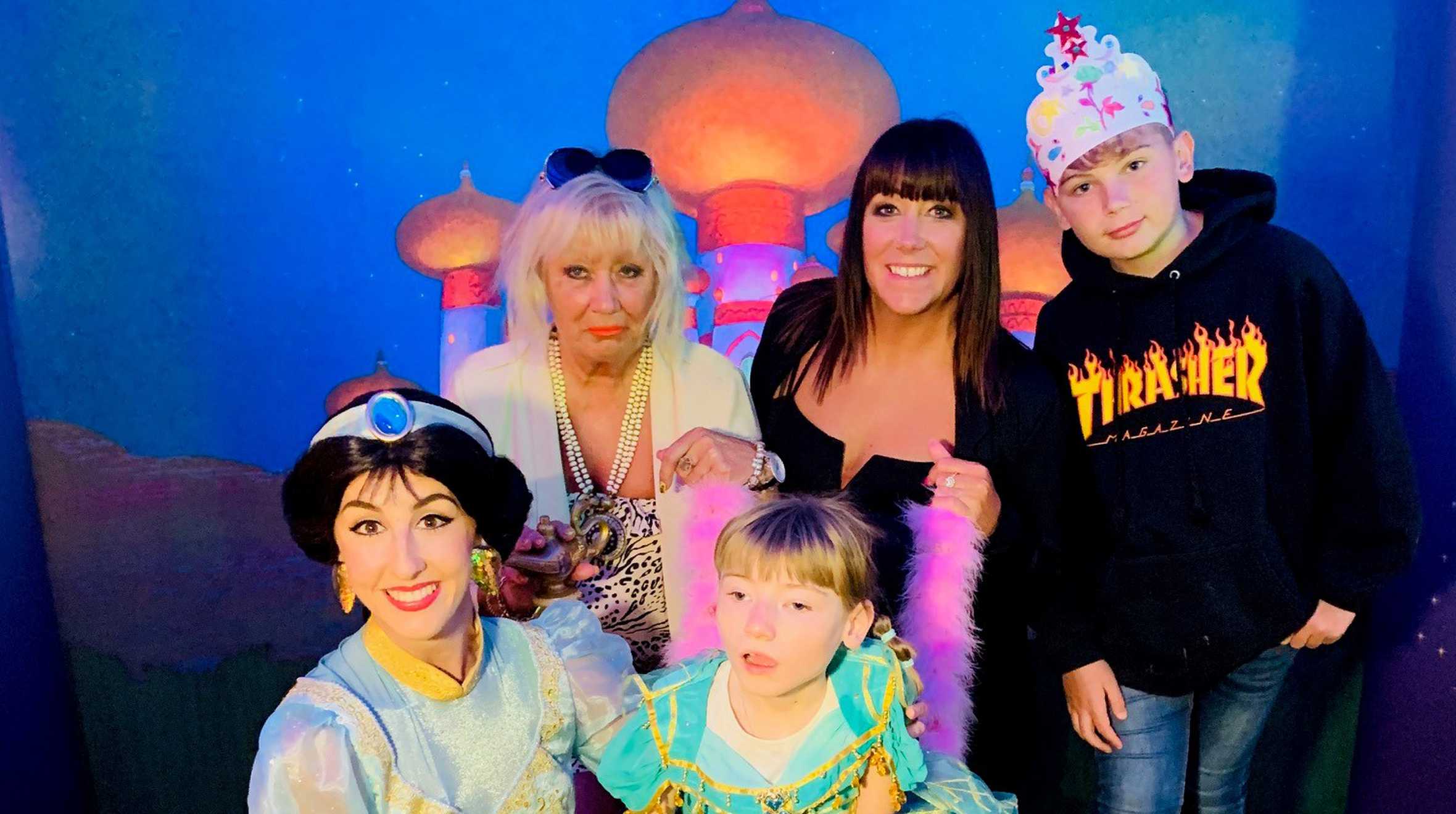 Creating memories

While Jasmine's Wishgrsnter was busy planning her wish, Disney heard all about Jasmine and her story and arranged for Jasmine to meet Jasmine from Aladdin at a VIP visit to London's flagship Disney Store in Oxford Street!
Jasmine's mum, grandmother Sandie, brother and volunteer Paul all went to London with Jasmine to join in on her magical morning with Disney.
Jasmine wore her very own Princess Jasmine costume for her experience, she helped the store's staff officially open the store using a "magic" key, made her own tiara and had a shopping spree for Disney-themed goodies that she can take on her upcoming wish to go to Disneyland Paris.
Jasmine's mum told us, "My princess had such a fabulous day."
Afterwards, a spokeswoman for Disney Store UK told us, "We all had the most amazing time getting to know Jasmine and her family, making magical memories and new friends."
Watch Jasmine's magical morning with Disney here:

Moments that Matter

Since 1980 Disney has helped realise more than 130,000 wishes for children with critical illnesses around the world. Disney and Make-A-Wish UK are collaborating on several activities to help those children because of that long-standing history. These include special gala screenings, wish enhancements and opportunities for consumers to help play their part in fundraising.
The campaign is part of The Walt Disney Company's global commitment to deliver comfort and inspiration to families with children facing serious illnesses – working with others to help build emotional resilience, leveraging the power of its brand, storytelling and characters to inspire and create Moments that Matter for children and those closest to them, who need it most.
Thank you
Thank you to all those who have booked Disneyland resort holidays through the Walt Disney Travel Company over the past few weeks. For every 2019 Walt Disney World Park Ticket purchased, £10 was donated to Make-A-Wish to help us grant more life-changing wishes across Europe. Now Disney donations have reached their target of raising £100,000 for us!