"When I first watched Ghostbusters, it turned my whole life upside down and it made it completely happy! When I'm in hospital, it's a bit scary, but just like the Ghostbusters I try to face my fears. I try to be brave."
George, eight
When George has his third open heart surgery in March 2020, he took with him his beloved Ghostbusters figurines to help him face his fear of the dark. Born with only half a working heart, George's future is uncertain but his wish to 'be a Ghostbuster for the day' kept him positive - lighting the way for him and his family, no matter what darkness may come.

Throughout the country, an extraordinary community of businesses, decision makers, societies and Ghostbuster enthusiasts came together to make George's wish a magical reality and you can watch the whole amazing experience below in George's very own Ghostbuster movie!
Thanks to everyone's overwhelming support, George's wish has now been granted, but there are many more children like George who are still waiting for their wish to come true.

It takes a community of volunteers, fundraisers, donors, and partners to light up the darkness for children living with a critical condition. By joining our community now, you have the power to light up the darkness for other children like George.

Children just like George are waiting for a wish right now in your local community.
Here are just some of the ways you can help...
Whether it's a one-off donation or a monthly gift, your support will help create magical experiences for children like George.
Donate now
Volunteers are at the heart of our organisation. Find out more about how to volunteer your time and really make it count.
Get involved
If you know a child who would benefit from a wish, you can start the process now via our simple online application form.
Refer a child
Whether you're holding a bake sale or running a marathon, our dedicated team will be there to support you every step of the way.
Be a #WishHero
George's wish wouldn't be possible without supporters and partners donating their time, expertise or gifts to make his wish truly unique.
Donate a gift
From donating goods and services to taking on wishgranting challenges, there are lots of ways your organisation can get involved.
Find out how
If you'd like to receive updates on George's wish, as well as other inspiring wish stories and further information on how you can light up the darkness for critically ill children, don't forget to sign up to our newsletter below.
George's wish - a growing roll of honour
We'd like to say a huge thanks to the following supporters for helping to create a wish that George will never forget, we simply could not have done it without you!
The East Midlands Ghostbusters Society was pivotal in securing video messages and merchandise – with approval from Ghost Corps – the official franchise of Columbia Pictures Industries Inc.
Film Car Hire offered to drive George and his family to his ghost hunting venue in their Ectomobile free of charge for which we're hugely grateful
We needed to find that venue and Leeds Central Library came up trumps with their team and Leeds City Council providing an accessible, historic location for George to hunt ghosts in - while bearing an uncanny resemblance to the library in the film and authentic hauntings too!
Of course George needed some actual ghosts to hunt and AtmosFX came to our aid by providing some ghostly apparitions - waiving their fees
There was the question of what George would wear... Step up the very generous Craig at Periwinkle Props.
Meanwhile, George and his family were offered tickets to Ecto-Con, and volunteer Leah Hyland popped round to drop off an extra surprise!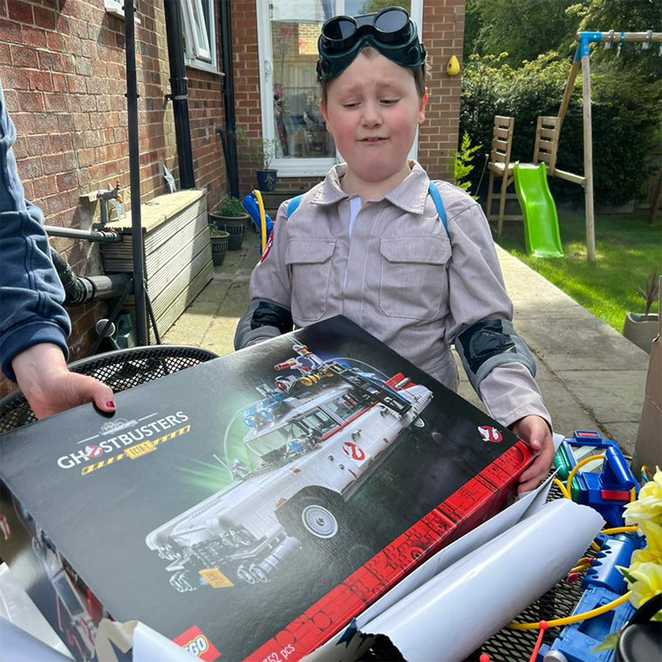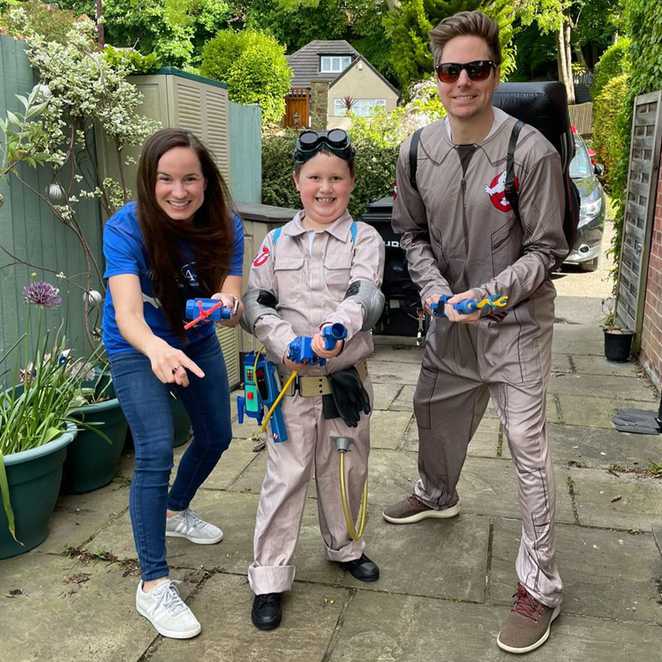 And that's just the tip of the iceberg, don't forget to sign up to receive updates on George's wish and much more...