Mum to push assisted athlete daughter as they take on the London Marathon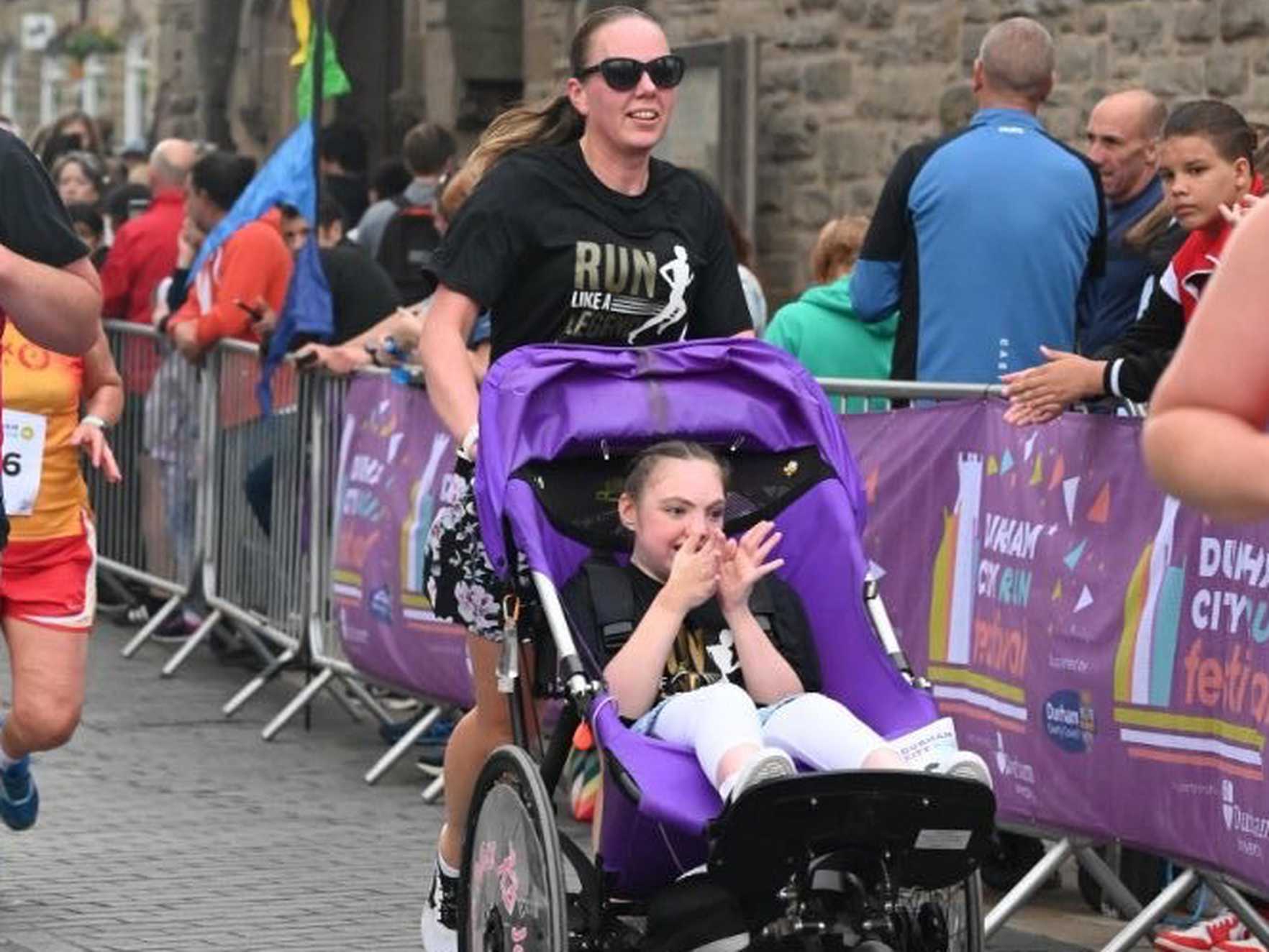 After having her wish granted to go to Disneyland Paris in 2016, 22-year-old assisted athlete Alice will be running the 2023 London Marathon with her mum, 49-year-old Joanne. This comes after the Alfreton locals achieved the fastest assisted athlete running time (4 hours and 47 minutes) in last year's marathon. Joanne will be pushing Alice in a sports adapted wheelchair for 26.2 miles, something she says, 'isn't difficult' as running with Alice is 'normal' for her- 'I've never run without pushing her.'

22-year-old Alice lives with a CASK gene mutation, a life limiting condition causing her to have complex needs. Such needs include epilepsy, visual impairment, limited mobility (resulting in a wheelchair dependency), and limited communication.
In 2016, at the age of 15, Alice went through one of the hardest years of her life. She spent most of the year in and out of hospital, enduring several operations, including open surgery twice within five days. Her digestive system also shut down.
'It had been a horrific couple of years, that year especially', said Joanne. 'But it sparked a referral to Make-A-Wish'. In November of 2016, Joanne, Alice and her brother Jordan, now aged-25, were whisked off to Disneyland Paris - a positive end to an horrific year.
'Alice is a massive Disney fan, everything is Disney,' said Joanne, 'she loves Donald Duck. There was this magical moment during the wish where Alice had a meet and greet with him. He came in, sat next to her and started reading with her. it just felt so normal. She was doing her favourite thing with her favourite character.'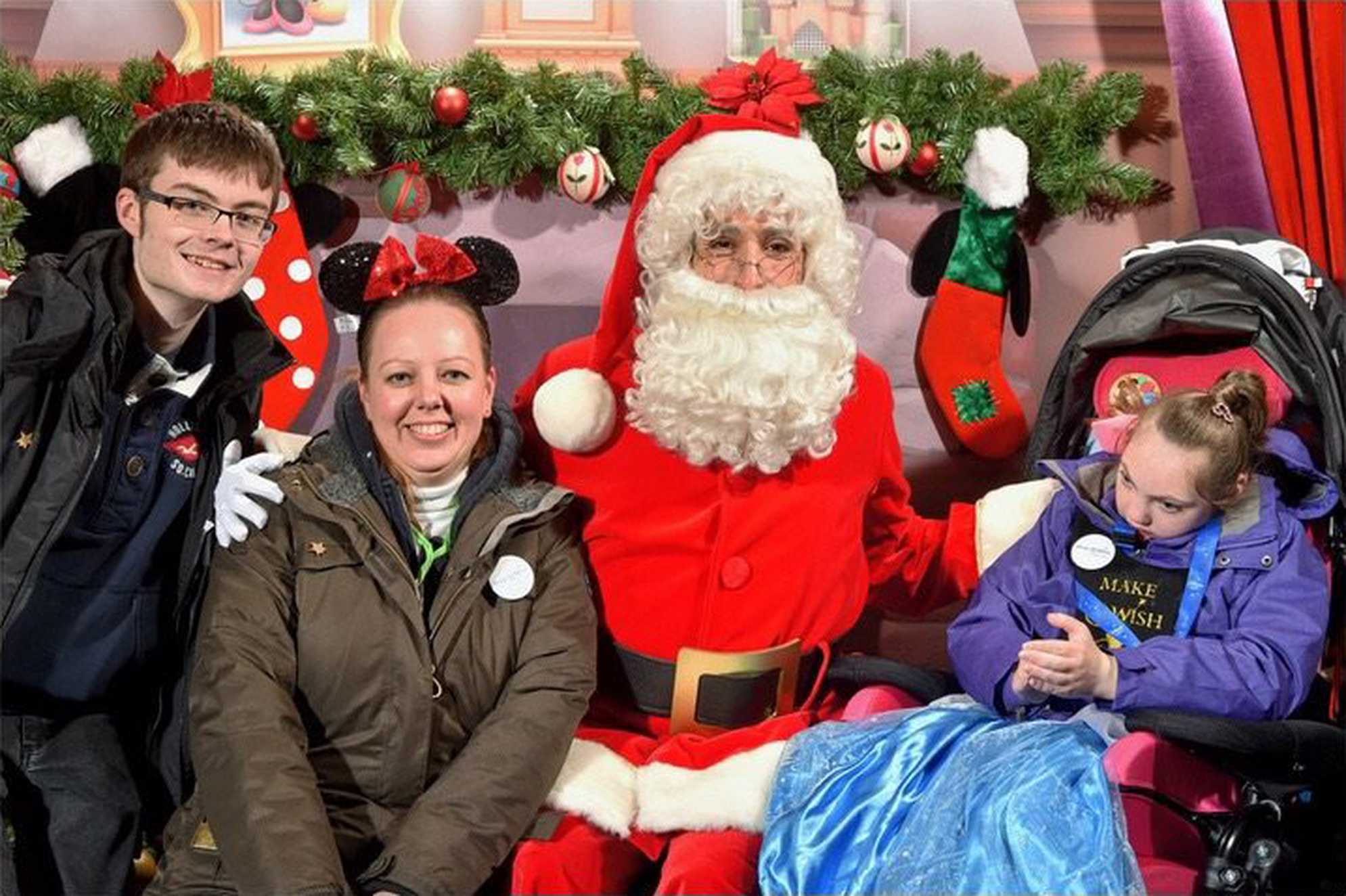 Because of her condition the family had spent little time together. 'The wish gave us that time to finally be together as a family,' said Joanne 'by the end of that horrific year, she was much better, the wish made such a difference.'

Now, seven years after having her wish, Alice and Joanne are choosing to run the London Marathon in support of Make-A-Wish UK, with Joanne pushing Alice in her adapted wheelchair for the 26.2 mile race. 'Alice has experienced the magic of a wish. I want other children to experience the same magic.'

"Children that have a wish have complex needs, they haven't got a typical normal life like other children. They need that wish to give them something special just for them, and for the rest of the family."
Joanne decided to take up running five and a half years ago, in order to keep up her health and fitness levels. Due to Alice's limited mobility, Joanne sometimes carries her up the stairs. 'I had to do something to keep me fit otherwise I wouldn't be able to lift Alice'.

Joanne had the challenge of finding an activity that she could do whilst taking care of Alice, so she turned to running. Starting off with Couch to 5k, Joanne and Alice quickly moved onto running 5k races.
10k races turned to half marathons, their first one being The Great North Run- 'She loved it!'.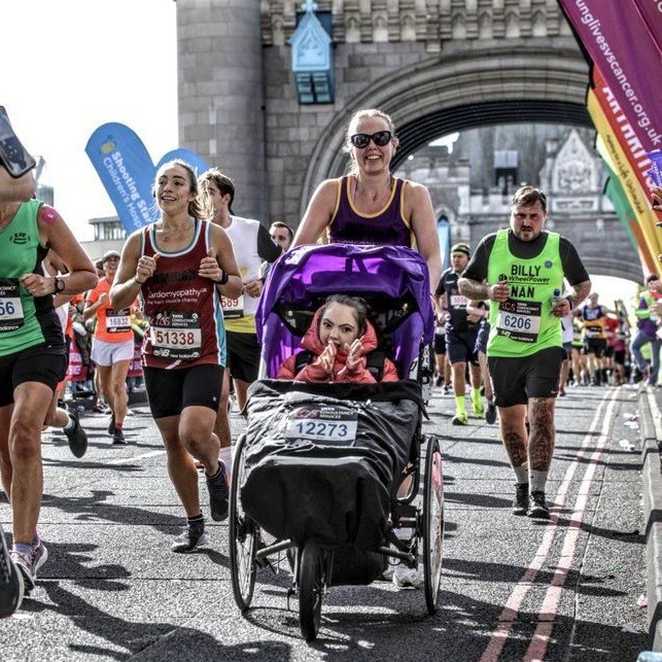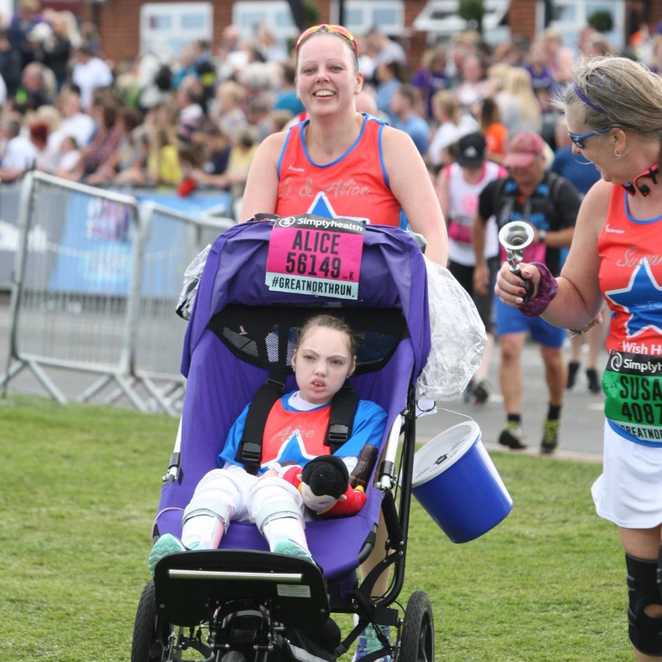 'We did lots of races. Then someone said why don't we do a marathon. We decided to sign up for the London Marathon, but they wouldn't let us sign up.' This is because at the time, assisted runners weren't permitted to partake in the marathon.

However, in 2022, when the rules changed, Alice and Joanne hopped on the opportunity to run the London Marathon. 'She was the fastest assisted runner to finish the marathon last year. We finished in 4 hours and 47 minutes. She loved it! So we thought that we'd do it again and luckily we were able to run for Make-A-Wish!'


"Every runner is a vital part of our mission to grant life-changing wishes. The time and dedication they put into their journey is staggering and we're immensely grateful to each and every one of them."
Alice and Joanne are now training for the London Marathon on the 23rd April 2023. This year, Joanne's goal is to see some of the landmarks as she pushes Alice along. 'It's busy in the marathon. Last year I spent so much time looking at Alice to see if anyone was around her that I wasn't able to see any of the landmarks.'

'26.2 miles is a long way but it will be worth it for the smile on Alice's face and to help grant more children a chance to have a much needed wish. We know as a family just how important it is to bring that special light of a wish when times can be very dark.'
Follow the links below to find out how you can help to help make more wishes come true by taking on a challenge event, like Joanne and Alice.
Whether you're looking to run, walk or cycle, take a look at our events calendar to find upcoming charity events near you.
Find events
From adrenaline-fuelled skydives to breath-taking coastal walks, find a challenge that offers something a little different to the norm.
Find challenges
If you can't commit to a fundraising challenge, you can still help to grant life-changing wishes by making a donation today.
Donate today