Feel the wind in your hair on a once in a lifetime adventure by taking on a wing walking experience for Make-A-Wish UK.
What is wing walking? »
Where can you wing walk in the UK? »
How to book a wing walk »
How we'll support you »
What to expect
Still have questions? »
How your wing walk will help »
Useful resources »
What is wing walking?
Wing walking dates as far back as the 1920s and involves walking or moving on the wings of an aeroplane while it's in flight. Once the reserve of daredevils and stunt performers, it's now accessible to anyone looking for an adrenaline-fuelled experience like no other.
You'll take to the skies on the upper wing of a vintage biplane to thrill your family and friends with a series of low dives and tight turns at speeds of up to 130mph, all safely under the control of an experienced aerobatic pilot.
Where can you wing walk in the UK?
We currently offer wing walking experiences through our partner, Wingwalk Buzz in three UK locations - London, Leeds and Devon. Find your most convenient location on the map below.

How to book a wing walk
To take part in a charity wing walk for Make-A-Wish, all you need to cover is the £100 deposit and, if you raise a minimum of £599, we'll cover the cost of your wing walk. At least £200 will go towards granting life-changing wishes. To get started simply click the link below and, once you're registered our Challenge Events team will be in touch with further information.
If you've already booked a wing walk and would like to fundraise for Make-A-Wish, let us know and we'll be happy to support you.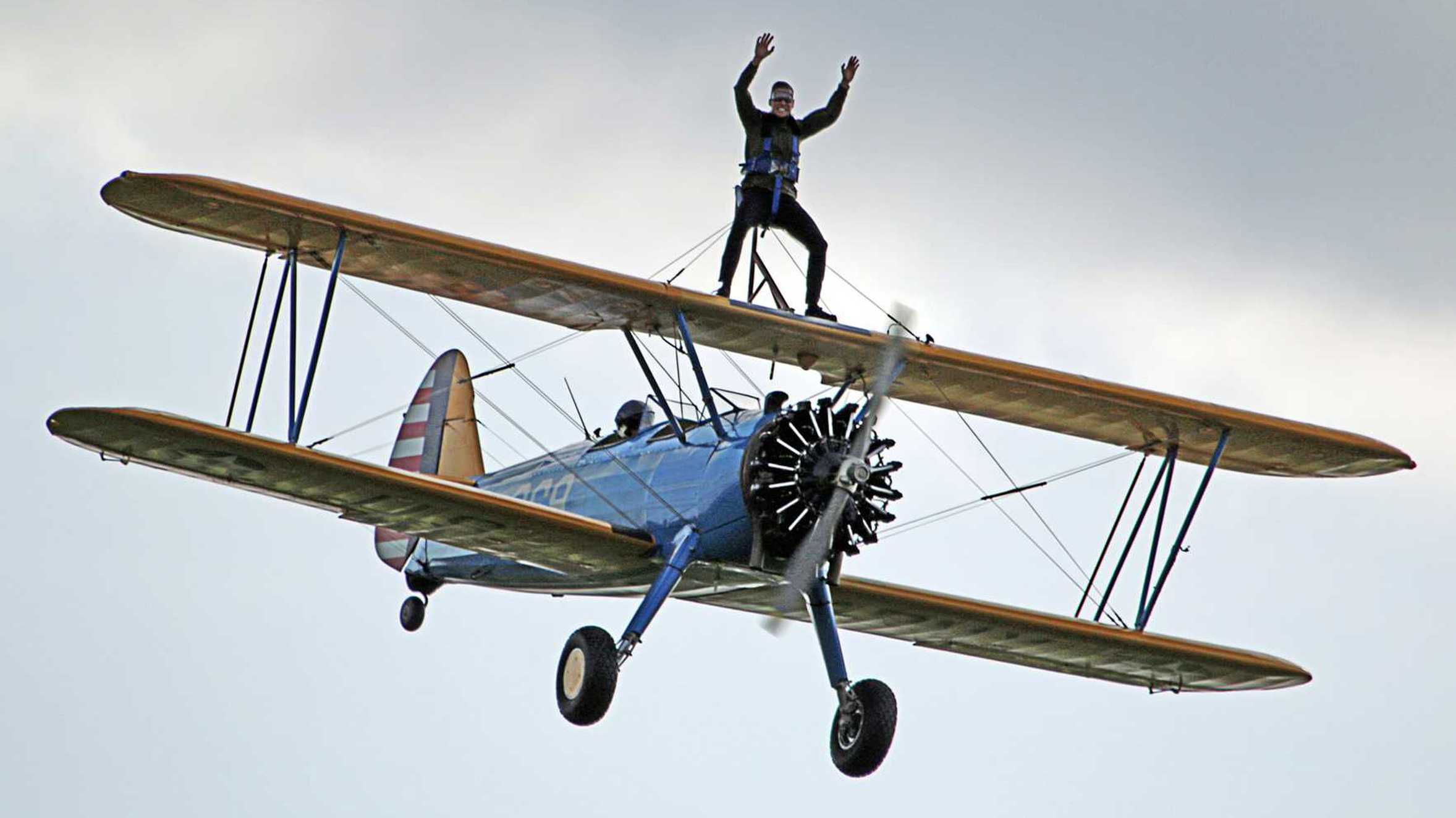 How We'll Support You
A free #WishHero t-shirt.
Regular support from a dedicated member of the Events Team.
Free fundraising materials.
Digital fundraising pack and sponsorship forms.
Shout outs on the Make-A-Wish UK social channels.
Still have questions?
Are there age or weight restrictions?
You must be at least 18 years old and if you're over 65 you'll need your GP to pre-sign your medical declaration. The maximum weight limit is 85kg (13st 3lb).
What should I wear?
You should wear warm, non-bulky clothing (no hoodies), flat-soled shoes such as trainers and you may want to wear gloves. You can wear glasses but contact lenses are not permitted. You'll be provided with goggles and ear plugs. Make sure to wear your Make-A-Wish t-shirt over your jumpsuit so everyone knows of the amazing fundraising you're doing!

How to I get up onto the plane?
Although a member of the crew will help, you'll still need a level of flexibility to allow you to climb up onto the wing.
Will wing walking make me feel sick?
It may surprise you to read that people rarely suffer from motion sickness during a wing walk, due to the fresh air and clear view of the horizon.
Tell me more about the flight
The flight will last approximately 10 minutes. During this time you'll be at an altitude of between 100-700ft and will reach speeds of 80-130mph. You won't be able to speak to the pilot, but you'll be able to communicate via hand signals.
What if the weather's bad on the day?
You'll be contacted via text message the day before to confirm your flight. If adverse weather conditions are forecast, your flight may be postponed. In the event of a postponement, you can reschedule for another suitable date. Should you cancel the wing walk with less than a month's notice, cancellation fees will be applied.
Can I bring people along to watch my wing walk?
Your family and friends are more than welcome to come and share your experience with your. There is a café on site serving food and drinks and they will be able to enjoy unrestricted views of your flight.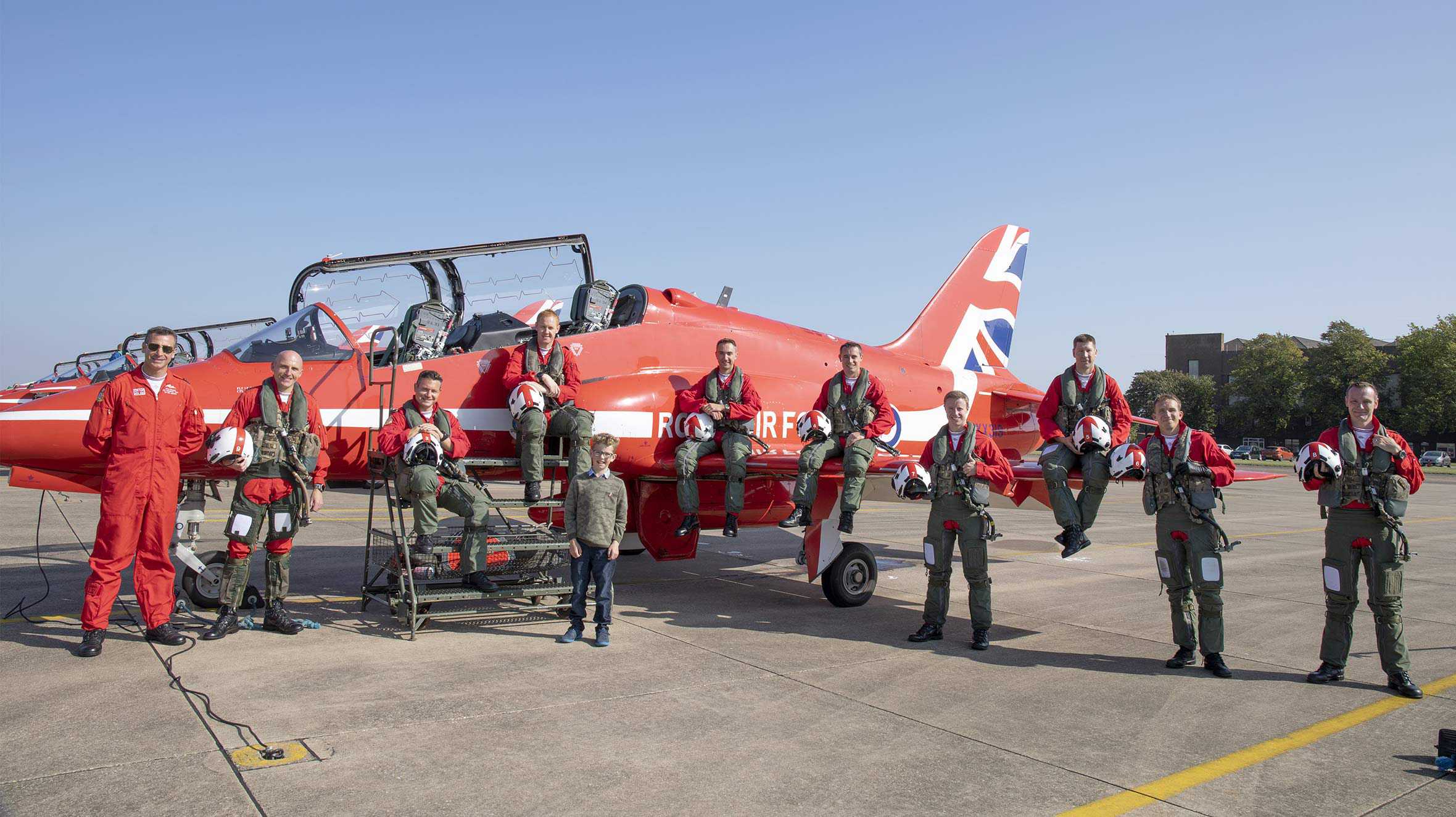 John's health is on the up after he received a kidney transplant from his mum. His second boost came when his wish to meet the Red Arrows came true - broadening his horizons so much that he's knuckling down at school to reach new heights!
John's mum, Marie told us...
"For me, as his mum, it's just redressed the balance to see him so happy. After losing so much time at home growing up and then going through his illness, to have really big joyous days has balanced his life like this wonderful big light."
By taking on a wing walk for Make-A-Wish, you'll be raising vital funds to grant life-changing wishes for more children like John and creating lasting, positive memories for these children and their families at a time when they need it most.
From adrenaline-fuelled skydives to breath-taking coastal walks, there are lots of fundraising challenges to take part in that offer something a little different from the norm.
Find challenges
There are lots of ways you can get more from your event and maximise your fundraising. Below we have outlined some tips and tricks to boost your efforts.
Get tips
A wish revives a childhood stolen by critical illness. It brings light and joy to children and their loved ones and leaves a profound and lasting impact on all their lives.
How wishes help