Experience the ultimate adrenaline rush by taking on a charity tandem skydive for Make-A-Wish UK.
Where can you skydive in the UK? »
How to book a skydive »
How we'll support you »
What to expect
Top tips to know before you jump »
The 8 stages of doing a skydive »
How your skydive will help »
Useful resources »
There's no feeling quite like sitting at the edge of an open doorway in an aircraft flying at 10,000 feet, about to launch yourself into the void. Except maybe knowing that by taking part in a sponsored skydive for Make-A-Wish, you'll also be helping to grant life-changing wishes for children with critical illnesses.

Our skydives are provided by Skyline Events, who'll organise everything you need for your tandem skydive. You're harnessed to an experienced parachute instructor at all times and all training is provided, so no experience is necessary!
Once you're registered, our Challenge Events team will be here to support you every step of the way with tips and advice on maximising your fundraising and how to prepare for your jump.
Where can you skydive in the UK?
The jump and training is completed in a day and, with a choice of around 20 airfields throughout the UK, you can be sure that there's a location near you. Click on the map below to find a jump site nearby.
How to book a skydive
To take part in a charity skydive for Make-A-Wish, you'll need to pay a £70 registration fee to Skyline and commit to raising a minimum sponsorship of £395. Once you've registered, our Challenge Events team will be in touch with further information.
If you've already booked a skydive and would like to fundraise for Make-A-Wish, let us know and we'll be happy to support you.

If you have any questions about doing a skydive for charity with Skyline, check out Skyline's FAQs.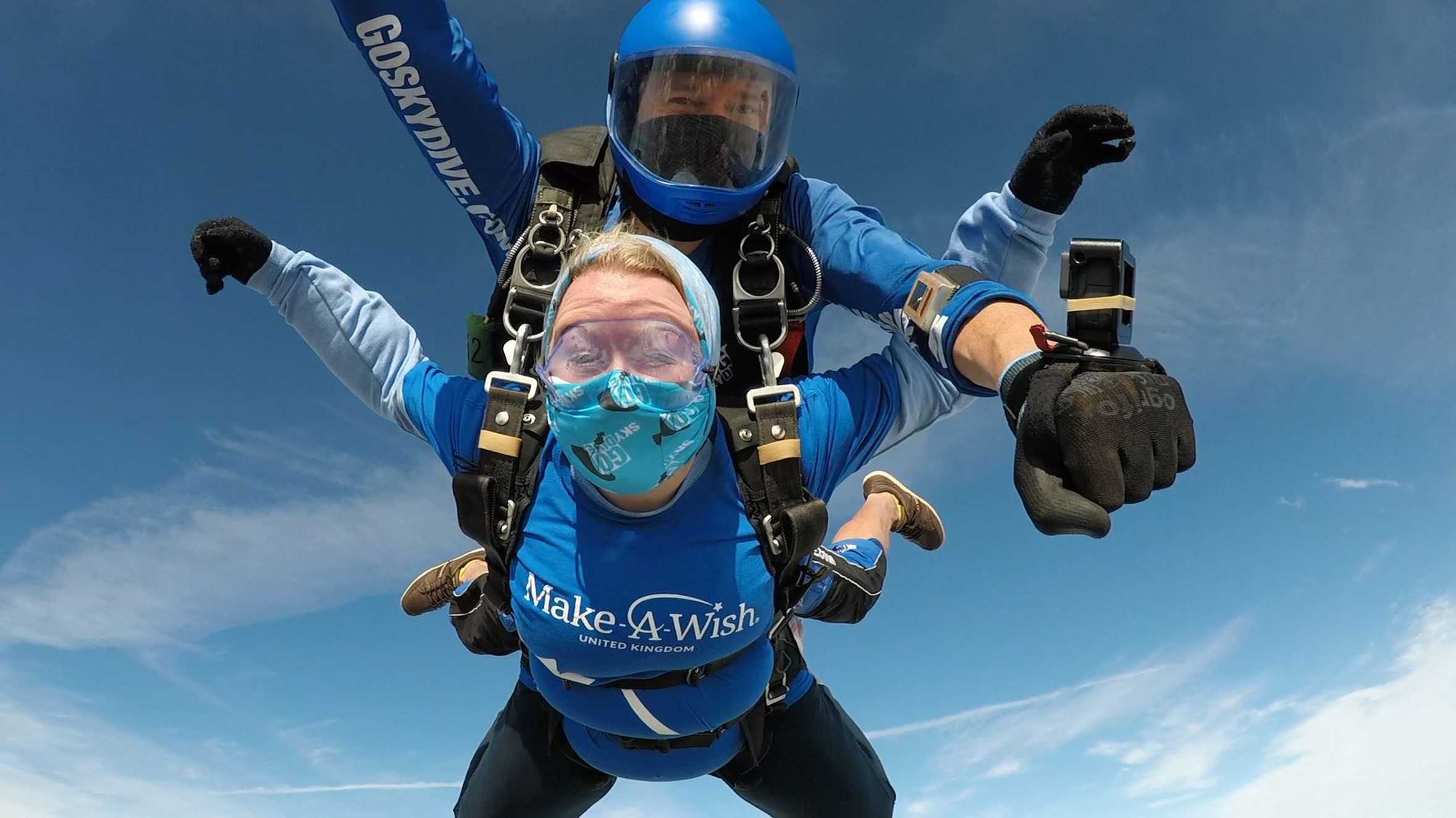 How we'll support you
Provide you with a free #WishHero t-shirt.
You'll get regular support from a dedicated member of the Challenge Events team.
Access to free fundraising materials.
A digital fundraising pack and sponsorship forms.
Shout outs on the Make-A-Wish UK social channels.
Top tips to know before you jump
Get your body ready
A few stretches to warm your body up before you jump will help to relax your body while you're in the air.


Get yourself in the 'zone'
Prepare yourself by reading and watching articles to find out what to expect. On the day, meditation can help relax your mind and keep you calm ahead of your skydive.


Trust your instructor
The person attached to you is a trained professional and is likely to have performed hundreds, if not thousands of skydives. Listen carefully to what they ask you to do and don't be afraid to ask questions. And most importantly, don't worry, they'll be with you every step of the way.


Comfort is key
You'll be given a jumpsuit, but make sure you wear comfortable clothing underneath that's not too bulky. It's best to layer up in case the weather changes and your shoes should lace up so they don't come off mid-jump (trainers are ideal). Make sure to wear your Make-A-Wish t-shirt over your jumpsuit so everyone knows of the amazing fundraising you're doing!


Eat first... but not too much!
You might be worried about getting sick in the air, but jumping on an empty stomach is not the answer, as it can lead to a light head or dizziness. We're not saying go out and have a huge meal, but eating a normal amount a few hours before your jump. If you're too nervous to eat try drinking a smoothie, and don't forget to stay hydrated ahead of your jump.


Keep your valuables safe
You don't want to lose your car keys at 10,000ft, so make sure you leave any loose items, such as you wallet, keys and phone with your friends or family to keep safe while your doing your skydive.


It's okay to feel nervous
You're about to throw yourself out of a perfectly good plane, so a little fear is perfectly normal. Accepting this will help you channel this fear in a healthy way to heighten your awareness and focus. Just think about the feeling of achievement you're going to have from pushing yourself and overcoming this fear.


And… breathe
When in the air, take deep, slow breaths to avoid hyperventilation and make sure you listen to your instructor, who will walk you through the process and help to keep you calm.


Make like a banana
Your body should take the shape of a banana during your descent, with your head tilted back, eyes looking towards the horizon, back arched, arms extended sidewards, and legs relaxed with the soles of your feet facing towards the sky.


DO look down
You've waiting all this time to do your jump, so don't miss out on the view! There's nothing quite like looking down on the world as you freefall through the air - so enjoy this unique perspective.

What are you waiting for? Sign up today and do something amazing for children with critical illnesses.
Everyone has their own reason, whether it's setting a personal challenge, overcoming a fear, or simply helping others. What's your reason?
This is your time to rally your friends, colleagues and family members to raise as much money as you can to help grant life-changing wishes for critically ill children.
Whether you're travelling to your drop location or just eagerly refreshing your weather app, just try to relax and get an early night and a good night's sleep.
The adrenaline will really start to kick in as you meet your instructor, get kitted up, run through your training and see your plane for the first time.
The time is finally here, as you take off for the quick ride up to your jump altitude and start to take in the stunning views that you'll soon be surrounded by.
Experience the pure exhilaration of freefalling at 120mph, before the parachute is opened and you can enjoy the view as you float gently back down to earth.
You're just done something amazing. Not only have you pushed your limits and overcome your fears, but in doing so you've helped grant life-changing wishes.
If you have any photos or videos from the day we'd love to see them, so don't forget to share on your social channels and tag us using @makeawishuk.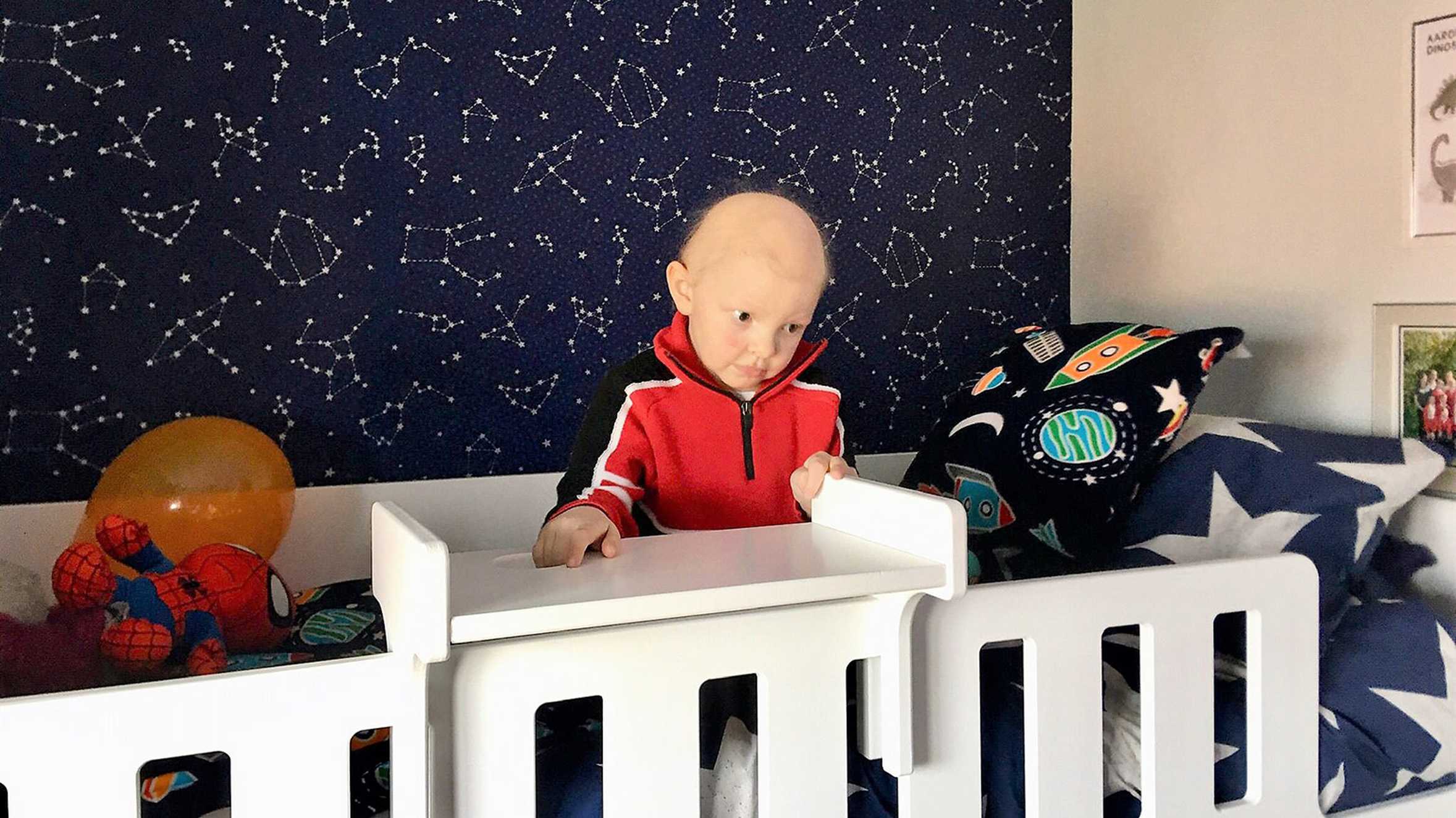 You're not the only one who has their sights set firmly on the skies. Six-year-old Aaron's wish to have a cabin bed means he can "reach for the stars" and have a fun, safe place to sleep. It means so much to him because he's often in a hospital bed having every treatment possible to try to cure his rare, aggressive brain tumour.
Mum, Nicola told us...
"I don't think he could really believe it. He spends so much time in uncomfortable hospital beds, so now he's got something to look forward to when he comes home – a big bed up in the stars that's just for him. It's going to give him the willpower to get through treatment and come home to his lovely bed."
By taking on a skydive for Make-A-Wish, you'll be raising vital funds to grant life-changing wishes for more children like Aaron and creating lasting, positive memories for these children and their families at a time when they need it most.
From adrenaline-fuelled wing walks to breath-taking coastal walks, there are lots of fundraising challenges to take part in that offer something a little different from the norm.
Find challenges
There are lots of ways you can get more from your event and maximise your fundraising. Below we have outlined some tips and tricks to boost your efforts.
Get tips
A wish revives a childhood stolen by critical illness. It brings light and joy to children and their loved ones and leaves a profound and lasting impact on all their lives.
How wishes help