Make-A-Wish Communications Manager Jo is running the London Landmarks Half Marathon in support of the charity and has several very good reasons for take part:
My Reasons For Running the LLHM!
I'm running the London Landmarks Half Marathon for Make-A-Wish for several reasons – 13.1 to be exact!
The first 12 reasons I'm running each represent a wish or wish story that I've been involved in. Thinking about each of those will certainly motivate me to keep going!
The last 1.1 reasons and miles are - selfishly - for me. I have a significant birthday this year and I've set myself various challenges to complete as part of those celebrations. As I haven't run a half for about five years, here's the chance to tick off one of those while embracing the wisdom that ageing (hopefully) brings because, as the saying goes, "getting older is a privilege denied to many." We know that more than most at this charity!
1

- Florrie's wish to be a princess - 2016

This wish sticks in my mind because this was one of the first wishes I witnessed. I was there to support the cameraman we'd booked to film the day and to work with two MAW volunteers to ensure that the day went smoothly. And it did! Florrie and her sisters had a fabulous day and it was great to interview their dad afterwards to find out more about what it meant to them. Their story was featured online and in local newspapers:
2

- James' wish to be a lift operator

We love receiving user generated content or family photos and films because wishes are sometimes private, family-focused events that it can feel intrusive for us, as strangers, to witness. In addition, some children and young people respond much better to cameras held aloft by people they know rather than strangers – as this footage shows!

3

- Toby's wish to have a garden makeover

Toby, four, from Ludlow in Shropshire, was born with cerebral palsy and life-threatening epilepsy. He spent days in hospital so time at home was extremely precious. His wish was to have a garden makeover so that he could access a wheelchair-friendly space that would enrich his life with sensory experiences for years to come at a time when local parks weren't accessible to him. Thanks to the generosity of our supporters, a community of experts and volunteers was able to buy decking boards, plants, flowers, posts, cement and topsoil to build him the garden he needed. It was officially opened by the Mayor of Ludlow in 2016 and it was wonderful to play a part in this and see Toby's reaction – as well as his extended family's and little sister's. This was our first community crowdfunded wish – a concept that went on to become Sponsor A Wish.
4

- Felix's wish to be a superhero called "Electroman"

This was such an imaginative wish based on superpowers generated by electric pylons. It was also a challenging wish, made possible by a range of partnerships from power suppliers to reporters, cake makers to costume designers, airlines and airports. True teamwork that inspired the hashtag #WishMaker!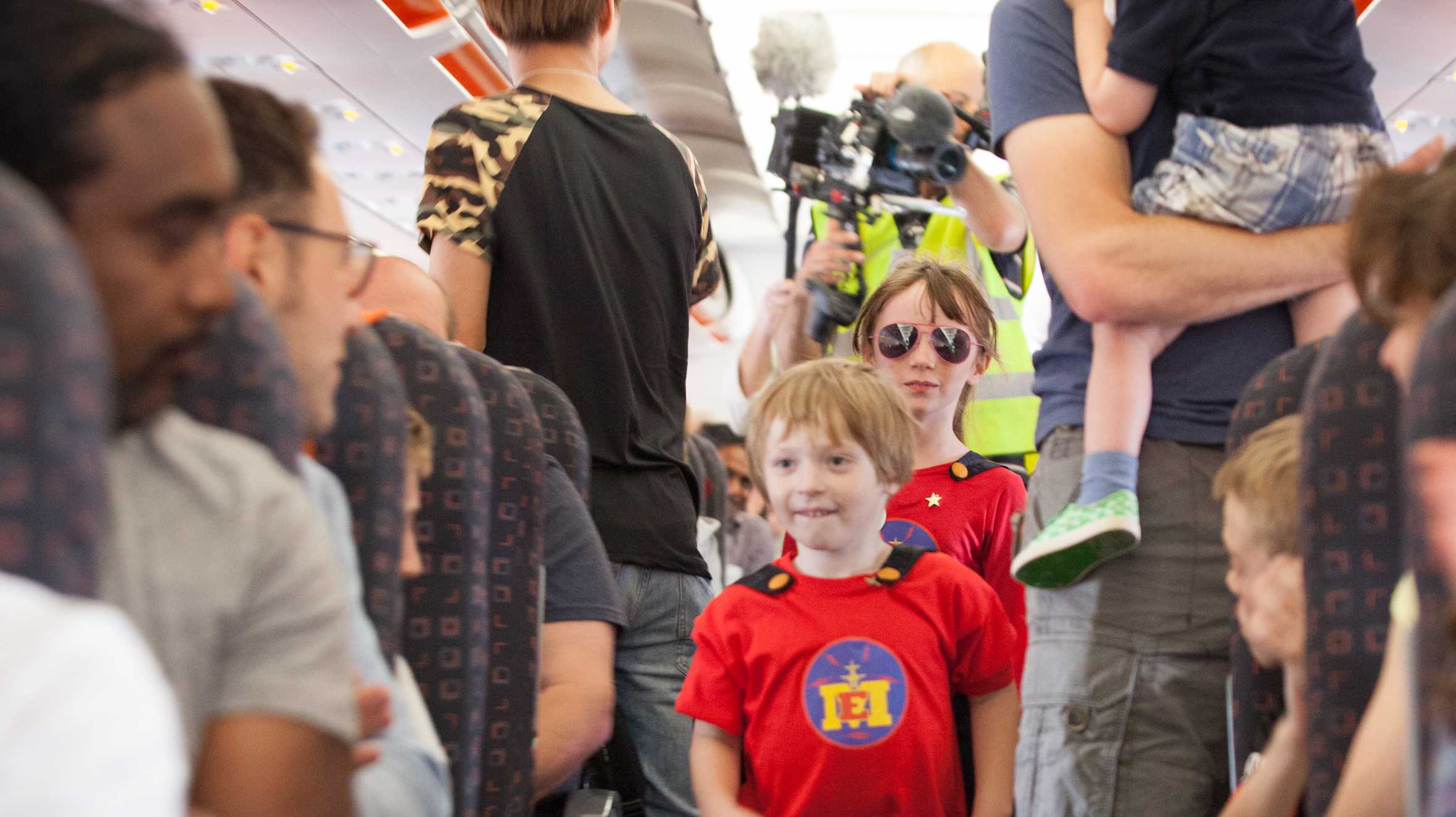 5

- Ethan's wish...

...to meet a certain superstar, who must remain anonymous, sticks in my mind because it was exactly four years ago and it was such a wonderful experience for him. Ethan's wish was to have pancakes with this famous actor, which he did. Then he played pool with him in a fabulous hotel, shared a film script he had written with the actor in mind; showed the beads he'd collected during his many rounds of treatment and so much more..... It was such a shame we couldn't shout about it from the rooftops because the actor wanted his charitable work to remain private, which is sometimes the case, but admirable too.
6

- Elspeth, to go to the Teddy Bear Museum

Elspeth was diagnosed with a tumour near her eye which left her registered blind. She's always loved teddies, particularly Charlie Bears, so her wish was to go to the Charlie Bear Museum, and she had her very own bear made for her - the Elspeth Bear. I had no idea there was a teddy bear museum in Cornwall – what a find! And Elspeth's mum spoke so eloquently about the impact that wish had on her whole family too. A really joyful experience.

7

- Reaching Every Child

Ok. I've reached the halfway point having run past Somerset House, the Royal Courts of Justice, St Paul's Cathedral and the Bank of England so need to dig deep now. There are so many wishes that I still want to mention from those involved in ITV's Text Santa appeal in 2015 to our Regional Fundraising Manager Nikki's wish which is such a powerful reminder that wishes have a long-term impact and sometimes shape people's adult lives.


But at this moment I'll be thinking about all those children that we sadly don't manage to reach, like my cousin Katie who died from leukaemia. I often wonder what her wish would have been. With more money, we can reach more children, more quickly so fundraising from challenge events like the LLHM is vital.
8

- 30 Plus Years of Wishes

To mark the 30th anniversary of Make-A-Wish UK, I tasked myself with finding a wish story from each of those 30 years. I tracked down one of the charity's founders and it was fascinating to hear how wishes had been organised by a team of volunteer well-wishers in those early days. Then I interviewed numerous families who had had wishes in the early 1990s and 2000s - including a workman doing some repairs at our old offices in Camberley who turned out to be a former wish child! But Joshua's wish sticks in my mind because he wanted to see the Red Arrows before he lost his sight and he did. It was brilliant to meet him, find out how much the wish meant to him and to hear that he was going off to study at college and doing really well.

9

- A Party in a Castle

Shreenik's wish was incredibly imaginative and personal: a party in a castle with all his friends, the Power Rangers, a magician, chicken nuggets, a particular orange drink and a hot air balloon! It was filmed for our Week of Wishes partnership with ITV This Morning and drove home an important message about registering as a bone marrow donor, as Shreenik desperately needed one.

10

- Bobby's wish to meet John Terry...

...was memorable because little Bobby, from Ireland, was so thrilled with the whole day. Then he innocently asked to see the trophies that Chelsea FC had won and the next minute, we bundled into the limo his wishgranter had laid on for Bobby and followed John Terry's car through some narrow lanes to his actual home! There, we met his wife Toni and went into his study where he posed for pictures, let Bobby hold the trophies and gave him a signed pair of Nike football boots to give him. Did you know that some professional footballers get through three pairs of football boots a match? They change into a new pair after the warm up, the first half of a match and then the second half too.

11

- A doctor's perspective

I interviewed Dr Simon Parke at the hospital he works at in Exeter and from where he has referred many children to us for wishes. I wanted to understand why. He explained the impact that wishes have from a medical professional's perspective for the first time. You can see his interview here, but one of the things not included in this edit is when he mentioned how a wish can help doctors treat their patients.


He said: "I am trying to persuade young people to have treatment that makes them feel sick, makes their hair fall out and makes them different to other children. If I can say to them: 'We'll do this and then we'll do something really special', it makes my job easier. There is no doubt that children who have got something to look forward to cope with their treatment better. It can make them rally their strength in order to face what's ahead. A wish also gives the child an experience which can be incredibly special to them and gives the family that memory which is incredibly important."
12

- On the TV

Most recently, I helped facilitate filming for the TV documentary Make A Wish For Christmas that was broadcast on Channel 5 in December. All the wish stories featured were moving and inspiring.
13.1

- The Finish Line!

Right, back to my training plan and summoning up donations to my fundraising page here:

https://www.justgiving.com/fundraising/joanne-porter10



Jo is the PR & Influencer Engagement Manager for Make-A-Wish and is based at our Reading Hub. If you were inspired by Jo's story, you can find her JustGiving page via the link below.
Visit Jo's page
If you'd like to raise money for Make-A-Wish by taking part in a challenge, take a look at our Events section to find events near you.
View our events
If you dread the thought of running a half marathon, don't worry as there are lots of was you can support Make-A-Wish. Take a look at our Get Involved section for lots of ideas and information.
Get Involved